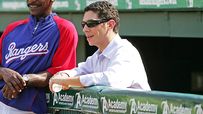 Jon Daniels, 32, was the youngest GM in MLB history when he was hired in 2005.
Welcome to SportsNation! On Wednesday, Texas Rangers' general manager Jon Daniels stops by to chat about his team topping ESPN.com's organizational rankings.
After not finishing higher than third in the AL West since 1999, the Rangers have finished second the last two seasons under Daniels. It's also the second year in a row that the Rangers rank atop ESPN.com's organizational rankings.
Send your questions now and join Daniels Wednesday at noon ET/11 a.m. CT!
More Special Guests: Previous chats | SportsNation
Jon Daniels
(12:01 PM)
Good morning everyone. Thanks for joining us today. I'll try to get to as many of your questions as I can, so let's get started...
Chad (north carolina)
we all know texas is always going to have the bats, so what's different about this years pitching staff than in years past
Jon Daniels
(12:05 PM)
I wish it was the offense was as much of a given as you suggest - if it were, we'd have been closer to the playoffs last year. We've had a long reputation for big offenses, but we had a down year there in 09. Partly because of injuries, partly because of underperformance, and a not enough baserunners. I expect we'll score more this year... The pitching (and defense) really improved last year. We expect it to be better this year. Depending how we deploy CJ & Feliz this year, we should have a bigtime bullpen. And our starting depth
SprungOnSports (Long Island)
What do you need to address before you head off to Spring Training? What do you think you need to fill in at this point?
Jon Daniels
(12:06 PM)
We like our club as is and are ok going to spring training as is. That said, we're still looking at a few possibilities - catching options, RH bat possibilities, maybe the right pitcher too. But if we don't find the right fit, we expect the group we have to get it done.
Pat (Rhode Island)
The system appears that you prefer younger raw/projectable players as opposed to more polished players...do you have a preference, or do you try to balance the system?
Jon Daniels
(12:09 PM)
We'd love projectable polished players, but you don't get a chance at many of those. When we have to choose, our philosophy is to take smart risks on players with upside, rather than lower-ceiling players that might be a little more polished. We trust our development staff to do the polishing... We want to be about young, high upside players that love to play and want to win.
Pete (Dallas)
Is Michael Young happy about the direction of the franchise in the near future?
Jon Daniels
(12:11 PM)
Both Michael's public comments and what he's saying behind the scenes indicate he's as excited and optimistic as ever. He's embraced his role on the club, has been stepping out more recently to help some of the younger guys. There was a small hiccup this time last year when he bristled at our suggestion he move to 3B, but he and the organization are very much on the same page.
David (Grapevine)
With Aroldis Chapman signing for about double the amount Stephen Strasburg received, what changes would you make to the Rule 4 draft if you could?
Jon Daniels
(12:15 PM)
Not sure I have enough time/space to get into specifics, but in general I favor a system that allows each club some flexibility, allows them to choose a strategy that's right for their circumstances & philosophies. So I like things like trading draft picks (if the corresponding controls are in place). Each club is different, has different needs
Brad (Frisco, Tx)
Jon - thanks for taking the time to chat! What is your plan for developing Tanner Scheppers: starter or reliever? Will I see him in Frisco this year?
Jon Daniels
(12:16 PM)
Tanner will be developed as a starter. His progression will dictate how he's ultimately used. There's a decent chance he'll be in Frisco to start the year, but we haven't decided yet.
Paul (Austin, TX)
Will Neftali Feliz compete for a role in the rotation out of spring or will he continue to Johan Santana path to stardom starting in the bullpen and moving to the rotation later this year?
Jon Daniels
(12:18 PM)
Both are options we're considering. He'll be stretched out this spring and we'll consider him for the rotation. If we start the year with him in the pen, that doesn't mean that later this year (or next year) he couldn't move into the rotation.
Johnny D (New Milford,CT)
Are you concerned with Nolan Ryan's now unprecedent "no pitch-count" philosphy being applied to your young arms, or do you have faith in his system
Jon Daniels
(12:22 PM)
I don't think Nolan has a "no pitch count" philosophy. He believes in pushing guys to achieve their maximum genetic potential. That's going to be different for different guys. We're going to treat a smaller bodied 19 year old different than a workhorse-framed 25 year old. A lot of what Nolan believes in is conditioning - both physical and mental. We want guys to buy into the idea that they're capable of doing more than they have previously. Our coaches & trainers are not going to put guys at risk - if anything, the goal of the program is to better prepare them, ultimately protecting their arms.
Tim (Philly)
I'm a little bit disappointed we didn't get Sheets,I thought after last year we had the leg up,what led you to let him go division rivals?
Jon Daniels
(12:23 PM)
We didn't let him go - he had options and Oakland made him a very compelling offer. We were in touch with Ben throughout the process, but there are limits to what we can do on every player.
Paul (Austin, TX)
Jon, is the plan for Borbon to get a 500-AB season?
Jon Daniels
(12:25 PM)
If Julio continues to work & improve as he has recently, he'll be our primary leadoff hitter and CF. Barring something unforseen, I expect he'll get at least that many ABs.
Will (Houston, TX)
It has been speculated that the failure to sign Matt Purke in this past year's draft was largely due to financial limitations on the Rangers part. What role did MLB have in limiting any offer made to Purke as a part of negotiations?
Jon Daniels
(12:26 PM)
Nolan touched on this publicly yesterday, so I'm not going to get into specifics. We made an offer for well over the slot amount, but it wasn't enough to keep Matt from TCU. We wish him well & will follow him there.
Will (Houston)
As a Rangers fan, I have say I am a bit flummoxed by the Colby Lewis signing as the Rangers have quite a few capable arms that appear ready to make a name for themselves in the big leagues. What expectations does the organization have for Colby in the coming year?
Jon Daniels
(12:29 PM)
We feel Colby is capable of giving us a strong chance to win every 5th day. History and experience says we're going to need 7-8 quality starters over the course of the season, if we expect to win. We were focused on building a deep starting staff so we wouldn't have to scramble mid-year. That may mean a couple of guys with ML credentials might start the year in OKC, but I'm sure we'll need all of them when it's all said and done. It should make for a competitive camp.
Pete (Dallas)
Did the morale of the Rangers suffer through the unstable period of knowing the team was being sold? If so, in what ways?
Jon Daniels
(12:34 PM)
I don't think the sale affected anyone inside the clubhouse walls last year, if that's what you mean. The players are aware of what's going on, but they really didn't see any effects, and were pretty well insulated. So I don't think it affected our play at all... Mostly the same for the organization as a whole. The idea that Nolan was part of the group that seemed like the most likely new ownership team probably helped. People on both the baseball & business sides were able to focus on their jobs, as Nolan brought a sense of continuity when a lot was unknown.
Pete (Dallas)
As a GM how would you rate the job of Orioles GM Andy McPhail in Baltimore over the past few years? Willt hey be competitive as the Rangers will be soon?
Jon Daniels
(12:37 PM)
Andy's one of the most accomplished & respected GM's in the game. The Bedard deal (and subsequent Sherrill trade), drafting
Garrett (Abilene, TX)
How are the injuries of last year to Matt Harrison and Salty progressing this off-season? Will they both be ready to start the season in April?
Jon Daniels
(12:39 PM)
Matt finished the Fall League 100% healthy, so we're expecting him to be in the mix for a spot on the staff this spring. Salty got a clean bill of health from the doctor a couple of weeks ago. He's in Arlington now for our development camp, has been catching bullpens, taking BP & long-tossing. So far so good.
Will (Houston)
What is the backup plan if Chris Davis' struggles continue?
Jon Daniels
(12:41 PM)
First off, CD has worked hard this off season to try to make this a moot question. But if we're faced with that, we've got a few options. It's a position we've got considerable depth at in the system - Smoak, Moreland, Tracy. Plus Matt Brown can play over there, and has a strong history vs LHP. Murphy may see some time there as well this spring. And there are still some interesting guys on the FA market if the right fit presents itself.
David (Grapevine)
How early do you start the scouting process? For instance take a hitter like Smoak or his high school teammate Matt Wieters. Did you have a file on them from their sophomore years in high school and through college?
Jon Daniels
(12:44 PM)
Our scouts make a point to know the players inside & out. Depends on the area and the scout, but we like to have history with them from as early as possible - and have history with most of the top guys since their sophomore years at least (some guys in higher profile areas much earlier than that). Plus the scouts go see them play other sports, meet them in their homes, talk to their HS coaches
Daniel (Tennessee)
You went from "stupid" to "brilliant" over the course of a few years considering the Danks trade and the Eaton trade vs the Feliz trade and the Gagne trade, among others. How have you enjoyed the ride and have you done anything different to become what many consider a top-5 GM in baseball?
Jon Daniels
(12:48 PM)
Appreciate the compliment, but I think I'm probably somewhere in between those two extremes. And in my mind, to be considered top-5 in anything in this game, you've got to have won something first. We're proud of a lot of things we've done (particularly what our scouts & development folks do day in
Michael (Washington Dc)
As an executive, how much attention do you pay towards the Baseball America/ Baseball Prospectus lists? It seems that when a player has a bad year, even if they are young they drop in a hurry on those lists. Does your forecast for a Max Ramirez or a Lars Anderson change as drastically as those who cover the minors for fans?
Jon Daniels
(12:52 PM)
BA & BP both do a tremendous job. But to be fair, their lists come out once a year, so it's a snapshot, not a complete picture. Players for the most part are still-developing young men. There's a lot of moving parts to the development process, and it's almost impossible to nail down exactly who's going to accomplish what at what time. We have a process in place, we stick to it, and we trust that if we keep finding talent and devloping it as best we can, we'll be ahead of the curve.
Craig (Mobile, Alabama)
Hanley Ramirez for MVP!
Jon Daniels
(12:53 PM)
The award for most persistent poster. Congrats, you made it.
Jon Daniels
(12:55 PM)
Time for one more...
ghtd36 (Dallas)
JD, now that you have a "new boss," do you feel added pressure to succeed this year? How would you describe your relationship with Nolan? Thanks for taking my question.
Jon Daniels
(1:01 PM)
As a group, we expect to win, and now that we've put a plan in place to do so, we hold ourselves to a that standard. I feel a tremendous obligation to the owner to deliver. He's given me and our group an opportunity to mold the franchise, spend resources against our vision. It's more pride than pressure, if that makes sense... As for my relationship with Nolan, it's grown a lot over the two years we've worked together - probably more over the last 6 months than before that. It was a little bit of an unusual setup, since I didn't initially report to him and we all recognized that wasn't ideal. That's been rectified and things are very good now. At the end of the day, we believe in a lot of the same things - primarily building from within on the baseball side. Despite very different backgrounds, we work well together & compliment what the other brings to the table.
Jon Daniels
(1:02 PM)
Ok folks, I've got to run. Thanks for your questions and support. Hope to see you out here this year.JD
wade (Dallas)
can you get Nolan to do some steak cookouts for the fans?