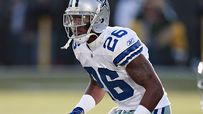 Hamlin was named to the Pro Bowl in 2007, his first with Dallas.
Welcome to SportsNation! On Wednesday, we'll be chatting Super Bowl XLIV with Dallas Cowboys safety Ken Hamlin.
Hamlin just finished his seventh season in the NFL in 2009 and his third with the Cowboys. The Arkansas product recorded 52 tackles in just 12 games this past season, good for seventh on the Cowboys defense.
Send your questions now and join Hamlin Wednesday at 3 p.m. ET!
More Special Guests: Previous chats | SportsNation
Buzzmaster
(2:58 PM)
Dallas Cowboys safety Ken Hamlin will be by in a few minutes to take your questions!
AR (MN)
What was your reaction when you learned that Wade Phillips would be returning next season to coach the Cowboys?
Ken Hamlin
(2:59 PM)
It's a good feeling knowing that we had stability at the head coach and defensive coordinator position. It was good and necessary.
Tim (Tallahassee)
Since it's national signing day, what memories do you have of when you signed your letter?
Ken Hamlin
(2:59 PM)
The excitement at my high school The feeling of knowing that I was going to college and how happy my family was.
charles (california)
how great do you see our d being this year
Ken Hamlin
(3:00 PM)
Building off of what we did this year, I think we can definitely be a top 5 defense. A lot better than we were this previous year.
Kevin
What are you doing this offseason?
Ken Hamlin
(3:00 PM)
Travelling. Getting some travelling in and trying to see some different parts of this world.
Matt I (Las Vegas, NV)
Ken- What changes or additions do you think need to be made to the cowboys to put you over the top to the super bowl? We came close this year but I was wondering what you thought could get us to the big game. Thanks! Go Cowboys!
Ken Hamlin
(3:01 PM)
As far as team wise, I don't think we need any major changes for our team. Keep everyone in tact and get some depth at key positions. Make sure we have enough depth to go out and compete.
Hayden (Logan, Utah)
Lifetime supply of favorite food, or favorite beer?
Ken Hamlin
(3:02 PM)
Lifetime supply of my favorite food. Got to survive and if it's my favorite food, I can go all day on it.
Wyatt Wilson (North Richland Hills)
It looks like you like to get in opponents ears on the field. What are some of the things you say?
Ken Hamlin
(3:02 PM)
Somethings can't be repeated. Others, a lot of the guys I am friends with, so just competing, talking a little trash here and there.
Dave (Dallas)
Lots of draft experts are saying that one of the top Cowboys' needs is free safety. Do you feel disrespected when people say your team needs to draft someone at the position you currently hold?
Ken Hamlin
(3:03 PM)
Not at all. Everyone has their opinion. Every year is a year to compete against whoever they bring in from the draft. Whoever or whatever they do pick, it's just another year of me starting at free safety.
Onetra Robinson (Birmingham, Alabama)
What was it like to watch Miles Austin evolve into a better receiver as the season went on?
Ken Hamlin
(3:04 PM)
I was happy for him. For him to have a healthy season and become a break through player was big for us and for him.
Justin (Monterey CA)
Please tell me what you think about young linebackers Jason williams, brandon williams and my favorite so far, stephen hodge.
Ken Hamlin
(3:05 PM)
Definitely give us a lot of depth at that position. A year with the players we have should make them better, learning from Ware, James, those guys will make them better.
Brandon (Florida)
Hey Ken, How are you looking to start next season? Any improvements needed?
Ken Hamlin
(3:05 PM)
Get healthy. Getting in the weight room a lot more. Staying fast. Preparing myself mentally to compete.
Nick B. (Addison, TX)
Ken, It seems like the Dallas defense it set for years to come. You guys are young, athletic, and have been together now for a few years. What do you guys have to do to take that next step into domination like the Baltimore Ravens and Pittsburgh Steelers?Thanks,Nick B.
Ken Hamlin
(3:06 PM)
We have to make sure we play a full four quarters. Just not to give up big plays.
Brad (Gadsden,Alabama)
Ken, Do you have any pre-game rituals?
Ken Hamlin
(3:07 PM)
Nothing big. I listen to my music. Be to myself for a little bit. Other than that I'm ready to play.
AR (MN)
How special would it be for the Cowboys to play in Super Bowl XLV in Dallas next season? How often do you think of that idea?
Ken Hamlin
(3:07 PM)
It would be real special. To be able to play at home with the type of fans that we have would be huge. I think you would see the largest crowd in the history of the game.
wedo (arizona)
Ken are you guys looking forward to playing the Vikings next year on account of running up the score,especially if Favre returns?
Ken Hamlin
(3:08 PM)
It's going to be a good game. We felt a little uneasy how things ended in that game. When that game does come back around, it will be a lot to talk about before it's played.
Justin D. (Sterling, Va)
what is the feeling like when you and the cowboys came into washington and saw a huge croud of cowboy fans having fun watching you guys shut out the deadskins? (i was at the game by the way)
Ken Hamlin
(3:09 PM)
It was a good feeling to know that we have a fan base just about wherever we go. To hear the crowd cheering, almost overpowering the home team. IT's a good feeling.
Hayden (Logan, Utah)
Who is the best reciever in the league?
Ken Hamlin
(3:10 PM)
That's a good one. THere are a lot of up and coming guys. Reggie Wayne, Andre Johnson are probably at the top of the list right now.
Lane (Kukuihaele, HI)
Who was your hero growing up?
Ken Hamlin
(3:10 PM)
Probably my high school coach. I looked up to him and he was the one that taught me a lot of different things. Then Steve Atwater was someone I looked up to as far as playing the game.
Ben (Indianapolis)
Ken, who do you have in this weekend's Super Bowl -Indy or NO?
Ken Hamlin
(3:11 PM)
I want to say New Orleans. Depending on what type of New Orleans team shows up, I think they have a pretty good chance.
Hayden (Logan, Utah)
If you could travel to one place, where would it be?
Ken Hamlin
(3:11 PM)
Well, I would say I would do what I'm going to do this offseason. I'm going to Europe and from there, I can take the train and go wherever else from there.
Rodney (Bogata, Colombia)
Yes Ken I still manage to watch the boys way down in South America. Thanks for the season it was fun to watch. Do you think that the way the safety position has changed to more or less physical in the last 10 years?
Ken Hamlin
(3:12 PM)
It's become less physical. The rules have sort of taking a little bit of the sting away from what we normally do. It's for safety reasons. It's helping the league, but it's taking the aggressiveness out of our play.
Lane (Kukuihaele, HI)
If you had a vote for Defensive player of the year do you vote for Revis or Woodson?
Ken Hamlin
(3:13 PM)
I'd say that would be a tough one. I would vote Woodson. He's done some great things for his team. He plays inside and outside. It's a tough vote, but he would get mine because of the big plays he's made.
Hayden (Logan, Utah)
How hard is it to deal with off feild issues? Whats wrong with athletes these days? Is it just cuz their under a microscope?
Ken Hamlin
(3:14 PM)
It's only as difficult as you make it. If you put yourself in the right position, certain things won't happen. Off the field actions or offenses are a part of this game that we play and we have to deal with them responsibly.
Daniel (Tennessee)
Ken,Do you see yourself back in Silver and Blue next year?
Ken Hamlin
(3:15 PM)
I see myself playing for Dallas. I anticipate being there for a while.
Aly (N.J)
Ken,what was your favorite fotball team growing up?
Ken Hamlin
(3:16 PM)
I never had a favorite football team. I always had players I liked and watched those players, but never had a favorite football team.
Ken Hamlin
(3:16 PM)
Thanks for all the support. I look forward to you watching a better year from us next year.