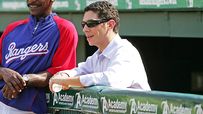 Jon Daniels was the youngest GM in MLB history when he was hired in 2005.
Welcome to SportsNation! On Tuesday, Texas Rangers' general manager Jon Daniels stops by to chat about the start of their 2010 campaign, problematic pitching and more.
When Daniels was hired in October 2005, at 28 years, 41 days, he became the youngest GM in the history of MLB. He had been with the Rangers for three seasons prior to assuming the position.
Send your questions now and join Daniels Tuesday at 2 p.m. CT/3 p.m. ET!
More Special Guests: Previous chats | SportsNation
Jon Daniels
(3:00 PM)
Hey everyone. Thanks for joining me on the off day. Let's get started...
Clint (Dallas)
How involved are you and/or Nolan in the decision to move Feliz into the closer's spot? Is that decision solely up to Wash and Maddux, or is the front office consulted in such matters?
Jon Daniels
(3:05 PM)
We try to talk about and plan for as many contingencies as we can in advance, so we're prepared if/when they come up. We didn't expect to deal with this particular situation the first week of the year, but we had talked about our options if Frankie struggled at some point - not expecting it to happen, more as an exercise for the group to be prepared if we were faced with it... In this case, I spoke with Ron after the game Saturday - he told me what he was thinking. We both visited with our staffs, and when we talked again later, we moved forward. He wanted to make the change, which may be temporary, and I supported it as it made sense for a lot of reasons.
Richard (Denton)
What made Vlad stand out this offseason that made you sign him instead of some of the other similar FAs out there like Glaus or Nick Johnson (definitely a good call so far).
Jon Daniels
(3:08 PM)
Both the acquisitions of Vlad and Rich Harden this winter were driven in part by our desire to acquire players that fit the roles we had open, and also had significant upsides health-permitting. There were several ways we could have gone - and all of them brought some level of risk. The thought was that if we're taking some risk regardless of who we bring in, we'd rather go with the guy with the biggest upside. In Vlad's case, the upside bat came with reports of improved health, and off-the-charts competitiveness & makeup. Just felt like the right fit.
Albert (Vernon, TX)
JD, great job building this team. In the Carlos Lee trade I know we got back Nelson Cruz, but who did we get with the draft picks from Lee signing in Houston?
Jon Daniels
(3:09 PM)
I believe the picks became Beavan and Borbon. We drafted Michael Main, Neil Ramirez and Tommy Hunter with comp picks that year as well, and I sometimes forget which pick was the result of which free agent leaving.
Nick B. (Grapevine, TX)
John: Chris Davis is a stud defensive first baseman, and when he gets a hold of the ball, can send it far up into the seats. With his early season struggles is there any chance we see Justin Smoak at first? Thanks!
Jon Daniels
(3:11 PM)
We're not thinking about any such change right now. CD is working on some things with Clint and we want to give that some time - we've got faith in him. We brought Garko in to hopefully protect Chris from some of the tougher lefties in the league. If we don't see what the club needs over time, we'd have to consider a change, but that's a ways off. Justin to his credit got off to a good start at OKC and is keeping his head down & working on some things of his own.
Erich (St. Paul, MN)
Jon,I am very appreciative of you having these chats with us. Any idea if different ballparks have radar guns that are known to read several mph slower or faster?
Jon Daniels
(3:13 PM)
We were having the same conversation yesterday after the game - obviously Frankie and Neftali had different readings in Cleveland than at home. However, it seemed Harden, Oliver and NIppert were about the same - it could be that Frankie and Neftali were just throwing a bit harder. There are some guns where the radar seems a tick off (Oakland is high if I recall), but they're usually all in the same range.
Justin Grounds (Denton, Texas)
Why didnt Matt Treanor start yesterday? He had a good game before and Taylor Teagarden isnt doing nothing but striking out.
Jon Daniels
(3:15 PM)
Our coaching staff and pitching staff really like Teagarden behind the plate from a game-calling and running-game standpoint. He's gotten off to a real slow start, but he's better than this offensively. For us to win, we've got to pitch well, so we're going to give the pitching staff every advantage we can. Treanor is set to catch one of the next two in Cleveland I believe.
Brian (Tulsa)
Mr. Daniels I got to believe that Nelson Cruz is the best bargain in MLB 33 hr last year and he is only getting paid 440k!!!! Will he be renegotiating after this season??
Jon Daniels
(3:17 PM)
Nellie's contract this year is simply the result of him not yet being arbitration eligible (similar to Hamilton after his big 2008 season). He'll be arb eligible after this year and will get a significant and well-deserved raise.
Dave (Oakland, CA)
Do you feel like you are at a disadvantage due to the fact you are trying to build a team that plays 81 games in a hitter friendly ballpark? I'm lobbing a softball here, since it took Dan O'Dowd eight years to figure it out.
Jon Daniels
(3:19 PM)
I don't know if it's a disadvantage, just reality. The White Sox and Phillies won the WS playing in a hitter friendly park. The Astros, Rockies, and others have gone to the Series recently with offensive oriented stadiums. Our goal is to build a deep athletic club with a strong pitching staff. We can't necessarily build a team the same way Oakland or Seattle can, but there are advantages to playing here as well.
Scott (Sachse)
How do you think the team is responding to the change in hitting coaches? Do you see the hitters becoming more patient in their approach at the plate?
Jon Daniels
(3:21 PM)
Their response to Clint this spring was very good from the standpoint of guys trusting him, being willing to try some things, communicating with him, etc. We haven't seen any dramatic changes yet, but it's early. I do think we've seen more of a gap-to-gap opposite field approach at times - from guys who had been reluctant to do that in the past. We should be better offensively as we go along and guys get settled in.
Bill (Irving)
What was the reasoning behind not signing Pudge? The lack of a proven major league catcher is hurting the team at the plate and behind the plate.
Jon Daniels
(3:23 PM)
I don't think it's hurting us behind the plate - the guys have done a very good job defensively. We didn't sign Pudge because we were not willing to match the deal he got from Washington (didn't think that was the best use of our resources) and we feel the guys we have here can do a quality job.
Lane (Kukuihaele, HI)
Aloha Jon! I don't want use names but let's say you have a pitching prospect that comes along once in generation (Stephen Strasburg) and he's shown that he's capable of playing major league baseball right away. Do you start him in your rotation or do you send him down to the minors?
Jon Daniels
(3:25 PM)
Depends on a few other factors. One thing I like about how the Nationals are handling Strasburg is this will be the first time he's ever thrown on a 5-day schedule (as opposed to once a week in college). He'll adjust to it fine I'm sure but why not let him do it in a lower pressure environment? He'll be up soon enough and in a few years no one will remember he got a little needed development time.
tim (carrollton)
With our starting pitching going so well, any thought to using holland/hunter/mccarthy in relief roles?
Jon Daniels
(3:26 PM)
Not right now, but that could be an option if they're throwing well and we have a need later in the year.
Dave (Denton)
Are you the least bit concerned with Hamilton's slow start??
Jon Daniels
(3:28 PM)
Not really, no. His approach since Wash gave him a day on Thursday has been excellent. He got in a little bit of a funk the last few exhibition games and first 2 games of the season. But the last 4 days have been very good - he hasn't been afraid to get deep in counts, is using the whole field, running well, etc. If he keeps doing those things he'll have a good year.
Sean (Dallas)
Are you disappointed by the attendance, or better yet the lack there of over the first home stand of the season?
Jon Daniels
(3:30 PM)
We were actually pleased with the fan turnout. I believe we're about 10% ahead of where we were at this point last season in terms of tickets sold.
Chet Lemon (Austin, TX)
Where does Kinsler hit when he returns to the lineup? It seemed he was penciled into the 5 hole in Spring Training. I'm guessing you don't want to mess with the Hamilton/Vlad/Cruz part of the order right now. Does Kins go to 6 or is he going to hit leadoff if Borbon's struggles continue?
Jon Daniels
(3:32 PM)
That's something Ron will look at when the time comes. For now, we're just focused on getting Ian back on the field - hoping to get him back by the end of next week, but nothing set in stone... In the meantime, my bet is Julio gets it going - he's too good of an athlete and too intelligent not to.
t ball (Plano, TX)
At what point will the Rangers give Feliz an opportunity to get back into starting? Would that be a spring training project, and would it depend on the construction of the rest of the team at that time -- or will Feliz and his secondary stuff determine that?
Jon Daniels
(3:35 PM)
You answered it. Going to depend on the makeup of the roster and how Neftali's developing. Plenty of guys have relieved (or even closed) and then moved back to the rotation (Lowe, Dempster, Smoltz, Wainright etc). He's not even 22 yet and has less than 3 months in the big leagues. We want him to get some experience under his belt - we have not abandoned the idea of him starting in the future, but that's not our immediate focus.
Rick (Wichita Falls, TX area)
How long is C.J. Wilson under Rangers' control and would Rangers re-sign him? What would it take and what are the alternatives if he cannot be re-signed? Would the Rangers get anything of value and when would a move have to be made if he cannot be re-signed?
Jon Daniels
(3:38 PM)
CJ is arbitration eligible (and thus under team control) for the 2011 season. If he hasn't signed an extension with us by then, and I definitely wouldn't rule that out, he could be a free agent after 2011. If all goes well, I expect we'll talk about keeping him in Texas before that point.
Jack (Chicago)
What are you hoping Derek Holland improves during his time in AAA?
Jon Daniels
(3:41 PM)
Derek's quick rise through the organization was largely due to his ability to locate his 4-seam fastball gloveside, and his changeup. He's since worked on a 2-seam FB, and both breaking balls. He'll eventually need all of them, but we've asked Derek to keep things simple while he's in OKC. Ride the fastball, locate it down and away, mix in the changeup, and focus on one breaking ball. He's a guy whose stuff is good enough that he doesn't need to trick guys. His last start of the spring and his first this season were encouraging.
P1 Steven (Dallas)
While it's obvious you are a busy man. Do you listen to Sports Radio at all like during your commute each day? And if so, which station do you prefer?
Jon Daniels
(3:42 PM)
If I listen to sports radio, it's usually the MLB channel. More often I'm on the phone or listening to music.
Jon Daniels
(3:42 PM)
MLB on Sirius/XM...
Scott (Dallas)
Does it concern you that the Rangers system is loaded with pitching but the hitters are lacking? Do you anticipate going heavy with hitters in the up coming draft?
Jon Daniels
(3:44 PM)
I agree we're probably heavier with pitching prospects that bats, but we've got a fair number of position player prospects as well - most of them are either at OKC or are really young (with some exceptions in between). We're always on the lookout for position players - hence our investment in Sardinas & Profar last summer. But we wouldn't pass up a special pitching talent in the draft just to take a bat, or vice versa.
Trey (Fort Worth)
What are your thoughts on realignment and getting Texas out of the AL West?
Jon Daniels
(3:47 PM)
It's probably more of an issue from a fan standpoint (with too many games starting at 9pm CT) than it is competitively. Part of me likes the idea of being in a 4 team division. But the travel isn't ideal, nor are the late starts for our TV-watching audience. We haven't spent much time on it - falls in the category of things we can't control and try not to worry about.
Frank (Dallas)
Arias is swinging a hot bat right now, but once Ian gets back into the lineup, you will have a tough decision. Do you lean more toward Blanco's defensive skills, or Arias' ability to have an offensive spark off the bench?
Jon Daniels
(3:48 PM)
Have to give Joaquin credit - he's taken an opportunity and run with it, and given us a shot in the arm when we needed it. We've got some time to decide what to do when Ian comes back, so there's no need to rush into it. Both guys bring something unique to the club. I don't want to lose either of them.
Steve (Corpus)
Can you explain why Vladdy was signed to a contract where he gets paid 2 million a year more than Hamilton?? Thanks.
Jon Daniels
(3:51 PM)
Just the nature of baseball's reserve & free agent systems. Players with less than 3 years of ML service time are typically paid within approximately $100k of the league minimum (ie, Nelson Cruz this year). Players with 3-5 years of service are arbitration eligible and their salary is determined by comparing them to similar players (ie, Josh Hamilton who is paid similar to Carlos Quentin this year). Players with 6 or more years are eligible for free agency
Brad (Dallas)
Do you find yourself looking over TCU box scores checking out how Matt Purke is doing? Any chance you would redraft him in 2011?
Jon Daniels
(3:53 PM)
Of course we look - we're only human... Matt seems to be off to a good start. No bad feelings on our end - he had two quality choices and made a decision which we respect. I wouldn't rule out redrafting him, though I hope we're picking too late to have a shot at him.
Mike (Dallas)
Many of the Latin players have to have an interpreter to do interviews or make quotes. How do they function away from the ballpark when they are on the road? Does the team provide help in ordering food and other everyday necesities?
Jon Daniels
(3:56 PM)
Many of the guys are comfortable enough with English to get around town, order food, etc. It's just more challenging to give a full interview in your second language. Many of us can speak a little Spanish - we may go to a restaurant and use bits of the language we know to get through dinner, but we wouldn't be comfortable with giving a speech overseas. Same for many of our players. There are very few of them I can't communicate with in English. In a few cases (mainly with Asian players) the club has provided an interpreter for them.
Jon Daniels
(3:57 PM)
OK, I need to run. Thanks for your questions and support this year. Going to be a fun one... JD