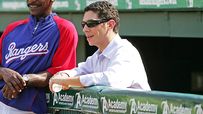 Daniels, 32, is the youngest GM in MLB.
Welcome to SportsNation! On Thursday, the Texas Rangers general manager will chat with readers about the AL West-leading Rangers season so far and what to look for as the trade deadline nears.
Send your questions now and join Daniels on Thursday at 11:15 a.m. CT/12:15 p.m. ET!
More Special Guests: Previous chats | SportsNation
Buzzmaster
(11:58 AM)
Jon will be here at 12:15 p.m. ET/11:15 p.m. CT to take your questions!
Jon
(12:13 PM)
Hey everyone. Sorry I'm late. Let's jump right into the questions...
joel (pecos, tx)
How likely is it that the Rangers will make a trade before the trade deadline?
Jon
(12:16 PM)
There's been a lot made recently here about the trade deadline - and for good reason - the team is playing well and everyone wants to see us win. Our plan all along has been to build the organization up to the point where we expect to win year in and year out. And when the opportunity is there, you want to give the club every opportunity to do so. The way we've played to this point gives us a lot of hope. But there's a lot of season left. Let's not get ahead of ourselves. I'll say this - if we keep ourselves in good position, we intend to do what we can to add to the club, internally or externally. It's just a little early to be so heavily focused on the deadline.
KO (Pittsfield, MA)
What has happened to the market for veteran players? Proven talents like Dye, Washburn, etc can't seem to find work.
Jon
(12:19 PM)
Hard to say. Some of it depends on the individual - do they want to play? Did they have opportunities to do so and passed on them? Will there be additional opportunities later this year? Were their expectations different than what the market suggested? There's an interesting secondary market of players now that might be alternatives to July trades for some clubs. But I still expect the focus to be on the guys who are out there competing.
Brent (Commerce)
What are your top reasons why you think the 2010 Texas Rangers are a potential playoff threat?
Jon
(12:21 PM)
We've got a deep talented club that believes in themselves. We're not perfect, there are definite flaws, but they're playing like a team and that masks a lot of things. I also give a lot of credit to Ron and his staff. I believe a team takes on the personality of its manager - Ron is a winner, a survivor - if he gets knocked down, he dusts himself off and keeps going. The team has a similar style - they never quit.
Brad (Flower Mound)
What's the status of Eric Hurley?
Jon
(12:23 PM)
Eric's shoulder couldn't be better - he's worked his butt off rehabbing and the shoulder is ready to go. Unfortunately, he's dealing with a broken bone in his left wrist that has held him back. We're looking into several options to help it heal, but as of right now, he can't pitch until it does.
Matt (Carrollton)
Have you done anything with your hair yet? The Rangers are at 10 and counting... Be a man of your word and let's see the new hair before the Houston homestand!!
Jon
(12:27 PM)
Talk about putting one's foot in their mouth... I'm going to honor my word. When we were in Milwaukee last Saturday, I was making fun of Elvis' dye job. He suggested I dye my hair too. I told him to focus on winning games. He asked how many it would take for me to dye - I said 10, figuring the odds of that were pretty long (we were at 0 at that point). I was hpoing he'd forget, but no such luck. It's not going to be a good look.
Max (Boston)
Hey Jon big Rangers fan here. I am really excited about our rising pitchers. What do you think the future upside of Tanner Scheppers is? What role do you envision him having with the big league club this year?
Jon
(12:29 PM)
We've been monitoring Tanner's innings this year because of the limited # he's thrown the past few years. He's now going 4ip each time out, and will likely go 5 at some point in OKC. The initial plan was to consider him more in the bullpen in 2010 if we have a need up here, though that could change. We envision developing him as a starter longterm.
SprungOnSports (Long Island)
How are you adjusting the way you operate as a GM based on the team's financial uncertainty? Is there less money to take on a contract or sign a draft pick or continue your scouting and development program? Thanks.
Jon
(12:32 PM)
We set our budget last fall and got the necessary approvals at that time. We are able to operate normally within that budget this year. From that standpoint, we aren't limited. However, the sooner the ownership situation is resolved formally, the better - as that may allow us to explore other avenues that would require ownership approval outside the budget.
David (Sachse, TX)
Has there been a discussion of promoting Beavan to AAA? It seems like AA hitters is not challenging Beavan; era in low 2s, low batting average against, and low walk total.
Jon
(12:35 PM)
There's no doubt that Blake has made big strides this year. The reason his performance has improved is because of the changes he made with Jeff Andrews and Danny Clark. His velocity has picked up some, his off-speed pitches are more consistent, and he hasn't sacrificed command. There are a number of potential second half promotions we're discussing right now, and the possibility of Blake seeing OKC at some point is one of them. Nothing imminent right now.
Reagan (Dallas, TX)
To avoid depleting our strong farm system, Is there any chance you might use some more recent draft picks or even future picks in a deal to get a starter? Or are teams looking for players that have already proven themselves in the minors?
Jon
(12:38 PM)
Baseball doesn't allow trading draft picks, and you can't trade a player until he's been under contract for at least a year. In general, clubs want guys that are close to the big leagues. However, sometime the best deals are made by teams that trust their scouts and are willing to wait on guys developing. That's how we got Elvis and Neftali - our scouts had vision, identified them in A ball, and we decided they were better longterm bets than guys closer to the big leagues but with more limited ceilings. I'm sure other clubs weigh that approach as an option.
Matt (Dallas)
How close are we to seeing Derek Holland/Rich Harden take the spot that Dustin Nippert is filling in for right now? Do you expect one of those two or Nippert to start next Tuesday in Anaheim?
Jon
(12:39 PM)
I'm not expecting either Derek or Rich back before the All-Star Break. It's possible that they make a start the week before, but we're preparing as though we need to make other plans. We'll discuss how we handle the 5th spot next week. It falls on an off-day, so there are a few options.
Michael (Plano)
How much feedback do you get from the existing team members before aquiring and individual in a trade? Do you get a feel for how the club will react and how much does that play into the decision to pull the trigger on a deal?
Jon
(12:41 PM)
It's pretty rare that we'd solicit feedback on specific trade targets from players. Just puts them in an uncomfortable position, and takes their focus off the field. If a guy has played with someone before - in HS, college or pros - we'll probably check in with them, get a sense of the guy's makeup, work ethic, etc & whether he feels he'd fit in. But that's the exception.
Pete (Sunrise, FL)
How do you guys feel about the catching situation right now, and what's going on with Saltalamachia?
Jon
(12:44 PM)
When we planned this off-season, we were not expecting the Treanor-Ramirez combo to be our catching tandem. But sometimes you have to adjust and be open to things working out differently. Matt and Max have both stepped up and seized the opportunity. And most importantly, the team is playing well with them handling the duties behind the plate. I don't believe in shaking things up unnecessarily. That doesn't mean we won't see Salty this year - he's playing much more consistently - but we're not looking to shake it up when the current mix is working. Matt and Max deserve some credit.
Kolby (Dallas)
How does it feel to see Borbon coming around after so much talk about whether or not to give him so much time?
Jon
(12:49 PM)
Some guys struggle at the big league level and can't handle it, others are able to stay focused. A couple of things played into that, I think - first, he kept contributing on defense. Second, the staff never gave up on him. Clint and Gary worked with him everyday. And Wash kept penciling him into the lineup. There are a lot of managers who would have given up on him, pushed for him to be sent out. For a young team, that's a huge advantage to have a manager and staff that want to stick with and develop these guys. We're seeing the fruits of that now.
Doc Spender (Tulsa, OK)
How concerned is the team with Josh Hamilton's hamstring tightness?
Jon
(12:51 PM)
Until I saw the report on espn.com this morning (which didn't include a quote from Josh I don't think), not at all. Josh wasn't on the medical report last night, and that's not why Wash gave him a day, I don't believe. I'll check in with the staff when he gets here but I don't believe it's anything out of the ordinary.
m mccann (seattle)
JD what are you and the organization doing to push DO for the allstar game?
Jon
(12:53 PM)
Mike McCann is Darren Oliver's agent. Nice.In all seriousness, if they'd consider a reliever without big save totals, Oliver has to be in the mix. He's been invaluable down there.
Kolby (Dallas)
Do more conversations happen between teams when they are in town to play against one another (thinking mostly here about the Astros)?
Jon
(12:55 PM)
Face to face discussions definitely help. That's why the GM meetings and Winter meetings are active. Spring training too - you see other scouts and GM's a lot. But GM's don't travel with the club all the time - some teams don't send anyone from the front offifce (most do - we do, with an occassional exception). I don't know if Ed Wade is traveling this weekend.
Mike Spears (Miami)
With Ogando getting more innings each appearance, what is the chance that he might fill a spot starter role in the rotation? I saw his debut vs the Marlins and was stunned by his talent and hope he can stay up in the Bigs!
Jon
(12:57 PM)
We've taked about it (stretching him out), as he has 3 pitches and throws strikes. But he's never started and can be a weapon in the bullpen. My preference would be to get our other starting options healthy.
Matt (Fort Worth)
Rich Harden...what is the story on his "rehab" and how long til he is back in Arlington? And what about Davis, he is crushing AAA?
Jon
(1:00 PM)
Rich got a injection in his lower back where a nerve was irritated. He is going to start throwing again this week. Davis has made big strides in OKC. Before last night, he was on a ~75 AB run with 8BB and 9K (or something close to that). Has really worked on his weaknesses. He's a hard worker and a great defender, with obvious power. There are scenarios where he could be back with us, but no moves planned at this point.
Jon
(1:00 PM)
Couple of more and then I need to run...
Vince (Pittsburgh)
Do you think that your organization had an effect on how quickly Feliz and Andrus got to the majors? If they were still Braves, would there be on the major league roster.
Jon
(1:01 PM)
With the talent and makeup of those two, I'm guessing they'd be in the big leagues anywhere. But there's no dobt in our mind that our development program helped accelerate their progress.
I.C (Austin)
J.D will you tell the amrketing dept to have a retro day where the rangers wear their home white and red jerseys from the mid 1990's.
Jon
(1:01 PM)
Done
Irby (Carrollton, TX)
Everyone knows the big name guys that were drafted earlier this month (Jake Skole and Kellin Deglan) and I have heard some great things about Jordan Akins? So how would you grade yourself and staff on this years draft?
Jon
(1:06 PM)
All 30 clubs right now are probably thrilled with their drafts. We're no different. I loved the dynamic among the guys in the draft room - lots of different opinions, perspectives. Ultimately, we stuck to our philosophy - drafted guys with big ablity and big makeup, and we're not afraid to wait a little longer if the upside is worth it. Our scouts did a ton of extra work this year on makeup, the kids' backgrounds, family situations - who really wants to play and succeed? We got a great mix of pitching & players, HS
Jon
(1:08 PM)
OK everyone. Thanks for all the questions - sorry I can't get to them all. Will try to do this again soon so we can answer some more.Can't tell you how much all of us - staff and players - appreciate your support. There's a buzz building in the Metroplex right now, and it's because of you guys. We're looking to keep giving you a winning team you can be proud of.JD
THIS WEEK'S CHATS (All Times CT)