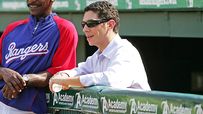 Daniels, 32, is the youngest GM in MLB.
Welcome to SportsNation! On Tuesday, Texas Rangers general manager Jon Daniels will chat with readers about the AL West-leading Rangers season so far and the moves he made before the trade deadline.
Going into play on Tuesday, the Rangers sit 61-44 and atop the AL West by 8 games.
Send your questions now and join Daniels on Tuesday at 2 p.m. CT/3 p.m. ET!
More Special Guests: Previous chats | SportsNation
Jon Daniels
(2:53 PM)
Hey folks. Thanks for joining us here today. More importantly, thanks for all of your support this year. The attendance, the tv ratings, the buzz in the Metroplex - it's outstanding. Ok, let's get started...
Fred (Dallas)
Noticed that all the minor league teams are on losing streaks. Please comment on what the plan is for restocking the minors. With trading 10 players and not signing any international players due to budget, is it possible that the depth we had is gone for a long time?
Jon Daniels
(2:58 PM)
Great question... We've traded 10 players out of our system this year in the deals that brought Lee, Cantu, Guzman, Molina and Lowe to the big leaue club. There's definitely going to be an impact on the system when you do that. Our goal was to make it as short term as possible - and you probably see it most on the Frisco team right now as many of the guys we traded were on that club. That said, with few exceptions, we felt we were able to hold on to most of our top young players. We moved a few guys I'd like to have back, but that's the cost of winning at the ML level... At the same time, we had a very good and deep draft, we added Columbian catcher Jorge Alfaro in January, and picked up 3 additional prospects in the Salty/Boston deal. Plus, I expect we'll be signing a few more drafted players before the 8/16 deadline... Our scouts have done a great job the last few year, which allowed us to trade from an area of strength. And at the same time, we're always working to keep the pipeline full.
Matthew (Columbia, NJ)
Hey Jon, love the moves you guys made, How much credit does Ron Washington deserve for the great season so far?
Jon Daniels
(3:00 PM)
Probably more than he's getting... I believe the single most important job of a ML manager is to motivate his players - to get them to give their all every day for over 8 months. Not an easy thing to do over the grind of the season. Wash is always upbeat, always high energy, and the players follow suit. They're in every game, come to play every night. That's huge.
Michael (Texas)
Do you like what you see from Mitch Moreland so far?
Jon Daniels
(3:01 PM)
It's really early, but yes. Mitch is a blue collar guy who's keeping his head down and working hard. He has an advanced approach at the plate, and is a solid defender at both 1B and RF (which gives Ron options and flexibility). Let's give him some time to get acclimated.
Jeremy (Fort Worth, TX)
What was the most complementary thing another GM has said to you in this year's trade deadline frenzy?
Jon Daniels
(3:04 PM)
A couple of guys remarked that we had a lot of good young players, as they were scouting our system. For an organization built on scouting and development, that's the best praise we can get. Our scouts and development staff have killed it. Now our challenge is to keep doing just that.
Peter (Irving, tX)
Congrats on the success so far this year; great job JD! With Tanner Scheppers being moved back to the bullpen and being effective again, it seems he would add a very solid option in relief for the stretch run. When can we expect to see him in Arlington?
Jon Daniels
(3:06 PM)
Thanks Peter... When we initially outlined Tanner's plan back in spring training, the thought was to get him innings as a starter (for development & in part to build his IP up as he didn't throw much the last 2 years), then move him back to the pen and see if he'd be an option for us down the stretch. So far he's looked very good in that role. We don't have any definitive plans at this point, but he's on the ML radar screen, and it's certainly possible he'll be up this year.
Dan (San Angelo)
What is the status of Matt Treanor? How soon will he be back?
Jon Daniels
(3:08 PM)
Matt's made faster progress than we initially expected. He's going to catch a bullpen in Seattle, I believe. If all goes well, he could be out on a rehab assignment in a week or two. We're not going to rush him though - want him to be 100%.
Matt (Plano,TX)
How's Josh Hamilton feeling? Hopefully better?
Jon Daniels
(3:09 PM)
He hasn't seen our trainer yet today (it's only noon in Seattle) but reports were that the knee was much better after Sunday. I expect he'll be in the lineup tonight.
Daniel (Albuquerque, NM)
Jon, can you comment on the players recieved from the Red Sox in the Salty trade?
Jon Daniels
(3:13 PM)
It was a 3 player deal, 2 of which have already debuted for us. Chris McGuiness is a left-handed hitting 1B. Comparable to Mitch Moreland if you're looking for an idea of how he profiles. Good control of the strike zone, some power, very hard worker, good makeup. He's always hit and our scouts believe his swing will allow him to continue to do so as he moves up the line. We promoted him to Bakersfield after the deal... Roman Mendez is a projectable right-hand pitcher. He's got a big arm and the makings of a good slider/split combo. Made his 1st start for us last night and the reports were very encouraging for a 20 yr old... We haven't announced the 3rd player yet.
Kyle (Austin)
Cantu and Guzman were great additions to the club, were those moves to just bolster the bench or is Kinsler's injury cause for concern?
Jon Daniels
(3:16 PM)
Cantu fills a need we've had since opening day - a quality RH complement to our LH hitting first basemen. His acquisition was completely unrelated to Ian's injury. And for the most part, so was Guzman's. We'd inquired about Cristian back in March but the price was too high for us at that point, and we subsequently picked up Blanco. We were already talking with Washington about him again last month when Ian got nicked up - originally looking at him as a luxury piece, so to speak - a veteran versatile player who could fill in anywhere. It just worked out that we had a more pressing need... We're looking for Ian to be back mid-to-late August.
Erin (North Richland Hills)
Have you (or anyone in the front office) made contact with agents for Cliff lee or Vladimir Gurerro about an exention?
Jon Daniels
(3:21 PM)
I've let both agents know that we'd like to have their clients back. But with everything going on right now, we feel it's best to wait until the off-season to talk sepcifics. One, we don't want the distraction of negotiations while our sole focus should be winning, and two, we need to see how the ownership situation plays out before we could make any significant future commitments. Plus, in Cliff's case in particular, he's only been here 3 weeks. It's not really fair to ask him to think about that until he's had some time to assess the situation.
Jason (Arlington)
how big of a role does Thad Levine play when you are working on trade?
Jon Daniels
(3:24 PM)
Thad's heavily involved in trades, and all that we do. He's one of a number of guys that I rely on all the time for counsel on every decision we make. We're fortunate to have an unbelievably talented management team - both the front office and out in the field. These people are the main reason we're having success as an organization. Thad's name is starting to come up more in the industry as someone who could be a successful GM -- I hope he doesn't go anywhere, but have no doubt he'd kill it if he did.
Chad (Providence, RI)
Congrats on the team's success! I'm a huge out-of-town fan. With the team's recent offensive struggles, I'm wondering if you think the big weapons (Josh and Vlad) are too worn down to get back in the kind of form they were at pre-All Star game?
Jon Daniels
(3:27 PM)
Gotta love a Rangers fan in Red Sox territory... I think it's natural to see some decline from the pace those two were keeping in the first half. That said, I know Ron is planning to give them a little additional rest so that they're fresh and ready for the stretch. That's part of the reason we wanted to add Cantu, Guzman, etc - provide the staff with as deep and versatile a bench as possible so that we can rest the starters and keep everyone as close to 100% as possible.
Scott (Scottsdale, AZ)
What are the Rangers chances of resigning Josh Hamillton. I am worried that the team will loose him to free agencey to another team.
Jon Daniels
(3:29 PM)
Josh is not a free agent this year. He's arbitration eligible and I can't imagine a scenario where he won't be a Ranger next season. He's actually not eligible to be a free agent until after 2012, and a lot can happen between now and then that could keep him in Texas beyond that point. You shouldn't worry about it anytime soon.
Kyle (Austin)
With the auction of the club just a day away, how big (if any) is this a distraction to the ball club?
Jon Daniels
(3:31 PM)
The players are pretty well insulated from most of it. I don't think it's had any direct impact on them to this point. They ask questions occasionally but more out of curiosity than anything else - I really believe their focus is 100% on the task ahead of them.
Zach (Houston)
When I was watching a game against the Angels the other night they showed a picture of the "Claw and Antlers" shirt the players are currently wearing. I know a number of fans who have been looking for it ever since. Any chance you can let us in on whether or not they will be available to the public and when?
Jon Daniels
(3:33 PM)
I don't know yet, but our business folks are looking into it. We'll definitely let you guys know if the shirts will be made available in the gift shop. They've become a bit of a cult favorite already.
Ryan (NY)
When did you know that getting Cliff Lee was a real possibility?
Jon Daniels
(3:35 PM)
We felt we were in the mix for a couple of weeks before the deal, but honestly didn't know we were going to get him until the very end. The night before I was not confident about it, then things moved fairly quickly that Friday and we were able to get the deal done.
Brett (Fort Worth)
The Player to Be Named from the Salty deal... are you choosing from a group, could he not be named because of draft restrictions, or is it contingent to some level on Salty's performance for the remainder of the year? Also, is there a date for when the decision has to be made by?
Jon Daniels
(3:37 PM)
Prefer not to give speficics, but I expect we'll be able to announce it shortly.
Bill (Ft Worh)
Since playoff time doesn't count against the arb clock, what are the chances Scheppers will be on the playoff roster, circa David Price?
Jon Daniels
(3:40 PM)
We don't really make decisions - and certianly none of that magnitude - based on service time. It wouldn't be a factor at all. Let's let Tanner get to the big leagues first, and more importantly, let the club win before we're planning playoff rosters. I don't think we should take anything for granted.
Ross (Colleyville)
Jon, thanks for doing these chats as frequently as you do, for being as gracious as you are every year at the Newberg events and for being the most approachable GM I've ever encountered. When another team makes a trade (such as the Haren deal during your Q&A at Jamey's event) how do you hear about it? Is there a leaguewide list serve, do you hear it through the media or does the league announce it?
Jon Daniels
(3:43 PM)
Thanks Ross... Occasionally, if we were trying to acquire one of the players involved in the deal, we might have a heads up from one of the clubs involved. Or sometimes we'll hear about a trade through a contact in the industry. But more often than not, we hear about it through the media the same way you would. Media rumors definitely shape the trade market - you may read a name you hadn't thought was available, or you might get a feel that one of your players is a fit elsewhere. Plus teams regularly put spin out there that you have to sort through. It's an interesting element to work with.
Cliff (Keller, TX)
The innings seem to be racking up quickly with CJ, Lee (not so much with Lee as he is used to the high amount of innings), and Lewis. Is there a plan to get them some rest down the stretch so they are at their best come Oct? (Similar to what TB did last night with Helickson)
Jon Daniels
(3:48 PM)
By keeping Cliff on regular rest, the other guys are getting extra days the next couple of weeks with the built in off-days. After that, we have a stretch of 20 straight. We've talked about inserting a 6th starter if need be for a time or two through the rostation, but have no plans to do it right now. That could change if we feel it's appropriate, and depending on matchups and the standings. We're definitely aware of our guys' innings limits and have been doing little things (such as how we set up the rotation around the AS break) to ease the workload a touch. We also feel they're in physical shape to handle it... Also worth noting that of the 5 guys in the rotation, Lee, Hunter and Harden have all had down time due to non-arm related injuries. So CJ and Colby are the two guys we watch most.
Peter Harman (Mansfield)
Great Job so far JD! are you nervous about the race for the west or do you believe we have it in the bag?
Jon Daniels
(3:52 PM)
Not nervous, but not even close to "in the bag". All of the teams we're competing with - LAA, OAK, CWS, DET, MIN, TB, NYY, BOS - have been to the post season the last few years. We haven't. They've won in the post-season. We haven't. We're trying to do something this organization has never done before. While I know the odds and all of that, this game is played by people. Until the standings suggest otherwise, I think we need to treat it as a unique opportunity and nothing to be taken for granted.
Me (Denton)
Hypothetical - The Rangers are guaranteed the WS this year, but you have to fill in for the left field ball girl for the entire post season - short shorts and all. Do you make that deal?
Jon Daniels
(3:53 PM)
No doubt.
Brian M. (Lake Highlands)
Are you at all worried about the offenses lack of offense the last couple games or has it been the other teams pitching thats slowed down the Rangers?
Jon Daniels
(3:56 PM)
Primarily Santana-Haren-Weaver, but guys go through slumps too. Counting yesterday, we've got 3 of days in an 11 day period. Plus the games in the cooler cities this week. Can only help.
David (Dallas, TX)
Will the ballclub promote Kirkman after September 1st? Are there any plan for him to spot start for either Lewis or Wilson to rest both of them?
Jon Daniels
(3:57 PM)
Kirkman is on the 40 man roster, has great stuff, and is having a good year in OKC. He'll get consideration for a September callup, but we haven't made those decisions yet.
Justin (Mansfield)
How do you feel about the team changing owners.
Jon Daniels
(4:02 PM)
Bittersweet, but ultimately excited for what lies ahead. There are so many good things going on with the organization right now - an energized fan base, a very good ML club, talent in the pipelines, exciting business opportunites, among others - and the idea of an owner with a matching vision and energy to see it through, could be a great fit. If you could buy stock in the organization, now's a great time to do it. My guess is the prospective owners see it that way too.
Jon Daniels
(4:02 PM)
Couple more and I need to run...
Justin (Arlington)
Mr. Daniels, with the Rangers giving you a opportunity to get involved in the every day decision making for the team at such a young age, are you considering leaving for another team this off-season?
Jon Daniels
(4:08 PM)
Hesitant to address this topic, but there are a lot of similar questions so...Your opening line is perfect - the Rangers have given me the opportunity of a lifetime. I love it here. I love the people I get to work with everyday. Love the community, as does my family. I want to see it through here, with the club and people and relationships we've spent so much time on. Hard to predict how things will play out over time, but leaving the Rangers is not remotely on my mind.One last thing on that - the speculation on me going to a specific club isn't fair to a lot of people, notably the people at that club who have worked very hard and had a lot of success, and the people here with the Rangers. Makes me uncomfortable to talk about it, actually. Feels disrespectful.
Jack (Bedford)
In trades we often hear about the "player to be named later." What are reason why players in trades are named later?
Jon Daniels
(4:11 PM)
Could be any one of several reasons - the two teams may have agreed upon a list of players (approx 3-5 usually, but can be any #) and the acquiring team needs time to scout them; or, there may be a conditional aspect of the deal - for instance, if a player in th deal gets hurt, the list might dwindle or you might have to take a lesser player; or the player coming back in th deal isn't eligible to be traded yet (have to wait 12 months from signing his original contract); among other reasons.
Jon Daniels
(4:12 PM)
Ok, have to run. Thanks again for all of your support this season. Has been a lot of fun so far, and I expect more to come. See you next week when NY & Boston come to the Ballpark. JD