Rangers president Nolan Ryan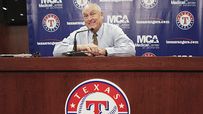 Pending MLB approval, Nolan Ryan will be part owner of the Texas Rangers.
Welcome to SportsNation! On Wednesday, Texas Rangers president Nolan Ryan will chat with readers about the AL West-leading Rangers season so far, surviving the auction process and more.
Send your questions now and join Ryan on Wednesday at 1:30 p.m. CT/2:30 p.m. ET!
More Special Guests: Previous chats | SportsNation
Nolan Ryan
(2:28 PM)
Hello, everyone. Hope things are going well.
Alan (Richardson)
What are the chances of signing Cliff Lee for next season and beyond?
Nolan Ryan
(2:29 PM)
It's just too early to predict on signing Cliff Lee and with the pennant race going on, we're not negotiating with players or do something that could be a distraction to the team. We'll have discussions as we get towards the end of the year internally and then make a game plan of how we're going to approach it. Obviously, we'd like to have him back so we're going to explore the opportunity of bringing him back.
Hunter (Pasadena, CA)
Hey Mr. Ryan,First, congratulations on winning the auction. I think the future for the Rangers is as bright as ever. Second, what are some proposed changes Rangers fans can be looking forward to in the future? Thanks for your time.
Nolan Ryan
(2:31 PM)
For next year, we are planning on having a new scoreboard on the home run porch and also additional video boards. The scoreboard will be bigger and state of the art, but we have to make a decision on that by the end of the month and I don't know the specifics on it yet. We're discussing whether it's one large video board or two smaller ones, whatever makes the most sense and fits the ballpark best.
Simeon (Arlington)
Fans have heard a lot of talk about the heat in Arlington and about a possible roof being put on the ballpark. Is a retractable roof on the agenda for the new owners? As a fan the heat doesn't bother me, but if it bothers guys like Cliff Lee than to me, the roof is worth the money.
Nolan Ryan
(2:32 PM)
You can't justify putting a retractable roof on this stadium at the current cost of doing so. We've looked at sun screens that would reduce the temperature in the ballpark by 15 degrees, but we haven't come up with something that is economically feasible on that yet.
eric harris (sachse,tx)
I think with the lack of production in offense, Ian kinsler will be a spark were looking for. when will he be back, and how healthy will he be when he returns?
Nolan Ryan
(2:33 PM)
We're trying to give Ian as much time as possible to heal properly and not try to rush him back in the lineup, but have him ready for September. I'd like to think he'll be a big boost when he returns. It will come down to getting his timing back at the plate.
Peter (Grapevine, TX)
When did you realize that you wanted to own the Rangers?
Nolan Ryan
(2:34 PM)
When groups started coming in and we were making presentations to them, I realized if I was going to have a future with the organization that I probably needed to try to be involved in a group that I'd be comfortable with as far as the ownership. I felt like it made sense if I tried to get involved in one of the groups. I reached out to Chuck to have a meeting up here and talk about he and I going together to possibly do a venture together.
David (Oklahoma)
Do you still do any work with the pitchers?
Nolan Ryan
(2:35 PM)
Not on any regular basis. The biggest contact I have with them is on occasion talking to them about observations I have or if they ask me my opinion on something.
Garrett (Arlington Tx)
Nolan, first off congrats on being part owner of the rangers. Ranger nation are you and chuck got the team.. How much money do yall have invested to sign free agents this offseason?
Nolan Ryan
(2:37 PM)
We have not worked on a budget for next year. We will sit down and start working on a budget in September to finalize it by October and at that point, we'll have a feel for what we think our needs will be and what we feel like we can justify in spending.
Nolan Ryan
(2:38 PM)
By the way, we have only some scattered single seats and standing room only tickets available for the Cliff Lee start tonight. So if you want see to game, you better hurry and get online. Thanks.
Matt (Plano,TX)
I first want to say congratulations to you and Mr. Chuck Greenberg. I am so happy to know that you all will be with this team. My Question: What is going to happen with the rotation in your opinion? Is Holland possible to join if needed?
Nolan Ryan
(2:39 PM)
Our attitude is that we're going to pitch whoever we think will give us the best opportunity to win. So Holland could be a possibility along with some others.
Jeremy (Fort Worth)
We all know that you and JD are going to try and resign Lee this offseason, do you also think you're going to try and sign Hamilton to a multi-year contract to get him locked up through his prime years?
Nolan Ryan
(2:40 PM)
It would be premature for me to make a prediction there, but that will obviously be discussed. We want to sign him.
Matt (Plano)
Nolan: what was the proudest moment of your playing career?
Nolan Ryan
(2:41 PM)
It's really hard to say. I can't say there was one moment that I thought was a true pinnacle of my career because of all the neat things that happened. The seventh no-hitter would be ranked very high because it came so late and it was here in Arlington and the way the fans responded.
Austin (Arlington, TX)
Mr. Ryan, First off, Congratulations on buying the Rangers. We know you will do well. Second, you kept yourself in such great shape for your career which led to your great durability. Do you think players today do as much to take care of themselves?
Nolan Ryan
(2:42 PM)
Yes, with all the sports medicine and the nutritional information and training techniques and opportunities players have today, there's a segment of the playing population that does an excellent job of that.
Phil (Abilene)
What is your take on the Rangers' international development and scouting? Will this be given more focus in the future? Thanks, glad to have you locked in!
Nolan Ryan
(2:43 PM)
I think there is an opportunity to expand international scouting on the Pacific Rim and to expand in South America, so I feel like yes, there will be more emphasis put on it and become more of a world game.
Jeff Denton (Dallas)
With David Murphy emerging as an everyday corner outfielder, do you have confidence Josh Hamilton is healthy enough to handle starting a majority of the season's remaining games in center field?
Nolan Ryan
(2:44 PM)
I think Josh has stayed extremely healthy this year and Ron has done a good job of resting his every day players. I would think if we need Josh to finish the season out in center field that he's very capable of doing it.
Nick (Smith)
After your intense war with Mark Cuban on the bidding of the rangers what do you think his chances are at owning an MLB team someday?
Nolan Ryan
(2:47 PM)
I really don't know what MLB's attitude is about that and what the ownership of MLB franchises feel about it, so it's hard for me to speculate. I know he's very passionate about the Mavericks and from my perspective has tried to be competitive in trying to put as good a team on the court as he can.
Adam (TX)
How do you plan to compete with the likes of the Yankees and Sox, and the other teams who have such a higher payroll than you do? How do attract star free agenst to play with the texas rangers?
Nolan Ryan
(2:49 PM)
We are where we are because of the commitment we made to developing from within and taking talent that is within our organization and upgrading the major league ballclub through those prospects and we'll continue on that course. When an opportunity comes up to sign a free agent that will have a positive impact, we'll be looking at that.
Jacob (Forney, TX)
What was the reasoning behind the Saltalamacchia trade? This team isn't very deep at catcher and Salty seemed like he had the most potential.
Nolan Ryan
(2:50 PM)
We felt like Salty was the most physically talented catching prospect we had, but we felt like he would be best served to get an opportunity to get a fresh start.
Panta (Euless)
Mr. Ryan. Let me first commend you on the great job you are doing with the Rangers this year. See on on Sunday when we clobber the Red Sox. How converned are you about the number of innings Cliff is pitching? Do you think he needs to start coming out in the 7th to get rest as the post season approaches?
Nolan Ryan
(2:54 PM)
No. You go on how many pitches they throw, how they throw their pitches, how much they have to labor. If you watch Cliff Lee, he's very efficient with his pitches, has quick innings and there's not a lot of stress in his delivery or throwing motion. So I don't look at that at all.
Lane (Waco)
From your playing days, which trade of an opposing player to your team made you happiest? Which trade of an existing teammate to another team made you the most upset?
Nolan Ryan
(2:56 PM)
I'd have to really think about that. I would say with the California Angels when we got Rod Carew. I can't think of one that we traded that wasn't in the best interest of the club.
Jeff (Detroit)
Would you like to see realignment? Texas is the only team that consistently has to change time zones to compete within its own division. Doesn't seem fair. Thanks.
Nolan Ryan
(2:57 PM)
I would like to see realignment from the standpoint that our fans would have less 9 p.m. starts when we spend so much time on the west coast and I think it would obviously help with our TV ratings and make travel easier on our team.
Jeff (Texas)
In the made for TV movie over the entire auction process who plays Nolan Ryan?
Nolan Ryan
(2:58 PM)
Good question. I don't know. Most of the actors I like are sold they don't act anymore or they've died.
Kevin (Fort worth)
From everything I have read and heard ya'll are planning on keeping John Daniels. I hope that is true he really seems to be doing an excellent job.
Nolan Ryan
(2:59 PM)
Our intentions are for Jon Daniels to be here and I would think when the season is over there will be some discussions about what his future with the ballclub will be.
Andrew (Coppell)
Will we see Tanner Scheppers anytime soon?
Nolan Ryan
(3:00 PM)
It's hard for me to predict. It depends on what happens between now and Sept. 1. We moved him back to the bullpen after starting for a month and a half and we feel like he's more consistent out of the bullpen than he was as a starter. If we do bring him up in September, he would be an addition to the bullpen.
Robert (Phoenix)
Do you like the idea of a salary cap? Any chance that comes to the MLB?
Nolan Ryan
(3:01 PM)
I don't know what may come up in this next basic agreement, but I would not anticipate much change over what we have, which is a luxury tax. I would have to see a cap that I felt like was workable and that we felt like was an improvement off what we have right now.
Brooks (Irving)
Is it possible that Feliz will get a shot at the starting rotation come Spring or will his recent success as a closer keep him where he is? Could someone like an Ogando, Scheppers, FA signing have a chance at the closer roll should Feliz become a starter?
Nolan Ryan
(3:02 PM)
The way I look at him at this point in his development, he's a 1 1/2 pitch pitcher with an inconsistent breaking ball. To be a legitmate starter, in most cases you have to have three pitches. I think he's still a little ways from being there.
Jordan (Charlottesville, VA)
What needs to be done to get the rangers more national tv attention? I moved from Texas recently and its killing me not to be able to watch them on a regular basis anymore.
Nolan Ryan
(3:03 PM)
I think for the Rangers to get more national attention they have to win. The more we win, the more attention we'll receive and players like Josh Hamilton and Guerrero and Young will become more national figures.
Brady (Dallas)
Do you think the Cowboys will win the Super Bowl?
Nolan Ryan
(3:03 PM)
I think they've got as good a shot right now as anybody.
Jacob (Forney, TX)
Would you ever consider playing a game in Cowboys Stadium?
Nolan Ryan
(3:04 PM)
That's not possible. We might put a few dents in Jerry's new videoboard.
Mike (Boston)
A younger Clint Eastwood might do a good job as you.You've pitched against some of the all-time greats and have been involved in the game to see even more. Who are the best pitchers you've gotten to see in your career. Top 5?
Nolan Ryan
(3:05 PM)
Sandy Koufax, Bob Gibson, Tom Seaver, Randy Johnson and Steve Carlton.
Jordan (Charlottesville, VA)
How much of the Rangers success should be attributed to Ron Washington?
Nolan Ryan
(3:05 PM)
I feel like Ron Washington has had a very positive influence on our ballclub because he's very consistent and very supportive. He's grown as a manager and I personally think he ought to be manager of the year.
Daniel (Tyler)
What about this 2010 team led you to believe they could win 92 games before the season began?
Nolan Ryan
(3:06 PM)
I felt like with our bullpen and our balanced lineup, we were going to be a better ballclub. I was counting on our starting pitching being better than last year.
Brad (Dallas)
How much foreshadowing on to the post-season was the extra-innings win over the Yankees last night?
Nolan Ryan
(3:08 PM)
The way I view playing the Yankees in this series and Boston and Tampa Bay coming up is that we want to make it as uncomfortable on clubs here playing in Arlington as they possibly can so they won't come back in here and think they'll have an easy go of it in the postseason. So the more competitive we are against those ballclubs, the better is for us.
Tucker (Frisco)
If you could go head to head with one batter right now who woudl you pick and why?
Nolan Ryan
(3:09 PM)
It would have to be Pujols because I really think that over the last 10 years, Pujols has been as consistent and successful a hitter as we've seen. Manny Ramirez would be a big challenge.
frank (dallas)
will we have mike back as our pitching coach next year ?
Nolan Ryan
(3:10 PM)
I have every expectation of him being back.
Bill (Lubbock)
Will Roundrock become part of the organization next year?
Nolan Ryan
(3:11 PM)
I would say there's a high probability that Round Rock would replace Oklahoma City as our Triple-A franchise. Corpus Christi is entrenched in Astro country and Frisco is very important to us, so we anticipate leaving Corpus as an Astro franchise.
Lane (Waco)
How often do you throw a baseball these days? How fast can you throw right now?
Nolan Ryan
(3:12 PM)
Hadn't thrown this year. So your guess would be as good as mine.
Nolan Ryan
(3:12 PM)
Actually, I pitched to my grandson. I was probably in the 40s.
Jon David (Dallas)
How about bringing the Rangers into Downtown Dallas or Downtown Fort Worth???
Nolan Ryan
(3:13 PM)
There haven't been any discussions of that nature. And we have 10 years left on our lease here in Arlington, anyway.
Don (Germany)
What are your goals for the Rangers in the next 5 years, both for the team and as a business investment?
Nolan Ryan
(3:14 PM)
My expectations are for the Rangers to be competitive each year and that when we come out of spring training, we feel like we have a legitmate shot at winning our division. I'd look for the club to become profitable on an annual basis.
Andrew (Ft Worth)
Did you expect Teagarden to be doing this well when he got called up? We all knew he is great defensive catcher, but if he keeps hitting the skys the limit for him.
Nolan Ryan
(3:16 PM)
He struggled earlier in the year when he was with us and was making some progress in Frisco and he has progressed better than we anticipated he would coming back under the circumstances.
Lane (Waco)
How stressful was the buying process compared with the stress you faced pitching against a top hitter with the bases loaded late in a tie game? Please rate each 1 to 10.
Nolan Ryan
(3:17 PM)
There's a lot of variables on the pitching aspect of it of who the hitter is, your success rate against them and what kind of stuff and command you have that night. With the bankruptcy trial, there were so many unknowns that it was hard to have any type of comfort level whatsoever and anticipate what the outcome might be.
Curtis (Amarillo)
Thanks for everything Nolan, we love you man!!How aggressive can the team be in the minor league draft next year now that the ownership situation is resolved? And did the team have to hold back this year because of it?
Nolan Ryan
(3:19 PM)
We haven't signed some of our out-of-slot players yet, but anticipate being able to sign them before the deadline. Next year, depending on what happens with free agency and what the amateur draft talent level is, we will be active, but to what level is premature to say.
Nolan Ryan
(3:19 PM)
Thanks for all the questions. We appreciate the support and interest level we've had this season. With the fan support as we saw last night, it has a definite impact on how our ballclub performs. BTW, we have only standing room only left for tonight, but would love to see fans come out for the Boston series over the weekend as well.