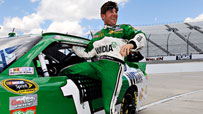 Welcome to SportsNation! On Tuesday, NASCAR driver Jamie McMurray will stop by to chat about the news on and off the track as well as the upcoming NASCAR Sprint Cup Series race at Texas Motor Speedway. Check out ESPNDallas.com for more on the race.
McMurray won the pole last week at Martinsville and led 31 laps before finishing seventh, his highest finish of the season. He came into the race ranked 28th in the Sprint Cup Series standings and moved up five spots to 23rd with his top-10 finish.
Last season McMurray won three races including the Daytona 500 and Brickyard 400 and four poles.
Send your questions now and join McMurray on Tuesday at 12:30 p.m. CT/1:30 p.m. ET!
More Special Guests: Previous chats | SportsNation
Jamie McMurray
(1:29 PM)
Hey everyone!
Steve (Cherry Hill, NJ)
After a great season last year. Do you tink you will be able to improve on last years performance? Will you make the chase this year, epsecially considering the chase rule changes?
Jamie McMurray
(1:30 PM)
Yes, I do. We got off to a really tough start. We have fast cars but struggled to get good finishes out of them.
JuanGG (Colombia)
Congratulations Jamie for the great Martinsville run, how do you thinks EGR teams will perform at Texas?
Jamie McMurray
(1:31 PM)
We didn't run very well there last year. We're going with a completely different style of a setup. We ran better with tracks with a lot of grip, so we're going with a different gameplan. Texas used to be a good track for me, so hopefully we'll hit on something this weekend.
Ben (Florida)
Jamie which track do you consider your best? and which track do you feel most confident about getting your first win of this year?
Jamie McMurray
(1:32 PM)
I think Charlotte will be somewhere at which we'll run really well. I feel good about Charlotte, but I'm not sure what my best track would be.
Larry (Pensacola)
What do you think of all the high groove tracks NASCAR runs nowadays? I really enjoyed watching Martinsville because I love seeing someone make a run off the corner, get under someone and make a pass. It seems impossible to pass at all these high groove tracks because you can't get outside someone unless he lets you.
Jamie McMurray
(1:33 PM)
I actually like the tracks we can run high at. If you get your car working on the bottom, you can pass the guy on the top. Most of the tracks are multiple-groove, so it's tough to run high, but I enjoy trying to make it work.
Nick (Sioux City, IA)
Any plans to run a handful of Nationwide races this year?
Jamie McMurray
(1:33 PM)
I know I'm gonna run one coming up. Just got everything worked out today. It'll be in the next few weeks.
Jonathan (Bristol, VA)
Jamie, you made your 300th Sprint Cup start on Sunday. Are there any differences in your driving style now compared to when you made your first Cup start in 2002?
Jamie McMurray
(1:34 PM)
I don't think so. It seems like the longer you're around, the wiser you become. You don't tend to make the same mistakes over and over again. But now you're making me feel old!
Jeremy (Arlington, TX)
Will you be making any appearances in the area this week?
Jamie McMurray
(1:35 PM)
Yes, I'll be at Bass Pro Shops in Grapevine on Thursday night.
Mark (Lexington, KY)
How do you think that you and JPM can work together during races more effectively? Do you perceive each other as teammates, and does that effect strategy?
Jamie McMurray
(1:36 PM)
When you're a teammate in NASCAR, it's more about pre-race and sharing information, except in Talladega and Daytona. We did a great job at those last year. I think it's all working really well. Everyone races one another in the same way.
Jerame (cali)
Watching you week in and week out, i know you guys will get it together...is it time to hit the panic button points wise and just go for wins? or are you still focused on getting good finishes?
Jamie McMurray
(1:37 PM)
I don't think it's too late for solid finishes. We're on the sixth race of the year, and a lot can change in ten weeks. Winning two races before Richmond would lock you in the Chase, but it's not too late for consistency.
Brill (Plymouth,NH)
You won the Daytona 500 and Brickyard 400 last year. What is the race you now want to win the most?
Jamie McMurray
(1:37 PM)
The night race at Bristol.
Blair (Charlotte)
What is it like to work with Bono? I listen to you guys on the scanner and he's not afraid to yell!:)
Jamie McMurray
(1:38 PM)
We're really good friends away from the track, and it doesn't seem any different than everyday life around him anyways. I enjoy getting to work with him. I don't think he yells that much!
Luke (Iowa)
Jamie allways like you and the way you come across. How is it running with the ethanol? Have you notice a difference on how the engine runs or feels?
Jamie McMurray
(1:39 PM)
In the car, you don't see any difference. It does get a little bit more power, but not enough that you would feel it.
Joanne (Ft. Myers)
Hi Jamie, how has marriage and being a dad changed your priorities and perspective of racing?
Jamie McMurray
(1:39 PM)
It hasn't changed my perspective at all, but being married and starting a family is what we're here to do. It's been wonderful. I wouldn't change anything. I got really lucky that I met a good girl!
Ryan (Wisconsin)
With what appears to be a very even field of cars this year, what makes a bigger difference: Shop preparation and engineering research, or good driver/crew chief communication?
Jamie McMurray
(1:40 PM)
Most of it's done before you get to the track. Whoever can develop the next gizmo or trick setup or the next must-have, it just seems like everyone is so close that when someone gets an advantage, it really shows.
Andrew (Kettering Ohio)
Having been in the same position as Trevor Bayne (winning in your 2nd start). Do you think that winning so early was good for your career or does it put exceptional pressure on what is still a green rookie driver?
Jamie McMurray
(1:42 PM)
I think it can go either way. A lot of it has to do with the team you're with. Daytona is such a unique racetrack. When we go to anywhere but Daytona or Talladega, there are really about 15 guys who legitimately have a shot to win. It was really cool for Trevor to get a chance to win that. That track is unique.
Taylor (Columbus, OH)
Do you prefer to be up at the front for the whole race or to lay back a little and make your move later in the race?
Jamie McMurray
(1:42 PM)
I'd prefer to be up front the whole race. Nobody wants to be in the back!
TMS fan (Dallas)
Jamie, what's your opinion of Texas Motor Speedway, and how do you prepare for that track differently than the others?
Jamie McMurray
(1:43 PM)
I love Texas. I grew up only about five hours from the racetrack. It feels like home. It's one of the nicest facilities that we go to.
JP (Miami)
Last week I heard over the #42 radio that they credited most of the race setup to the #1 team, how often do you guys trade setups in practice just to see how the feel of the car is?
Jamie McMurray
(1:44 PM)
Normally it doesn't work very well, because we like different stuff, but we had the fastest car in practice there. The #42 team came threw our setup in and it worked for them. But for the most part, it doesn't work. We can't always just put the fastest car's setup in.
Jamie McMurray
(1:44 PM)
Thanks everyone!
THIS WEEK'S CHATS (All Times CT)