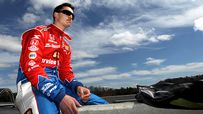 Rahal is the son of 1986 Indy 500 winner Bobby Rahal.
Welcome to SportsNation! On Thursday, IndyCar driver Graham Rahal stops by as he prepares for Saturday's Firestone Twin 275s at Texas Motor Speedway. This year's race features a new format, where instead of running one 550k race, there will be two full-field 275k races, with two winners being declared and half points awarded in both races.
Rahal made his season debut in IndyCar in 2008 earning the first win of his career during his rookie season. He finished third at the Indy 500 this year and currently sits in sixth in the points standings.
Send your questions now and join Rahal Tuesday at 1 p.m. ET!
More Special Guests: Previous chats | SportsNation
Buzzmaster
(12:57 PM)
Graham will be here shortly to take your questions!
Buzzmaster
(12:59 PM)
Graham is here!
Brad (Gadsden,Alabama)
Graham, Do you have any pre-race rituals?
Graham Rahal
(1:00 PM)
I would say yes, I do. It's not really rituals as much as it is superstitions. I always get in from the left side of my car. I always put on my right glove, right shoe, right strap first. It's just come over time. I did it a few times and had some good results, so I just kept at it.
Kyle (Florida)
Sometimes Indy cars look very very uncomfortable. Is that true for you?
Graham Rahal
(1:01 PM)
I am comfortable. They're form fitted to us as a driver. The seats, pedal positioning, wheel are fitted to the driver. I would say, yes, it's pretty comfortable to me and everybody.
James (Rochester, NY)
How do you feel about the season?
Graham Rahal
(1:02 PM)
I think it's, truthfully, been a fantastic season. We've had a good run at it. The first few races started off slow, but the last few have picked up. We're on a streak of two podiums in a row. The team is starting to gain a lot of confidence. Being that we're a new team, I feel like that will help us as we roll on.
Brandon (Indianapolis)
What do you think of the new format for the 550k (Twin 275s)? Good Luck!
Graham Rahal
(1:04 PM)
I would say that it looks like it's pretty good. It's going to be interesting to see how it all plays out. We'll provide a lot of action on track. I think everybody's looking forward to get out there and run. There are a lot of question marks, but I think everyone is excited to get out there. The two races will be pretty exciting. I'm hoping that we'll see different winners, unless it's me, in which case, I hope we win both. Eddie Gossage here at Texas knows his stuff. We'll see how it works.
Robbie R. (Iowa City, IA)
On the last restart at Indy, how in the world did you make it through to pass 10 cars?
Graham Rahal
(1:05 PM)
Well, really, it's a lot of luck. They gave me a good hole to go through. Of course, I tried to make the most of it what I could. The guys came on the radio and said we needed a good restart. Fortunately, we were able to do so. To pass 10 cars in one lap is uncommon. It was a lot of fun.
Cora (Indianapolis)
What is the most difficult thing about your busy lifestyle?
Graham Rahal
(1:06 PM)
I think it's remembering what's on your scheduld. I often find I fail to remember what I'm supposed to be doing in five minutes. Then I get a call reminding me. Keeping track of all of that stuff.
Bill (Indiana)
Hi Graham. Congratulations on the podium finish at Indy! I will be attending the Baltimore Grand Prix in September, which as you know is a new street course. How long does it usually take your to get comfortable with a new track?
Graham Rahal
(1:07 PM)
It takes quite a lot of time. I think the best drivers can do it in 5, 6, 7 laps and figure it all out. But you're always learning. Every time you run. Different tricks and all of it. It's a constant learning process. I think that's what really highlights and separates the good drivers from the great ones. The greats can go out there and be on it in little to no time.
Tim O'Day (Hinsdale, Illinois)
What's been the biggest difference with your new team this year?
Graham Rahal
(1:09 PM)
I think it's experience. It's learning. Our guys where we have a great backbone to lean on. We have great personnel and very little ego within the team. That's huge and so important. I feel like that will help us in the long run, a lot. We are still young and we'll grow and learn as we go on. But our team have the right mindset. My guys have approached it as if it's a learning year. You don't want to think about it like that. You want to go out and win, but we have that approach and we have some good results already.
Chris Fiegler (Latham,NY)
What Race do you Look foward Racing in Each Year?
Graham Rahal
(1:10 PM)
I would say of course there is. Clearly the one that sticks out in my mind is always Indy. It's what we live for. But at the same time, I would say that I'm from Ohio, so Mid-Ohio is always great for me. St. Pete is where I got my first win, so that's good for me. We're starting to find our stride in IndyCar where there are a lot of races that I look forward to. But Indy is what it's all about.
Cheesehead Sports Nut (Chicago, IL)
Let's jump ahead a week, what are your thoughts on The Milwaukee Mile? Are you racing at The Milwaukee Mile?
Graham Rahal
(1:11 PM)
Milwaukee is probably one of my favorites. It's a fantastic race track. So much fun. I can't wait to go there, be a part of it. It's one of the best races around. A couple of years ago showed there's a lot of excitement at that track. I think we'll put on another good show.
Hunter (Louisville, KY)
What gives Team Ganassi and Team Penske the edge over the other teams in IndyCar?
Graham Rahal
(1:12 PM)
It's attention to detail, if you're asking me. That's the biggest difference. There is very few things that they miss. And experience, clearly, that's a big part of it.
zak kozak (parma ohio)
coming close in the indy 500 what is the worst part of coming close but not getting it
Graham Rahal
(1:14 PM)
It makes it tough. You know how close you were. The toughest part is you hope that's not the closest you ever come to winning it, but you never know. It's a once in a lifetime opportunity to finish that close. You want to win the whole deal. But at the same time, I fully understand that myself and my team will keep working on improving so that when we go back next year, we have an even better shot.
Graham Rahal
(1:14 PM)
I appreciate everyone coming on and all of the questions. I certainly look forward to hearing more from you in the future. Keep supporting IndyCar.
THIS WEEK'S CHATS (All Times CT)