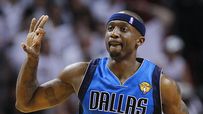 Terry also won the 1997 NCAA title while with Arizona.
Welcome to SportsNation! On Wednesday, Jason Terry, a member of the newly crowned NBA champion Dallas Mavericks, stopping by to chat.
Terry, who tattooed the Larry O'Brien trophy on his arm prior to the season, averaged 18 points while shooting nearly 40% on 3-pointers in the NBA Finals. His game-high 27 points in Game 6 of the NBA Finals helped seal the Mavericks' championship.
Terry will be auctioning off his Reebok Zigs that he wore during Game 6 of the NBA Finals. Fans can go to Reebok.com to bid on the shoes.
Send your questions now and join Terry Wednesday at 11:15 a.m. ET!
More Special Guests: Previous chats | SportsNation
Buzzmaster
(11:07 AM)
Jason will be here in about 10 minutes to take your questions!
Sam (Mule Shoe Texas)
All the series appeared to be a formidable challenge......which series was the most mentally challenging and why?
Jason Terry
(11:22 AM)
The Portland series was the most mentally challenging series for us. Because the first round is always the toughest.
jake (Memphis, TN)
With 22,792 career points, 8,315 rebounds, not including playoffs, and still with a couple more years to play, do you think that Dirk is clearly a Hall of Famer?
Jason Terry
(11:22 AM)
Yes.
brad (arlington)
i've seen the ESPN Finals halftime spots that show you coaching your daughter's team, and you seem to be having a blast. are you going to get into coaching when you retire?
Jason Terry
(11:23 AM)
That is definitely part of my plan for my post career. I plan to coach at the college level. Preferrably at the University of Arizona.
Devin (Dallas)
How do I get your shoes?
Jason Terry
(11:23 AM)
Go to Reebok.com and place a bid on our auction website.
Matthew (Columbia, NJ)
Hey Jason with the draft being on Thursday, what was draft night for you?
Jason Terry
(11:24 AM)
Probably was the most nerve wracking experience of my career. But at the same time it was my most memorable experiences.
Kimberly (San Angelo, TX)
Sweetier victory, 1997 NCAA title or 2011 NBA title? Jet fan for life!
Jason Terry
(11:25 AM)
It's tough. '97 was just...I was a young kid. That was probably the most exciting. But the most presitgious is obviously the world championship.
Bobby (Dallas)
Are you going to get a second Larry O'Brien tattoo to get ready for a repeat?
Jason Terry
(11:25 AM)
I think I'm going to do something a little different this year. I am superstitious and it did go through my mind, but I think we've been there and done that.
William (Dublin)
Was there ever a point in the season where you began to fear getting the NBA championship trophy tattoo was to bold?
Jason Terry
(11:26 AM)
No, not at all. I always had confidence in our team and believed in the journey.
Michael (Mckinney)
Your personal opinion here, or any info you have from the players/owners meetings. Will there be basketball next season? If so will it be a full season or shortened season?
Jason Terry
(11:26 AM)
I believe we will have basketball next season. How much of it, I just don't know, but I'm very confident we will play basketball next year.
Danny (Wisconsin )
Jason how does it feel beating Lebron, D Wade, Chris Bosh in the NBA finals?
Jason Terry
(11:27 AM)
We didn't care who was in the Heat uniforms, we just knew that playing them was special and it was sweet vindication.
Kris (dallas)
How much are you hoping to get for the shoes?
Jason Terry
(11:28 AM)
Don't know. But I can only imagine, if you're a diehard fan and you really want a piece of history, go to Reebok.com and bid on my Game 6 Reebok Zigs. Not only are they the best shoe in America, but they're a part of history.
Brad (Gadsden,Alabama)
J.T., Do you have any pre-game rituals?
Jason Terry
(11:28 AM)
Oh my goodness. Plenty! I'll give you a couple. Eat some piece of chicken. Sleep in the opposing team's game shorts the night before.
Alec L. [via mobile]
Jason, did the tattoo you get motivate you to play your hardest every game of the season?
Jason Terry
(11:29 AM)
When there were times this season we were faced with adversity and I would look at the tattoo and realize that this was our time.
Jim (Philly)
Has anyone in particular congratulated you guys that you were surprised was a Mav's fan?
Jason Terry
(11:30 AM)
For me, Dr. J. When he texted me before Game 6, I realized it wasn't just Dallas rooting for us, but the entire sports nationl.
jose (stockton)
wheres the headband ?
Jason Terry
(11:30 AM)
Framed already with the uniform.
Jason Terry
(11:30 AM)
And the socks.
Jordan (Slinger, WI)
Did your team chemistry play a role in the Mavericks' success this season?
Jason Terry
(11:31 AM)
The team chemistry was very key. On any team and any level, you have to have team chemisty. Guys have to get along and have a bond. I think our bond was very strong due to the fact that we had a core group of veterans that had been there before.
Travis C. (Lake Highlands)
How come you still seem to have young legs, but other guys your age are breaking down?
Jason Terry
(11:32 AM)
Five Ps. I have one of the best strength coaches and throughout the season I continue to work on my lower body strength. I've watched Jason Kidd do it.
Rian (Los Angeles)
What did you think of Dirk's singing?
Jason Terry
(11:33 AM)
If you want to call that singing, it was God awful. But being that it was in the moment, I really liked it. It showed his personality and it showed us how much he really cared about winning the championship.
Jason Terry
(11:34 AM)
Continue to watch and support the Mavericks. "We are not finished yet." Those are the great words of Mark Cuban. Thank you for your support.
THIS WEEK'S CHATS (All Times CT)