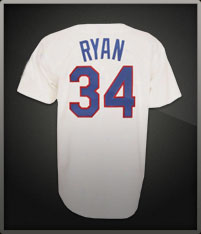 Nolan Ryan
Rangers pitcher (1989-93), president (2008 to present)
Nolan Ryan can be credited with lifting the Rangers to national prominence in two distinct roles -- player and executive. Baseball's all-time strikeout leader, who spent just five of his 27 major league seasons with the Rangers, signed with Texas in December 1988. He would throw two of his record seven no-hitters with the club. His final no-hitter came May 1, 1991, against Toronto in Arlington.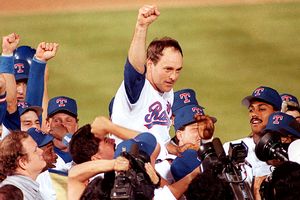 ESPN
Nolan Ryan, seen here after throwing his major league-best seventh no-hitter, in 1991, threw two of his seven no-hitters for the Rangers.
He also became the only pitcher in baseball history to record 5,000 strikeouts, doing so in a Rangers uniform and against fellow Hall of Famer Rickey Henderson of the Athletics. The eight-time All-Star pitched in the 1989 Midsummer Classic as a member of the Rangers and threw two scoreless innings in relief. He became the oldest pitcher to win an All-Star Game during the American League's 5-3 win in Anaheim, Calif. Ryan won his 300th game in his second season in Texas. He is fourth in Rangers team history in career ERA (3.43) and finished with a 51-39 record in five seasons. He also was a two-time AL strikeout leader while with the Rangers. The Alvin, Texas, native threw his final pitch Sept. 22, 1993, at age 46. His next stop was Cooperstown, where he further endeared himself to Texas fans in 1999 by entering the Baseball Hall of Fame -- in his first year of eligibility -- with a Rangers cap. As team president, Ryan helped guide the Rangers to their first AL pennant in 2010. Club attendance has increased each season during his tenure. Earlier in his career, Ryan reached the World Series with the Mets in 1969, earning a championship ring in his second season in the majors. He also played for the Angels from 1972 to 1979 and the Astros from 1980 to 1988, and is the only player in baseball history to have his number retired by three franchises. Ryan appeared on all five of the ESPN Dallas Hall of Fame panelists' lists of 20 candidates for consideration for the inaugural class and was a top-five pick on four of them.
2011 Dallas Hall of Fame classmates: Emmitt Smith | Tom Landry | Troy Aikman | Roger Staubach