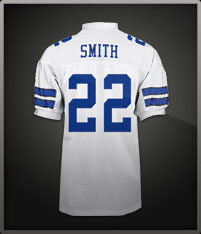 Emmitt Smith
Cowboys RB (1990-2002)
The NFL's all-time rushing leader with 18,355 yards was the engine that powered the Cowboys' dynasty of the 1990s.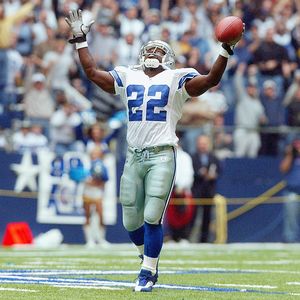 ESPN
Cowboys scout Walt Yaworsky reportedly wrote that Emmitt Smith, shown here after breaking the NFL rushing record in 2002, would "someday make Cowboys fans forget about Tony Dorsett."
How important were Emmitt Smith's contributions? With Smith holding out over a contract dispute during the 1993 season, the Cowboys stumbled out of the gate with two defeats. After he rejoined the Cowboys, they went 12-2 in the regular season the rest of the way. Later that season, on Jan. 2, 1994, during a road game against the Giants, Smith gained 168 yards with a separated right shoulder as the Cowboys won in overtime to clinch the NFC East and home-field advantage throughout the playoffs. The Cowboys would defend their championship that season, as Smith became the only player in NFL history to collect a Super Bowl title, Super Bowl MVP award and NFL MVP award in the same year. (Pittsburgh's Franco Harris is the only running back with more Super Bowl rings than Smith's three.) The 17th overall pick of the 1990 draft would win offensive rookie of the year honors and be named to the first of eight Pro Bowls after his inaugural campaign. Smith enjoyed 11 straight seasons in which he reached 1,000 yards (missing a 12th by 25 yards) and led the league in rushing four times. The NFL's all-time leader in rushing touchdowns with 164, he also had back-to-back seasons of at least 20 TDs on the ground (1994 and 1995). He surpassed Bears legend Walter Payton in the all-time rushing yardage category on Oct. 27, 2002, at Texas Stadium in a game against the Seahawks. His résumé includes 515 receptions for 3,224 yards and 11 touchdowns. He closed out his career by spending two seasons with the Cardinals. The native of Pensacola, Fla., joined his fellow "Triplets" -- quarterback Troy Aikman and receiver Michael Irvin -- in the Cowboys' Ring of Honor of Sept. 19, 2005. He was inducted into the Pro Football Hall of Fame on Aug. 7, 2010. A member of the NFL's All-Decade Team of the 1990s, Smith appeared on all five of the ESPN Dallas Hall of Fame panelists' lists of 20 candidates for consideration for the inaugural class and was a top-five pick on two of them.
2011 Dallas Hall of Fame classmates: Nolan Ryan | Tom Landry | Troy Aikman | Roger Staubach