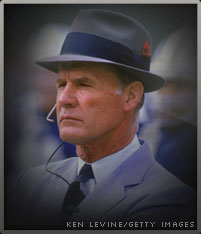 Tom Landry
Cowboys coach (1960-88)
For the Cowboys' first 29 seasons, Tom Landry was the only head coach the franchise ever knew. His statistical legacy is impressive: 20 straight winning seasons, 270 overall wins (third all time), two Super Bowl wins, five conference championships and 14 divisional titles. The Cowboys reached or topped 10 wins 16 times under Landry's tutelage.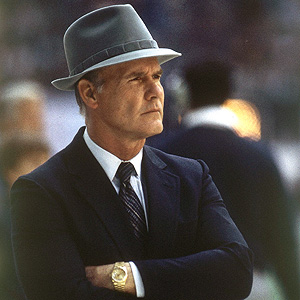 ESPN
Tom Landry was one of the NFL's great innovators. The "Man in the Funny Hat" perfected the 4-3 and flex defenses, restructured the shotgun formation, and was the mind behind the multiple offense.
More than two decades after he last roamed the sidelines at Texas Stadium with a trademark fedora and businesslike demeanor, the NFL's "Man in the Funny Hat" arguably remains the face of one of the world's premiere professional sports organizations. His role as an innovator on both sides of the ball cannot be ignored. Landry is credited with perfecting the 4-3 and flex defenses. He restructured the shotgun formation and was the mind behind the multiple offense. He was a master of situational substitutions and was ahead of his time in the use of computers. Landry, a World War II veteran who flew in 30 missions and survived a crash landing, kept an arm's-length relationship with his players to avoid clouding his judgment on personnel decisions. His players tended to respond with a fear of letting him down that often evolved into a father-figure respect. After the Cowboys won their first Super Bowl -- a 24-3 victory over Miami in 1972, after a string of close losses in championship games -- the players carried Landry off the field. In Dallas-Fort Worth, the 1990 Pro Football Hall of Famer is immortalized with a statue at Cowboys Stadium and a spot in the team's Ring of Honor. The stretch of Interstate 30 that connects the cities bears his name. The Tom Landry Classic annually brings together the area's top high school football teams. Before coming to the Cowboys, the University of Texas product played cornerback for the New York Yankees of the All-America Football Conference. Landry joined the crosstown Giants in 1950 and was a Pro Bowl and first-team All-Pro selection in 1954. He finished his career with 32 interceptions. Landry joined the Giants' coaching staff as defensive coordinator in 1956, pairing with offensive coordinator Vince Lombardi. The partnership of coaching legends resulted in three trips to the NFL championship game in four years and the 1956 title. The native of Mission, Texas, was the only unanimous top-five pick of the five ESPN Dallas Hall of Fame panelists.
2011 Dallas Hall of Fame classmates: Nolan Ryan | Emmitt Smith | Troy Aikman | Roger Staubach