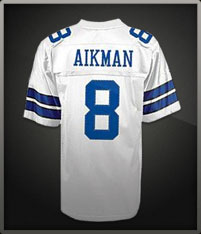 Troy Aikman
Cowboys QB (1989-2000)
It took the NFL's No. 1 overall draft pick in 1989 some time to find success under the bright spotlight that shines under center for the Dallas Cowboys.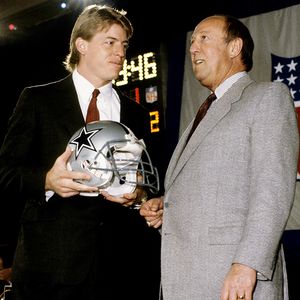 ESPN

Commissioner Pete Rozelle announces Troy Aikman (left) as the first overall pick of the 1989 NFL draft. The UCLA product is the Cowboys' all-time passing leader.

Troy Aikman was the first Cowboys rookie quarterback to start a season opener since Roger Staubach in 1969, but he was winless as a starter that year and missed time with a broken finger on his left hand.
The UCLA product had honed his accuracy by his third season -- he completed an NFC-best 65.3 percent of his passes -- as the Cowboys returned to the playoffs.
Beginning with the next season, Aikman would reward the patience of fans with an unprecedented run in which the Cowboys won three titles in four years. He earned Super Bowl XXVII MVP honors after completing 22 of 30 passes for 273 yards and four touchdowns in the 52-17 win over Buffalo, a victory that resurrected the Cowboys on the national stage.
The franchise's all-time leader in passing yards (32,942) and touchdown passes (165) completed 61.5 percent of his throws in a 12-year career spent exclusively with the Cowboys. Along the way, the winningest quarterback of the '90s (90 wins) also set 45 club passing records and made six straight Pro Bowls.
During the Aikman era, the Cowboys won six division titles and advanced to four NFC Championship Games. He is one of just four quarterbacks in NFL history with at least three Super Bowl rings.
Aikman entered the Cowboys' Ring of Honor with fellow "Triplets" Emmitt Smith and Michael Irvin on Sept. 19, 2005. He became the sixth Cowboy inducted into the Pro Football Hall of Fame on Aug. 5, 2006.
After graduating from Henryetta High School in Oklahoma in 1984, Aikman began his collegiate career at the University of Oklahoma before transferring to UCLA, where he led the Bruins to a 20-4 record. He was named MVP of the 1989 Cotton Bowl in UCLA's 17-3 win over Arkansas after completing 19 of 27 passes for 172 yards and one touchdown.
Aikman appeared on all of the ESPN Dallas Hall of Fame panelists' list of 20 candidates for consideration into the inaugural class. He was a top-five pick of two of the five members.
2011 Dallas Hall of Fame classmates: Nolan Ryan | Emmitt Smith | Tom Landry | Roger Staubach