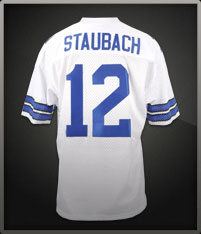 Roger Staubach
Cowboys QB (1969-1979)
Perhaps no player did more to establish the legacy of the Dallas Cowboys than Roger Staubach. Quite simply, he put "America's Team" on the map.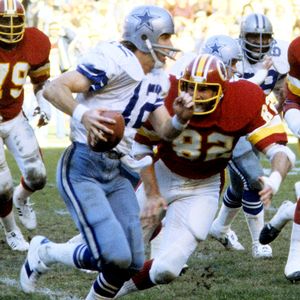 ESPN

Roger Staubach had a penchant for big plays and game-winning drives with the Cowboys.

Staubach guided the Cowboys to their first two Super Bowl wins and an 85-29 record. He was also the NFL's best-rated quarterback four times.
He completed 12 of 19 passes for 119 yards and two touchdowns and added 18 rushing yards against Miami in Super Bowl VI, for which he was named MVP. He also had a 45-yard touchdown strike in Super Bowl XII, a game dominated by the Dallas defense.
Staubach, a Heisman winner out of Navy, didn't win the starting job for the Cowboys until his third season in 1971 -- at age 29. His combination of scrambling and passing skills would lead the Cowboys to six conference championship appearances in nine seasons and four trips to the Super Bowl.
Big plays and late-game heroics came naturally to "Captain Comeback." He and receiver Drew Pearson gave birth to the "Hail Mary" with a desperation 50-yard connection during a divisional playoff game at Minnesota on Dec. 28, 1975. The play, which began when Staubach took the snap with 24 seconds left, gave the Cowboys a 17-14 victory.
In all, Staubach engineered 23 game-winning drives and 15 comebacks in the fourth quarter.
When he retired in 1979, Staubach's passer rating was 83.4. The second-leading passer in team history with 22,700 yards and 153 touchdowns also collected 2,264 yards and 20 touchdowns on the ground. He was named to six Pro Bowls, joined the Cowboys' Ring of Honor in 1983 and was immortalized in the Pro Football Hall of Fame in 1985.
Following his graduation from the Naval Academy, the native of Cincinnati served his mandatory four years on active duty, which included a tour of duty in Vietnam.
Staubach appeared on all of the ESPN Dallas Hall of Fame panelists' list of 20 candidates for consideration into the inaugural class. He was a top-five pick of three of the five members.
2011 Dallas Hall of Fame classmates: Nolan Ryan | Emmitt Smith | Tom Landry | Troy Aikman