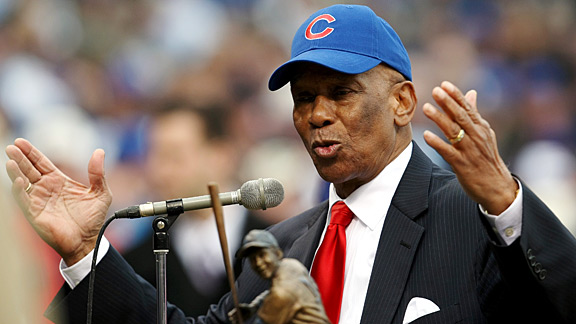 Jonathan Daniel/Getty Images
Jean-Jacques Taylor defends his top five, which includes Dallas native Ernie Banks: Watch

Tony Dorsett belongs to Aliquippa, Pa., just as much as he belongs to Dallas.
The same is true of Dirk Nowitzki and his hometown -- his roots remain in Wurzburg, Germany, though he's been in Dallas since he was 19. Mike Modano grew up in suburban Detroit and played his last season with the Red Wings, in part, so his parents could watch him play for his hometown team.
Ethan Miller/Getty Images
Skyline product Larry Johnson (left) didn't become a national figure until he joined Jerry Tarkanian at UNLV, but he opened doors for other DFW prospects.
The ESPN Dallas Hall of Fame can't ignore great athletes from Dallas-Fort Worth just because they didn't ply their trade in North Texas.
It's not the Cowboys' Hall of Fame. Or the local heroes Hall of Fame.
It's the DFW Hall of Fame, which means anybody who grew up in the area or spent substantial time here and performed at an elite level athletically should be considered for enshrinement.
That includes men such as Ernie Banks, who was born in Dallas and attended Booker T. Washington High School before embarking on a memorable baseball career with the Chicago Cubs.
Who cares if he's depicted with a Cubs hat on his Hall of Fame plaque? Or that none of his 512 homers occurred as a member of the Rangers?
He's still from Dallas -- and that's what's important.
The Hall of Fame isn't just about an athlete's feats on the field. It's also about the influence he had on others.
Michael Johnson is one of the greatest sprinters the world has ever known. He's the first person to win gold medals in the 200-meter and 400-meter races at the same Olympics.
No one had even attempted it before Johnson did it because the schedule was so grueling. His success changed the way sprinters viewed the Olympics.
No longer did they have to choose one race or the other.
That said, Johnson never captured any of his gold medals in Dallas. He never set a world record in Dallas.
Video
The ESPN Dallas panel discusses individuals who didn't make the Hall cut. Watch

Photo gallery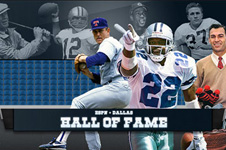 Check out the 20 candidates for the ESPN Dallas Hall of Fame: Gallery

But you're nuts if you don't think he influenced local kids such as Jeremy Wariner, who followed his lead and became one of track and field's stars.
It makes no sense that Johnson would have an issue with being inducted into the ESPN Dallas Hall of Fame because his athletic achievements didn't occur here.
Whatever.
Skyline's Larry Johnson is the best high school basketball player our city ever produced, but he didn't play college or pro basketball in Dallas.
Guess he shouldn't be enshrined into the ESPN Dallas Hall of Fame, either.
See how silly it sounds when you start deciding whether people should be enshrined into the ESPN Dallas Hall of Fame based on where they achieved their professional success?
Johnson, the No. 1 pick in the 1991 draft, played 10 seasons in the NBA after helping UNLV win an NCAA title.
And he paved the way for Dallas, known as a football hotbed, to become a place high-profile coaches such as Mike Krzyzewski and Roy Williams had to add to their recruiting hot spots.
And what about Tim Brown, who should one day be inducted into the Pro Football Hall of Fame?
How many folks at Notre Dame, where he starred in college, know he's from Dallas and played at Woodrow Wilson High School? Do you think the folks in Oakland, where he caught 1,094 passes and scored 101 touchdowns, know he's from Dallas?
It doesn't matter.
Brown is one of ours just like Ernie Banks and Michael and Larry Johnson. They're all from Dallas -- whether the world knows it or not.
And one day, each of them deserves to be inducted into the ESPN Dallas Hall of Fame.
Coming Thursday: Pat Summerall's personal touch