Matthew Emmons/US Presswire
Richard Durrett defends his top five, which includes Rangers legend Nolan Ryan: Watch

ARLINGTON, Texas -- Nolan Ryan never figured he'd play five seasons for the Texas Rangers, let alone oversee a franchise that played in the World Series for the first time.
Tony Tomsic/WireImage
In football country, Nolan Ryan has emerged as a huge fan favorite thanks to productive stints as a player and executive with the Rangers.
"When I came here, I asked for a one-year contract and the ballclub asked for the option on the second year and I felt like if they wanted that option, I would consider that and do it, not thinking I would be here five years," Ryan said. "I felt like when I came here being only a one-year deal, I felt like no-hitters was probably not part of my career from then on."
But they were. Ryan threw two of them in a Rangers uniform, the MLB-record sixth and seventh of his career. His final one was May 1, 1991, against Toronto in front of the hometown fans. He became the first and only pitcher in baseball history to record 5,000 strikeouts with Oakland's Rickey Henderson as the victim at Arlington Stadium on Aug. 22, 1989. He won his 300th game in his second season in Texas and threw his final pitch on Sept. 22, 1993, at age 46.
Whenever Ryan pitched, ticket sales in Arlington went up. His presence on the club helped give the Rangers national prominence. You never knew if you'd see a no-hitter, a one-hitter (he threw 12 of those in his career, three with Texas) or a memorable headlock of Robin Ventura.
And when Ryan was inducted into the National Baseball Hall of Fame on July 25, 1999, his plaque showed his likeness wearing a Rangers cap.
"The fans were very supportive of me when I came here," Ryan said. "I enjoy North Texas and the lifestyle here. I just appreciate the way I was received here coming from Houston and the fact that I was here only five years, but they supported me."
That support has made him one of the two most popular choices in the ESPN Dallas Hall of Fame tally, where he's engaged in a battle for the top spot with former Dallas Cowboys running back and NFL all-time rushing leader Emmitt Smith heading into the weekend.
Video
The Hall of Fame panel discusses the changing of the guard in the DFW landscape. Watch

Photo gallery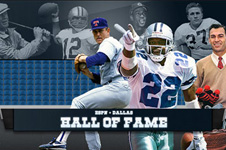 Check out the 20 candidates for the ESPN Dallas Hall of Fame: Gallery

Ryan is a nominee for more than just his on-field accomplishments. He stayed involved in the organization for a decade after his retirement as part of a personal services contract but branched out to other ventures. He was a special assistant to the general manager with the Houston Astros for four seasons before joining Texas again as club president.
Since 2008, when Ryan was named president, the club's attendance has increased each season, the team has had unprecedented success and he's hoisted the American League championship trophy in helping oversee the club's first appearance in the World Series in 2010.
"That was special because when you look at that, there so many people that played a role in it," Ryan said. "From our franchise's standpoint, it's the most exciting thing that's happened."
Ryan's greatness on and off the field made him a near unanimous pick by our ESPNDallas.com panel as an inaugural ESPN Dallas Hall of Fame member. Only Tim MacMahon, who selected all Cowboys for his "ideal five," didn't have Ryan on his final ballot.
"When you look at some of the true legends of the Metroplex and North Texas and what they meant to the teams they performed with, it's obviously an honor to be looked at in that light," Ryan said.
Coming Monday: We unveil your five selections for induction into the inaugural class of the ESPN Dallas Hall of Fame.