Vernon Biever/Getty Images
The ESPN Dallas Hall of Fame panel sizes up Roger Staubach and Troy Aikman: Watch

As far as Dallas Cowboys fans go, it's kind of like asking whether the best day of a man's life was his wedding or when his first child was born. Is Roger Staubach or Troy Aikman the best quarterback in franchise history?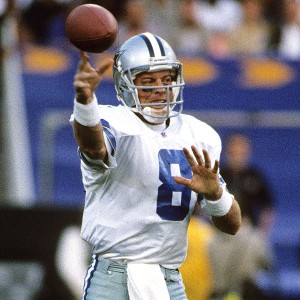 Peter Brouillet/Getty Images
Troy Aikman provided a steady hand while leading the Cowboys to three Super Bowl wins.
Can't go wrong with either one. They were both no-brainer selections for the Ring of Honor and Pro Football Hall of Fame. They fit well in the inaugural five-man ESPN Dallas Hall of Fame class.
Which legend was better? That's a debate that might depend on the age of the person making the argument.
The gray-haired folks fondly recall watching Staubach engineer amazing comeback after amazing comeback as the face of a franchise establishing itself as America's Team. The younger generation recognizes Aikman as the cool captain of one of the NFL's greatest dynasties.
(ESPNDallas.com Hall of Fame voters gave Aikman a slight edge over Staubach. Aikman was inducted with a 47.6 percent vote; Staubach appeared on 41.9 percent of the ballots.)
It's too simplistic for Aikman's 3-2 lead in Super Bowl rings to serve as the deciding factor. After all, it's not as though the competition was created equally.
Staubach's two Super Bowl losses came to the Pittsburgh Steelers, who became the first franchise to win four Super Bowls in the same decade. Aikman's first two Super Bowl wins came against the Buffalo Bills, the only franchise to lose four Super Bowls in a row.
Stats from different eras shouldn't be used to settle this debate, either. The NFL has progressively become a much more passing-friendly league, so Aikman's career passing numbers (32,942 yards and 165 touchdowns) aren't necessarily more impressive than Staubach's (22,700 yards and 153 touchdowns).
Video
Tim MacMahon defends his all-Cowboys top five. Watch

Photo gallery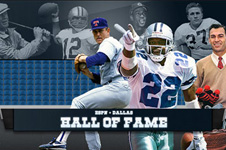 Check out the 20 candidates for the ESPN Dallas Hall of Fame: Gallery

Nor is it right to just compare win-loss records. Aikman's 94-71 record as a starter during the regular season certainly needs no justification, but it pales in comparison to Staubach's awe-inspiring 85-29 mark. But Staubach won a Super Bowl in his first full season as a starter and played for a contender his entire career. Aikman, as the No. 1 overall pick in 1989, started his career with a terrible team and finished with a squad in salary-cap hell.
So how best to settle this? Might as well go with style.
Aikman was an airline pilot, using incredible skill to keep the flight smooth. His arm strength, accuracy and intelligence were all rare. He executed the play exactly as it was drawn up as well as anybody.
Staubach, on the other hand, was a fighter pilot who was often at his best when everything broke down around him. They didn't call him Roger the Dodger just because it was a catchy rhyme. He was a pure passer who also excelled at improvising, rushing for more than twice as many yards and touchdowns as Aikman over the course of his career and completing countless passes after scrambling out of trouble.
The fact that Staubach's legs were as worrisome for defenses as his arm helps explain why few quarterbacks have been more feared with the game on the line. "Captain Comeback" engineered 26 game-winning drives in his career, including the original Hail Mary pass to Drew Pearson to stun the Minnesota Vikings in the 1975 playoffs.
So it's fitting that, in the end, Staubach barely wins this one.