Rank 'Em: DFW Postseason Performances
Created: May 19, 2011, 1:12 PM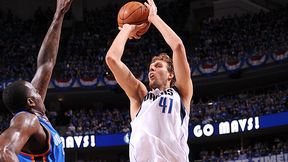 Andrew D. Bernstein/NBAE/Getty Images
Dirk Nowitzki's 48 points in Game 1 of the Western Conference finals on Tuesday night was nothing short of spectacular. And while we're sure that's not the only memorable postseason moment Dirk has provided, we wanted to put his feat up against the best of the best.
We want you to tell us what you think was the greatest postseason performance in DFW professional sports history. And we're limiting it to the Big Four: Cowboys, Mavs, Rangers and Stars.
Rank your favorites and see how they stack up against the overall vote. Who knows? Maybe Dirk or one of his Mavs teammates has another memorable performance to add to the list during this postseason run.
Rank 'Em: DFW Postseason Performances

Loading...

&nbsp