Rank 'Em: Top 20 Texas Rangers
On September 21, 1971, American League owners granted approval to move the Washington Senators to Arlington, Texas.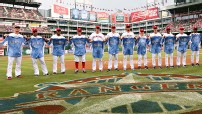 How many current Rangers belong in the Top 20?
This year, the Rangers are celebrating their 40th anniversary and with that we present our picks for the Top 40 Texas Rangers of all time.
Now we put you to task. Rank the players below and tell us who your Top 20 Texas Rangers are.


Top 20 Texas Rangers

Michael Young

Michael Young
He's the all-time Rangers hits leader and a leader in the clubhouse as well. The seven-time All-Star and 2005 AL batting champ has been consistent at the plate his entire career and helped a young team develop into a championship contender.

Ron Washington

Ron Washington
He's the first skipper to win a playoff series and lead the Rangers to the World Series. Washington's style, ability to motivate and emphasis on pitching and a versatile offense has helped make the Rangers a perennial contender.

Mark Teixeira

Mark Teixeira
The first baseman who came up through the Rangers' system won two Gold Gloves, hit 153 homers, had 499 RBIs and had a .283 average. He made an impact as a trade piece too, bringing back Matt Harrison, Elvis Andrus and Neftali Feliz as part of the deal.

Jim Sundberg

Jim Sundberg
Still a fixture around the club as senior executive VP, Sundberg was the first Ranger to play in more than 1,500 games. He caught 140 or more games for six straight seasons (1975-80) and won six consecutive Gold Gloves (1976-81).

Ruben Sierra

Ruben Sierra
Sierra spent 10 seasons in Texas over three stints and was a big-time power threat. He ranks in the top 10 in most club offensive categories and had five seasons of 20-plus homers, drove in 100 or more runs three times and scored 100 or more twice.

Nolan Ryan

Nolan Ryan
The Hall of Famer and MLB career strikeout leader collected two of his seven no-hitters here, along with his 5,000th strikeout and 300th win. As an owner/executive, he helped save the Rangers from bankruptcy and lead them to their two World Series.

Kenny Rogers

Kenny Rogers
He pitched for the Rangers in three stints, finishing second on the team's career wins list. Rogers had a perfect game on July 28, 1994, in Arlington, the first perfect game for an AL lefty.

Ivan Rodriguez

Ivan Rodriguez
He's got Hall of Fame credentials and played most of his career in Texas. He won 10 consecutive Gold Gloves and played in 10 straight All-Star Games while with the Rangers. The 1999 AL MVP is fourth on the club's career HR and RBI lists.

Rafael Palmeiro

Rafael Palmeiro
One of the best pure hitters to put on a Texas uniform, Palmeiro hit 321 of his 569 career homers with the Rangers. He compiled a .290 batting average with 1,039 RBIs in his 10 seasons in Arlington.

Johnny Oates

Johnny Oates
He guided the Rangers to their first three AL West titles -- 1996, 1998 and 1999 -- and ranks second among club managers with 983 games, 506 wins and a .515 winning percentage.

Ian Kinsler

Ian Kinsler
The second baseman is a versatile leadoff hitter, smart baserunner and strong defender. He's a three-time All-Star and reached at least 30 homers and 30 steals in the same season two times.

Fergie Jenkins

Fergie Jenkins
His 1974 season is the best ever by a Rangers starting pitcher. He made 41 starts, won 25 games, led the AL with 29 complete games, threw 328.1 innings and had six shutouts, all club records. He's the Rangers' career leader with 17 shutouts.

Charlie Hough

Charlie Hough
The knuckleballer was a staple of the Rangers' rotation in the 1980s, racking up 139 wins and 98 complete games. He's the franchise leader in wins, innings pitched, strikeouts, starts and complete games.

Josh Hamilton

Josh Hamilton
He might seem high on this list for a player who is in his fifth season on the team, but the slugging outfielder won the 2010 AL MVP, led the club to its first two AL titles, and owns the franchise season record with a .359 average in 2010.

Rusty Greer

Rusty Greer
A fan favorite and a consistent hitter, Greer played nine years in Texas and had a .305 career average in 1,027 games. He made a memorable diving catch to preserve Kenny Rogers' perfect game and hit .332 in the 1996 ALDS.

Juan Gonzalez

Juan Gonzalez
The slugging outfielder won the AL MVP in 1996 and 1998 as the Rangers won their first two AL West titles. Gonzalez holds the franchise career record in home runs (372) and RBIs (1,180).

Julio Franco

Julio Franco
Franco went to three All-Star Games and hit .307 in his five seasons in Texas and scored 388 runs. He also had 98 stolen bases.

Buddy Bell

Buddy Bell
He won six consecutive Gold Gloves at third base and appeared in four All-Star Games as a Ranger. He hit .294 or better five times.

Alex Rodriguez

Alex Rodriguez
He came to Texas with the huge contract, but he did produce on the field. Rodriguez batted .305 in his three seasons with the Rangers, won the AL MVP Award in 2003 and totaled 156 homers and 395 RBIs.

Elvis Andrus

Elvis Andrus
The 23-year-old has time to move up this list, but in his 3 1/2 seasons, Andrus has made some dazzling defensive plays and improved as a hitter. He's a two-time All-Star at shortstop.
Your Rankings
1.

2.

3.

4.

5.

6.

7.

8.

9.

10.

11.

12.

13.

14.

15.

16.

17.

18.

19.

20.