SportsNation Blog Archives

Vontaze Burfict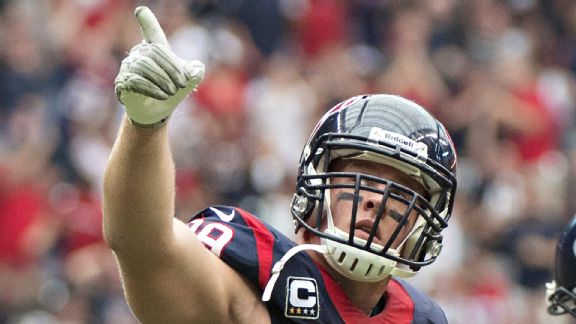 George Bridges/Getty Images
J.J. Watt's 2012 season was one for the ages -- he had 20.5 sacks and an astounding 16 passes defended as opposing quarterbacks quailed at the site of him across the line of scrimmage. His stats this season aren't quite as good, but they still place him in the running for the AP NFL Defensive Player of the Year award. Has he had a better season than the likes of Robert Mathis or Richard Sherman? Submit your rankings!


Defensive Player of the Year
Vontaze Burfict

Vontaze Burfict
Bengals LB
151 tackles, 8 passes defensed, 1 sack, 1 INT, 1 forced fumble
Lavonte David

Lavonte David
Buccaneers LB
126 tackles, 9 pass defenses, 6 sacks, 5 INTs, 2 forced fumbles
Luke Kuechly

Luke Kuechly
Panthers LB
122 tackles, 3 INTs, 2 sacks
Robert Mathis

Robert Mathis
Colts DE
49 tackles, 16.5 sacks, 6 forced fumbles
Robert Quinn

Robert Quinn
Rams DE
46 tackles, 15 sacks, 7 forced fumbles
Richard Sherman

Richard Sherman
Seahawks CB
34 tackles, 6 INTs
Earl Thomas

Earl Thomas
Seahawks FS
93 tackles, 5 INTs, 2 forced fumbles
J.J. Watt

J.J. Watt
Texans DE
69 tackles, 9.5 sacks, 6 pass defenses, 3 forced fumbles
Your Rankings
1.

2.

3.

4.

5.

6.

7.

8.

Peyton Manning is still on top in Dan Graziano's weekly MVP watch list. Some questioned Manning's ability to perform in cold weather after a sub-par performance against the Patriots, but a four-touchdown game in sub-20 degree weather against the Titans has put a temporary halt to any such doubts. Is Manning the NFL's best player this season?


2013 NFL MVP Watch
Tom Brady

Tom Brady
Patriots QB
3,685 yards, 21 TDs, 9 INTs, 60.8 CMP%

Drew Brees

Drew Brees
Saints QB
4,107 yards, 33 TDs, 8 INTs, 68.0 CMP%
Vontaze Burfict

Vontaze Burfict
Bengals LB
139 tackles, 1 INT, 1 sack
Jamaal Charles

Jamaal Charles
Chiefs RB
238 carries, 1,162 yards, 10 TDs
Karlos Dansby

Karlos Dansby
Cardinals LB
105 tackles, 6 sacks, 3 INTs

Calvin Johnson

Calvin Johnson
Lions WR
75 catches, 1,348 yards, 12 TDs

Peyton Manning

Peyton Manning
Broncos QB
4,522 yards, 45 TDs, 9 INTs, 67.9 CMP%

LeSean McCoy

LeSean McCoy
Eagles RB
261 carries, 1,305 yards, 7 TDs

Cam Newton

Cam Newton
Panthers QB
2,776 yards, 20 TDs, 11 INTs, 62.0 CMP%

Russell Wilson

Russell Wilson
Seahawks QB
2,871 yards, 23 TDs, 7 INTs, 64.5 CMP%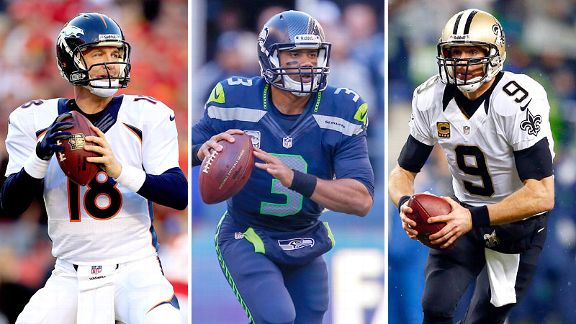 Peyton Manning remains on top in Dan Graziano's weekly MVP watch list. Manning's five-touchdown performance led the Broncos to a crucial 35-28 win over their AFC West rival Chiefs. With 41 touchdowns, Manning has a pretty good shot to break Tom Brady's single-season record of 50 TDs. Is he your choice for MVP?


2013 NFL MVP Watch
Tom Brady

Tom Brady
Patriots QB
3,267 yards, 19 TDs, 8 INTs, 60.7 CMP%

Drew Brees

Drew Brees
Saints QB
3,794 yards, 29 TDs, 8 INTs, 67.7 CMP%
Vontaze Burfict

Vontaze Burfict
Bengals LB
131 tackles, 1 INT, 1 sack

Nick Foles

Nick Foles
Eagles QB
1,791 yards, 19 TDs, 0 INTs, 63.3 CMP%

Calvin Johnson

Calvin Johnson
Lions WR
72 catches, 1,299 yards, 12 TDs

Peyton Manning

Peyton Manning
Broncos QB
4,125 yards, 41 TDs, 9 INTs, 68.1 CMP%

LeSean McCoy

LeSean McCoy
Eagles RB
232 carries, 1,088 yards, 5 TDs

Cam Newton

Cam Newton
Panthers QB
2,616 yards, 19 TDs, 11 INTs, 61.7 CMP%
Tony Romo

Tony Romo
Cowboys QB
3,140 yards, 24 TDs, 7 INTs, 64.8 CMP%

Russell Wilson

Russell Wilson
Seahawks QB
2,672 yards, 22 TDs, 6 INTs, 64.9 CMP%