SportsNation Blog Archives

Duke Blue Devils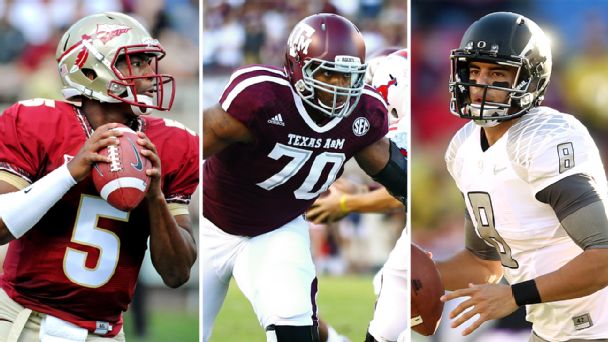 USA TODAY Sports
2014 college football predictions
The 2014 college football season -- aka Year 1 of the College Football Playoff -- is upon us, with Texas A&M thumping South Carolina on a night of Thursday kickoffs. Johnny Manziel is gone, but reigning Heisman Trophy winner Jameis Winston still is here. So are a good number of other Florida State Seminoles who helped the team to last season's national championship. Will they repeat? Who will win the conferences? Cast your votes below!
More: Rank: Top 25 | Rank: Conferences | Rank: Heisman candidates | Rank: QBs
ACC -- Duke vs. Florida State

For the first time this season, thanks to Alabama's stunning late loss to Auburn, the Florida State Seminoles are No. 1 in the BCS standings. All they must do to stay there and play for the national title in Pasadena: Beat upstart Duke in the ACC championship game Saturday in Charlotte, N.C. It seems like a walkover; FSU's narrowest margin of victory was 14 points (Sept. 28 at Boston College), while David Cutcliffe's Blue Devils have squeaked their way -- at least some of the time -- to eight straight victories (they did not play FSU in the regular season). Will the Seminoles dominate?