SportsNation Blog Archives

Nebraska Cornhuskers
Ross Dzuris is hoping to make an impact on the football field this fall. His 2015 headshot is already changing the game.
Proudly presenting the 2015 CFB head shot of the year: Nebraska DE Ross Dzuris pic.twitter.com/ilgKzwBWk3

— Paul Myerberg (@PaulMyerberg) August 27, 2015
Honestly, it's a shame a helmet will be covering up this magnificent mustache:
Facial hair is all the rage, so ingenious guys like Dzuris have stepped up their game -- some would say to the extreme -- to distance themselves from the rest of the bearded pack. We're not sure how Dzuris will play this season, but his mustache game is sure to put the field to shame.
Another great @Huskers shot from Nebraska Fan Day. Nice mustache, Ross Dzuris! pic.twitter.com/w1mMH6n8Vq

— Brent Yarina (@BTNBrentYarina) August 6, 2015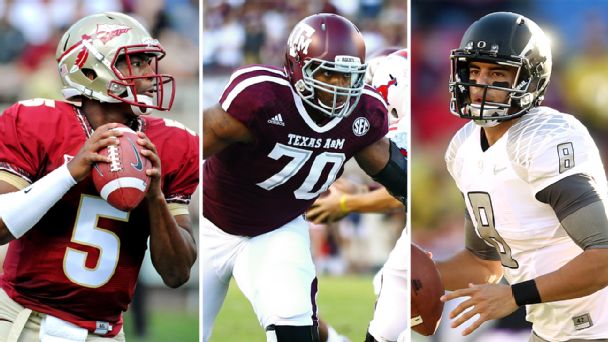 USA TODAY Sports
2014 college football predictions
The 2014 college football season -- aka Year 1 of the College Football Playoff -- is upon us, with Texas A&M thumping South Carolina on a night of Thursday kickoffs. Johnny Manziel is gone, but reigning Heisman Trophy winner Jameis Winston still is here. So are a good number of other Florida State Seminoles who helped the team to last season's national championship. Will they repeat? Who will win the conferences? Cast your votes below!
More: Rank: Top 25 | Rank: Conferences | Rank: Heisman candidates | Rank: QBs