SportsNation Blog Archives

Oklahoma State Cowboys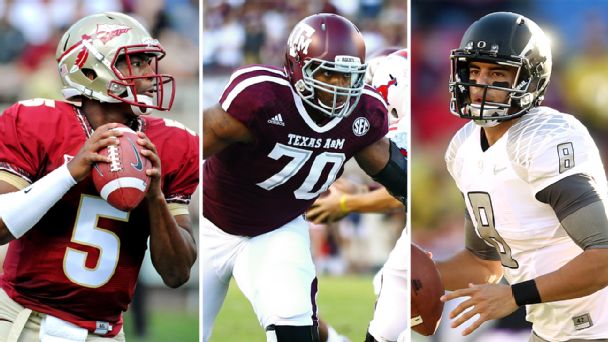 USA TODAY Sports
2014 college football predictions
The 2014 college football season -- aka Year 1 of the College Football Playoff -- is upon us, with Texas A&M thumping South Carolina on a night of Thursday kickoffs. Johnny Manziel is gone, but reigning Heisman Trophy winner Jameis Winston still is here. So are a good number of other Florida State Seminoles who helped the team to last season's national championship. Will they repeat? Who will win the conferences? Cast your votes below!
More: Rank: Top 25 | Rank: Conferences | Rank: Heisman candidates | Rank: QBs
CFB: (4) Baylor at (10) OK St.

Don't complain about the BCS just yet, Baylor Bears fans. Your team still has work to do, starting this Saturday in Stillwater, Okla. There, the Oklahoma State Cowboys -- they of just one loss all season -- can scupper Baylor's ambitions while helping their own Big 12 title chances. Baylor has blasted almost everyone it has faced this season. But with its recent injury outbreak, this one could be tough doing.

Alonzo Adams/USA TODAY Sports

CFB: (18) Okla. St. at (15) Texas Tech

Texas Tech nearly made a real statement last Saturday, playing Oklahoma close in Norman. But the Red Raiders fell short, placing themselves among the one-loss teams aiming at Baylor (and Texas) in the Big 12 title race. Also on that list: Oklahoma State, which hasn't gotten good play from the quarterback position, but can stay alive in the conference with a win in Lubbock, Texas, on Saturday.