SportsNation Blog Archives

Texas Longhorns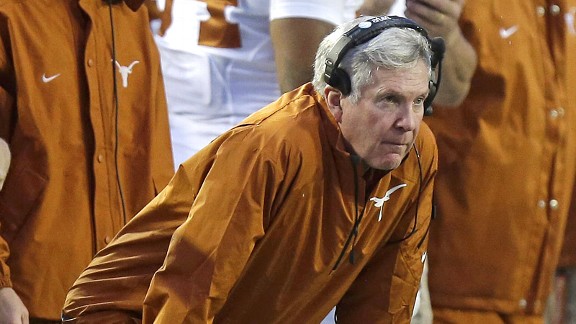 AP Photo/Rick BowmerAfter Texas finished 8-4 overall (7-2 Big 12), Mack Brown faces questions about his job security.
Expectations at a school like Texas are, and always will remain, very high. That is why even after an 8-4 regular season and a second-place finish in the Big 12, coach Mack Brown faces questions about his job security, as the Longhorns haven't had a final BCS rating any higher than No. 19 in four seasons. With the 2005 national championship firmly in the rearview mirror, and even the 2009 title game appearance old news, Texas has a decision to make -- one that appears to be entirely in its hands after Brown on Tuesday denied reports that he was stepping down.
Here's a sampling of what readers had to say in our Facebook conversation:
Chris James: "When you consistently have one of the best recruiting classes in the NCAA, as well as the most funding, and you lose continuously for 4 straight seasons, it's time for a change. 16 years has been long enough. Not to mention he passed up RG3, Manziel and Jameis Winston and didn't even bother to pursue Andrew Luck. All 4 of those QB's dreamed of playing for Texas. He's lost a step, it's time."
Cody Cornett: "Since Brown arrived in '98, Texas has 10 bowl wins including Two trips to the BCS national title game, a BCS national championship win, a Rose win, a Fiesta win and two Cotton wins. For perspective, A&M (who recruits in the same state) has three total bowl wins in that span: The Galleryfuniture.com bowl, the Meineke Car Care of Texas bowl and the Cotton bowl...0 BCS wins."
Ed Devine: "Texas needs to keep Mack. I think he's done a tremendous Job since the BYU game for them to even be in contention for a Big 12 title. It speaks volumes for his coaching ability. And, no, I don't believe he's forgotten how to coach. Every team has a down year, and given where they started to what they've become, he deserves to continue righting the ship."
Todd Lacey: "Time to go Mack. Thanks for the memories, but it's time."
Jim Mendiola: "Bye bye Mack Brown. Welcome home Nick Saban!"
Andrew Lawson: "What happens when longhorns fans get what they want and brown leaves. Then saban says no like he will? When there is only 1 upgrade and it's not guaranteed. Stay with the guy who has been great for a decade
Robin Russell McCasland: "I love Mack and I wish him well. Baylor played a great game [Saturday]! Can't wait to see who our next coach will be!"