SportsNation Blog Archives

Texas Tech Red Raiders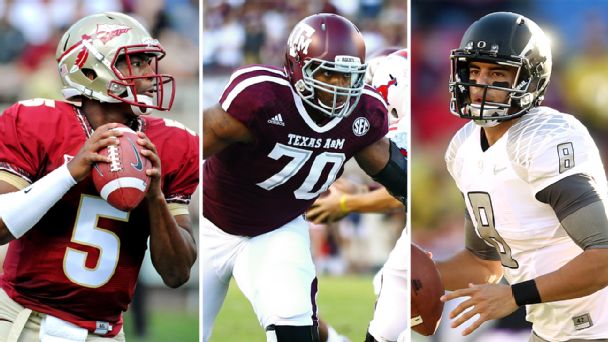 USA TODAY Sports
2014 college football predictions
The 2014 college football season -- aka Year 1 of the College Football Playoff -- is upon us, with Texas A&M thumping South Carolina on a night of Thursday kickoffs. Johnny Manziel is gone, but reigning Heisman Trophy winner Jameis Winston still is here. So are a good number of other Florida State Seminoles who helped the team to last season's national championship. Will they repeat? Who will win the conferences? Cast your votes below!
More: Rank: Top 25 | Rank: Conferences | Rank: Heisman candidates | Rank: QBs
AP Photo/Orlin Wagner

CFB: (10) Texas Tech at (15) OU

Oklahoma's season isn't getting any easier. After a disappointing loss to Texas and a not-so-dominating win over Kansas, the Sooners now host a Texas Tech team that has consistently given them fits in the past and the very next week travel to Baylor to face the eighth-ranked Bears. The Sooners will hope to ride their hot rushing game, but it won't come easily against a Red Raiders squad that is giving up just 123 rushing yards per game. The Big 12 title is up for grabs, and the winner of this game will take a big step forward.