SportsNation Blog Archives

Florida Gators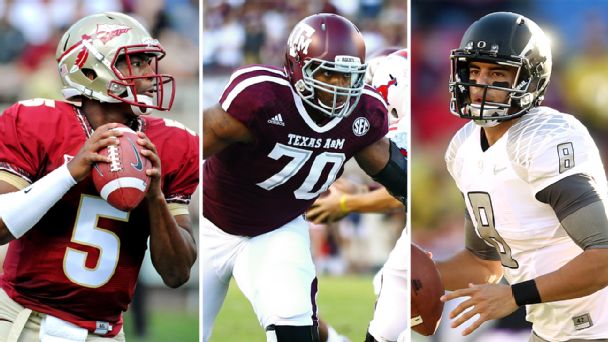 USA TODAY Sports
2014 college football predictions
The 2014 college football season -- aka Year 1 of the College Football Playoff -- is upon us, with Texas A&M thumping South Carolina on a night of Thursday kickoffs. Johnny Manziel is gone, but reigning Heisman Trophy winner Jameis Winston still is here. So are a good number of other Florida State Seminoles who helped the team to last season's national championship. Will they repeat? Who will win the conferences? Cast your votes below!
More: Rank: Top 25 | Rank: Conferences | Rank: Heisman candidates | Rank: QBs
We know the images of sports well, through awe-inspiring photographs and embedded-in-our-brains highlights.

This artist, though, is looking at the athletes and coaches we love a little differently. Well, OK, a lot differently. With some of the most minimalist sports portraits you'll find, Instagram user @lessonsinsport allows us to see big stars in quite a different light.

Check out our favorites:

Barry Sanders

Jim Harbaugh

Kareem Abdul-Jabbar

Muggsy Bogues

Steve Spurrier

Georgia Southern upsets Florida

Despite having a grand total of 0 passing yards, Georgia Southern upset Florida on Saturday. The loss, Florida's first to a lower-division school, drops the Gators to 4-7 on the year and ensures the school's first losing record since 1979. Is head coach Will Muschamp on his way out? Does Florida have any shot against Florida State next weekend?

Chuck Cook/USA TODAY Sports

CFB: (22) Florida at (14) Missouri

What a week for the Missouri Tigers. On one hand, they traveled to Georgia and beat the Bulldogs, catapulting them up the rankings and keeping them undefeated. On the other, they lost quarterback James Franklin for at least a few weeks, putting their fledgling SEC East title hopes in jeopardy. Speaking of SEC East title hopes, the Florida Gators' took a hit with an uninspiring loss to the LSU Tigers a week ago. Which team leaves better off?