SportsNation Blog Archives

Arizona State Sun Devils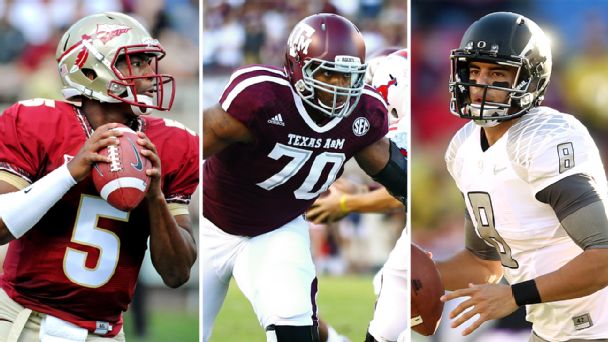 USA TODAY Sports
2014 college football predictions
The 2014 college football season -- aka Year 1 of the College Football Playoff -- is upon us, with Texas A&M thumping South Carolina on a night of Thursday kickoffs. Johnny Manziel is gone, but reigning Heisman Trophy winner Jameis Winston still is here. So are a good number of other Florida State Seminoles who helped the team to last season's national championship. Will they repeat? Who will win the conferences? Cast your votes below!
More: Rank: Top 25 | Rank: Conferences | Rank: Heisman candidates | Rank: QBs
Pac-12 -- Stanford vs. Arizona St.

There's no national title slot on the line in this Pac-12 championship game. Nor was there much in the way of BCS National Championship talk out West, what with the league's top teams beating each other up late in the year. Another big surprise: the rise of the Arizona State Sun Devils, who went from also-ran to hosts of the conference's title contest. Can Todd Graham's team seal the deal? Or will the Cardinal match their two-touchdown September victory over ASU in Palo Alto, Calif.?