SportsNation Blog Archives

USC Trojans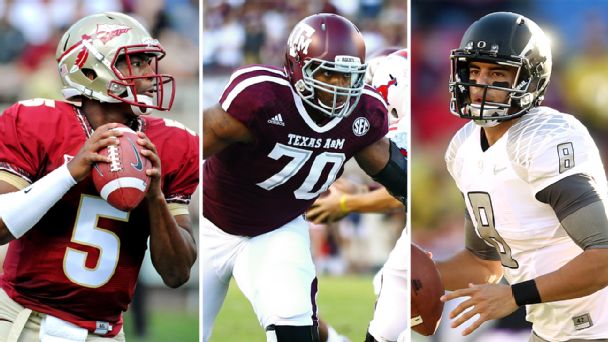 USA TODAY Sports
2014 college football predictions
The 2014 college football season -- aka Year 1 of the College Football Playoff -- is upon us, with Texas A&M thumping South Carolina on a night of Thursday kickoffs. Johnny Manziel is gone, but reigning Heisman Trophy winner Jameis Winston still is here. So are a good number of other Florida State Seminoles who helped the team to last season's national championship. Will they repeat? Who will win the conferences? Cast your votes below!
More: Rank: Top 25 | Rank: Conferences | Rank: Heisman candidates | Rank: QBs
Steve Sarkisian hired at USC

Steve Sarkisian is renowned for turning around a Washington program that was 0-12 the season prior to his arrival, so his new position as USC football head coach should seem like a much easier job. Sarkisian is taking over a program that experienced a significant boost after firing Lane Kiffin -- interim coach Ed Orgeron utilized the Trojans' talent well on the way to a 6-2 post-Kiffin record. A simple return to respectability won't be enough for Sarkisian, however -- he'll be expected to make the Trojans annual contenders for the national championship, and fast.

Despite the school's struggles during the brief Lane Kiffin era, USC is still a desirable destination for coaches who want to try to establish a dynasty. Increasingly, it's been looking like USC might not have to look far in its search. Interim coach Ed Orgeron has the team on a 5-1 run since he took over in late September. Orgeron expressed his interest in the position in an interview, but he may have to contend with at least one other big name -- Broncos interim coach Jack Del Rio, an alum who interviewed with the Trojans during Denver's bye week.

Here's a sampling of what readers had to say in our Facebook conversation on the story:

Tyler Thoreson: "I love what Orgeron's done but lets not forget this team was ranked #25 to start the season so they have talent even with the reductions and sanctions. Secondly he has split against Notre Dame and Stanford who I wouldnt consider that good. "
Steven Rigisch: "Big Ed has earned the job. Give him the title now and let's start locking up some of those recruits that are on the fence. It is one of the best years for So Cal recruiting and many of the top players are looking to the south right now. Big Ed would nail them down."
Francisco Gomez: "I'm not saying that del rio is the guy to hire but people are making it seem like he would be a bad hire. If you guys don't remember Pete Carroll was too a cast away from the the NFL before becoming USC's coach so you never know. Look at Jim Mora Jr. and the job he's doing after two failed stops in the NFL."
Charles Evitch: "I'd hire Orgeron over Del Rio. Simply because I think Del Rio is a guy who would probably yearn for the NFL someday, whereas Orgeron might be more likely to stay at USC."
Ricardo Gonzales: "USC shouldn't make any hasty decision just based on a few wins. They did beat Stanford but did not outplay them. They were luck to win it. Scoring only 3 points in the second half and everyone is going crazy?"

What do you think? Leave your comments below.

September 29, 2013

Sep

29

AP Photo/Jae C. Hong

What is next for USC football?

Unsatisfied with the 3-2 start to the season, USC fired head coach Lane Kiffin upon returning home after Saturday's 62-41 loss to Arizona State. Some felt Kiffin was already on the hot seat entering the season, and the lackluster first five games and losses in recruiting sealed his fate. However, a mid-season firing is rare and the full-time replacement is still unknown. How will USC rebound?