SportsNation Blog Archives

Temple Owls
If you want to win at football, you've got to stop the other guys. Sometimes, that's easier said than done. Auburn and Miami's defensive units found themselves on the wrong end of the buzz saw on Saturday, while the scoreboard strained to keep up with Maryland and Temple's offenses. Which of these teams' defensive units had the most difficult day?
---
Dog day afternoon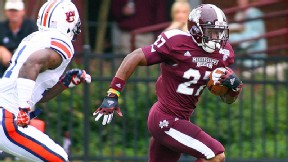 Five turnovers didn't help matters for Auburn. But neither did allowing Mississippi State to go on second-half scoring drives of 75, 58 and 62 yards.

---
It don't come easy
Penn State led Virginia 16-10 in the fourth quarter, only to watch victory slip away. Can the Nittany Lions get back to .500 against Navy and Temple?

---
Tropical depression
Kansas State's Collin Klein threw for 210 yards and ran for three scores, as Miami's defense gave up 52 points and 499 yards of offense. Hurricanes alum Ray Lewis can't be happy about this.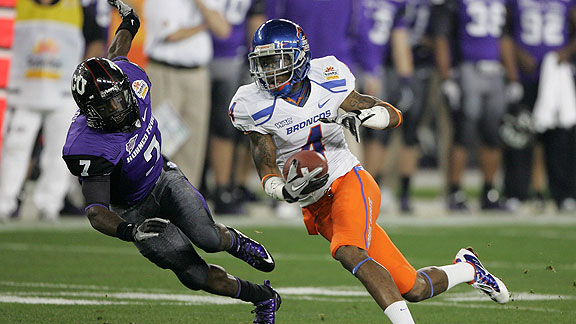 A lot of college football fans will tell you their two favorite teams are their team and whoever plays their rival that Saturday. But it sure feels like Boise State is gaining ground on the latter part of that equation.
There are a lot of things working in Boise State's favor as it builds a nationwide network of fans. The Broncos play at least five games on ESPN or ESPN2 this season, all on weekday nights when college football fans are craving something to tide them over until Saturday. And since it's safe to say the BCS isn't America's most popular institution, it only makes sense to support the team whose diverse playbook has helped poke holes in the system's flaws. Plus, let's be honest, who doesn't love them some blue turf?
So as long as they aren't playing your team, is Boise State America's team?
Brian (Greensboro)
Ivan, pretend that Boise State is any BCS conference this year...where do you rank them? Is it still third (AP), fifth (Coaches) or something else?
Ivan Maisel
I understand your point. But Boise State has won two Fiesta Bowls in the last four years. They have 20-plus starters returning from an undefeated team. I don't think anyone need apologize for ranking the Broncos high. And if they lose, we'll be wrong and we'll all move on. Full transcript
Jeremy (Corvallis)
How do you think Boise would do in the PAC-10? It's much easier to get up for 1 (max. 2) games per year, compared to having to show up every week (except against Wazzu).
Pac-10 blogger Ted Miller
Hard to say: Boise is a good team, and it is particularly good at preparing for big games. But as you say, playing a quality foe just about every week is something the Broncos have not done. I do think this year's Boise State team would finish in the top-third of the Pac-10, perhaps even win the conference. Full transcript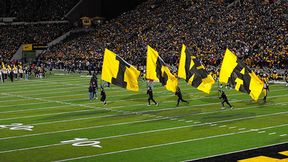 Iowa fans like shuman346 should beware. When your team reaches this point in the season undefeated, every blogger starts eyeing it as a potential upset victim.
In addition to Hawkeyes-Badgers, fans who blogged about football this week are looking forward to the Sooners-Longhorns and Trojans-Irish rivalry games this weekend.
On sideline topics, Florida State did nothing to quiet the debate between the camp that believes Bobby Bowden's record speaks for itself and those who ask what the Seminoles coach has done lately for the team's win-loss record.
These are the best college football fan blogs of the week. Click through to comment, disagree and discuss your favorite teams.
Week 7 predictions: RollFreakinTide37 | BrookBerringer18 | I am Ron Burgandy | gbirkem2 | TheSwingingFriar | Sportsguru6 | IdahoanTyke | TheVols2k7
Rankings (with No. 1 team): pnthrsfn1012 (Florida) | canesinla (Florida) | C.UngureitJr (Alabama) | TheVols2k7 (Alabama) | Yodaman0420

"

Wisconsin over No. 11 Iowa. Let's face it, has Iowa really proved themselves this year? Wisconsin at home in my mind is an easy pick.

"

-- gbirkem2

"

Now, I'm gonna break down the men I think should lead Florida State University: 1. Jim Leavitt; 2. Tommy Tuberville; 3. Kevin Sumlin; 4. Jimbo Fisher.

"

-- malcolmpar

"

When life gives you lemons, you make lemonade. When Jimmy Clausen gives you lemons, you thank him and walk away slowly.

"

-- I am Ron Burgandy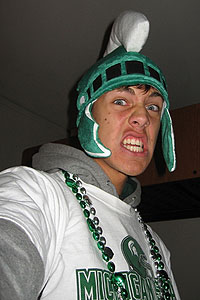 Michigan State fans like detroittim8 are still jumping up and down after their win over in-state rival Michigan last week.
Meanwhile, Florida State fans are hopping for another reason: lack of success.
"I have a ton of respect for Bobby Bowden," writes ryanvcu. "He is one of the greatest coaches ever. However I do feel at the end of the year he should hang it up."
The discussion, spurred in part by rumblings among the university's leadership, includes plenty of people who believe Bowden's legacy speaks for itself.
"The only expert qualified to comment the worthiness of Bobby Bowden's future as coach also has two names that begin with 'B', and the last time I checked he traded his hound's tooth hat for a halo," writes joe.t.elkins.
The Seminoles could quiet critics for at least a week with a win against Georgia Tech.
These are the best college football fan blogs of the week. Click through to comment, disagree and discuss your favorite teams.
Week 6 predictions: JFLASHUBY | TheVols2k7 | cardon032 | bballfever101 | Sportsguru6 | JoeRevs300 | Joey DS | gbirkem2 | dfpsports | TheSwingingFriar | nunyabiz81 | bballfever101
Rankings (with No. 1 team): ADEVARTS (Florida) | pnthrsfn1012 | canesinla (Florida) | fusebox2010 | C.UngureitJr (Alabama) | volsandtitansfans101 (Texas) | CheezusCrust (Iowa)

"

Jimmy Clausen has Heisman numbers so far, and he still has some winning to be done. He plays a pro-style offense.

"

-- I am Ron Burgandy

"

In the end LSU will not be able to keep up with the machine that is Florida. Tebow or no Tebow their running game isn't going anywhere and Brantley will make the throws necessary to win.

"

-- fusebox2010

"

This is the "The One Point Season" that needs to be the wake up call for this coaching staff. I am not optimistic but I hope Bob Stoops can acknowledge the situation and make the coaching style changes needed to fix this issue.

"

-- espnb12s

"

Wisconsin, Auburn: Great job going 5-0. You beat the teams you had to beat even though none of them were very good. The meat of the schedule is now upon you. Are you guys the prince or the ugly frog?

"

-- cardon032