SportsNation Blog Archives

Louisville Cardinals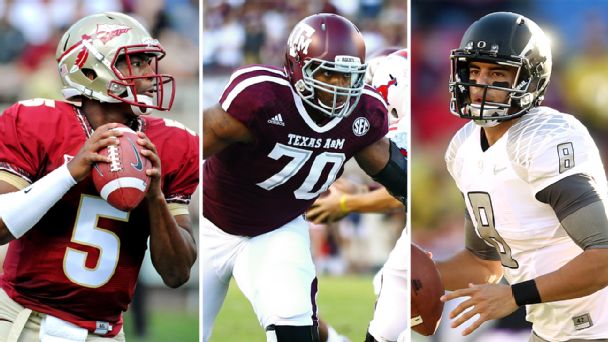 USA TODAY Sports
2014 college football predictions
The 2014 college football season -- aka Year 1 of the College Football Playoff -- is upon us, with Texas A&M thumping South Carolina on a night of Thursday kickoffs. Johnny Manziel is gone, but reigning Heisman Trophy winner Jameis Winston still is here. So are a good number of other Florida State Seminoles who helped the team to last season's national championship. Will they repeat? Who will win the conferences? Cast your votes below!
More: Rank: Top 25 | Rank: Conferences | Rank: Heisman candidates | Rank: QBs
Petrino to return to Louisville

Who says you can't go (to your onetime adopted) home again? Certainly not Bobby Petrino, who has accepted the Louisville Cardinals' head coaching position after a year at Western Kentucky and seven after leaving the school for the NFL. Now, it's hard to deny Petrino's success in the Bluegrass State's largest city; he won an Orange Bowl in 2006-07. But the 52-year-old doesn't exactly have a sterling reputation. He left the Cardinals for the Atlanta Falcons shortly after signing a 10-year contract, but coached in the NFL for just 13 games before taking the Arkansas job. Then came the infamous accident while riding a motorcycle with his mistress. Can he leave it all behind and rebuild his reputation, all while keeping Louisville -- it of a Sugar Bowl victory 12 months ago -- among college football's more successful programs?

Joe Robbins/Getty Images

Charlie Strong right for Texas?

The Longhorns have found the man who will try to live up to Mack Brown's legacy, as Texas named former Louisville coach Charlie Strong its new head coach on Sunday. Strong just finished his fourth year at Louisville and has been remarkably successful as its coach, winning double-digit games for the past two years and bringing the Cardinals to a BCS bowl in the 2012 season. Is he the right coach for the job, or will Texas recede further and further from title contention?

Andy Lyons/Getty Images

Teddy Bridgewater in 2014 draft?

Teams possibly targeting Teddy Bridgewater in the 2014 NFL draft -- we're looking at you, likely No. 1-bound Houston Texans -- might need to scout elsewhere. The Louisville Cardinals junior quarterback says he hasn't decided on his future just yet, and likely won't until after his team's Dec. 28 bowl game. That's not to say he's definitely returning, but it certainly seems he could follow in the footsteps of fellow top prospect Marcus Mariota, who will return to Oregon next season. What will Bridgewater do? What should he do?