SportsNation Blog Archives

Karl Malone
September 21, 2015
Sep
21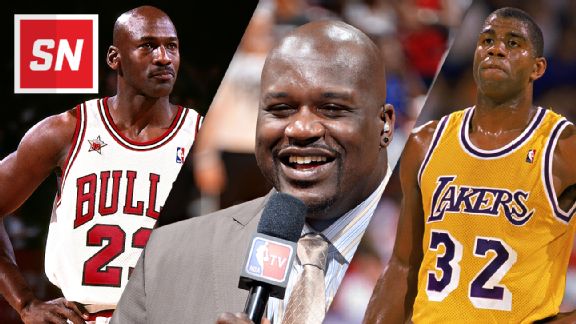 Getty Images
NBA top fives are in the air. Kevin Durant gave his list two weeks ago, and now, one of Durant's picks has made his own choices.
In an interview with The Times-Picayune of New Orleans, former Los Angeles Lakers (and Orlando Magic ... and Miami Heat ... and a few other teams) big man Shaquille O'Neal was asked his all-time starting five. His answer:
"Bill Russell won 11 championships. Charles Barkley is my guy, but I like Karl Malone. Then there's the guy who made me who I am -- Dr. J [Julius Erving]. I've got Michael [Jordan] at the two. Then, I'm going to go with the big guard with Magic Johnson at the one."
Now, O'Neal made sure NOT to put an exclamation point on his list, saying:
"I see a problem with answering these questions. A lot of people get their feelings hurt. Then some of you guys [reporters] be trying to start trouble, like Shaq leaving Kobe [Bryant] off. Then it's Shaq and Kobe.
"But that's my top five for playing reasons and what they did. Russell doesn't have high [statistical] numbers, but with 11 championships, nobody is beating that."
We're not doing that, Shaq! We know you're mending fences with former teammate Kobe Bryant and certainly wouldn't leave him off as a dig. Heck, he wouldn't be on this writer's top five, either -- not because Kobe hasn't been great (he has), but when you get to the upper reaches of the NBA's all-timers list, it's really, really, really competitive.
Having said that, O'Neal did make some interesting choices; Malone and Erving, in particular, don't appear on a great deal of these lists. So we ask you: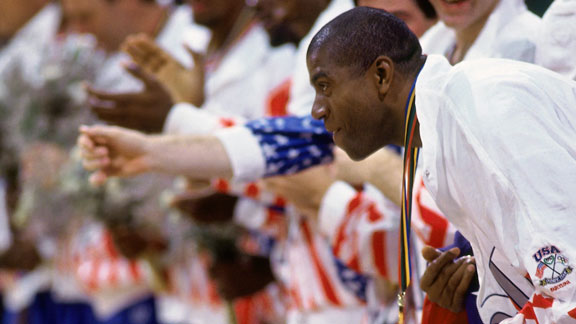 The Naismith Basketball Hall of Fame opens its doors to a new class of inductees tonight in Springfield, Mass. (which gave us basketball and Dr. Seuss within a 13-year span and has since taken the last 106 years pretty much off). And perhaps it's only fitting that all-time sidekick Scottie Pippen gets to share the night with one of only two players in NBA history to score more points than Michael Jordan (not to mention, the entire 1992 Dream Team).
Pippen spent his career ceding (sharing, if you're feeling charitable) the spotlight to Jordan, but is entering the Hall with the Mailman one legacy battle he can win? SportsNation blogger ricodade offers his own take on a "Robin" for the ages.
"Pippen's induction is overdue. He should have went in last year with MJ, but I understand why he didn't. Jordan's legacy is so much bigger than basketball. It would have been fitting for them to enter the Hall together, just as they won six titles together.

"Scottie's resume reads like so: 6-time NBA Champ. 7 time All-Star. 8 time All defensive first team(twice on the 2nd team). 3 time All NBA first team. His 2307 steals is still a record for steals for a forward.Dream Teamer/Olympic gold medalist.

"That's hardly the resume of a sidekick." -- Check out ricodade's blog
"

Congrats Pip!! Couldn't have done it without you. We all know that. As great as MJ is, you were definitely the most crucial/vital piece to his success and vice versa. The truest Batman/Robin duo of all-time! It's a great day to be a Bulls fan, watching your introductory into the Hall of fame!

"

-- Youmustbecrazy40
"

i hate the mailman but even i know he should be in the Hall. on the other hand Scottie Pippen should never go to the hall. his plaque should be of MJ's head not his. he owes his career to his airness.

"

-- rocketsandtitans