SportsNation Blog Archives

Tulsa Golden Hurricane
Sure, the opening weekend of college football had plenty of games that made Team USA's 121-66 basketball win against Angola look like a classic by comparison, but we didn't have to wait for Boise State and Virginia Tech on Monday night for a reminder of what we've missed lo these many football fallow months. You want drama? Navy-Maryland and East Carolina-Tulsa offered up a season's worth. But what is a more painful way to lose?
Maryland 17, Navy 14: The Midshipmen rolled up 412 yards on the ground, but they needed 413 for the win. Passing up a chance to tie the game with a field goal in the final minute (one of its only passes on the day), Navy went for broke on fourth down at the 1, only to see Ricky Dobbs stuffed short of the points. Watch the stop | Watch the game
"What an awful decision to go for the touchdown. Maryland has not stopped you all day, you kick the field goal and take your chances in OT. I understand his reasoning for going for the win, but it was the wrong decision. And yes I would have said that even if they had gotten it." -- SN commenter wolverine0611
East Carolina 51, Tulsa 49: Last team with the ball wins? Absolutely, even if the last team with the ball is 33 yards away from the end zone with seconds remaining. Dominique Davis' Hail Mary landed in the arms of receiver Justin Jones to give East Carolina coach Ruffin McNeill a win in his debut. Watch the Hail Mary | Watch the game
"I was at this game. Atmosphere was absolutely electric. I'm still hoarse from screaming. What an unbelievable play, and unbelievable game in general. So frustrating to watch in the stands because of the horrible defense that Ruff's squad played. We have to improve there. But offensively, Dom Davis was incredible. This team is going to surprise a lot of people." -- SN commenter racefan3883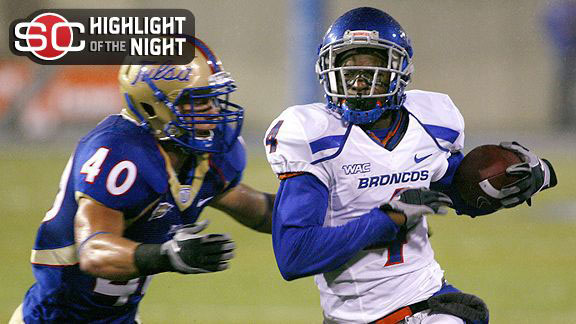 We've asked former Jets coach Herm Edwards to make a few opening remarks. Thanks, Herm. Boise State played to win the game Wednesday night in Tulsa and did just that against a one-loss team. Now the question is if a lack of style points in the 28-21 victory will hurt the Broncos as much as an actual loss might hurt Texas or Virginia Tech this weekend?
The Broncos entered the game ranked No. 5 in the country (although SportsNation had them one notch lower than that, preferring one-loss USC in the fifth spot). But with the first BCS rankings due out after this week's games, edging out a team Oklahoma blanked 45-0 doesn't seem like the way to make a statement. So what's the ultimate takeaway from Wednesday? Does beating a 4-1 team on the road to remain perfect help the Broncos (with a strong defensive showing, as ESPN.com non-AQ blogger Graham Watson recounted from Tulsa), or does a seven-point win turn out to be as good as a loss?
"

Best part about college football....is by the end of the season the discussion goes like this.....well Florida lost to X, X lost to X....and X lost to X....and then X went to OT against X so really it should have been a tie...and well X beat X...so......Why don't we have Buffalo play for the National Championship.

"

-- killeryams1779
"

Plain and simple, the Broncos needed to win this one by 30 if they were going to have a real chance of impressing the poll voters. Right or wrong, a non-BCS-league school, if it is to win a championship (and become the first non-power-conference school to do so since BYU 26 years ago---not counting Penn State in '87 even though they were still independent and Notre Dame as...well...Notre Dame), must be exceptional in ways that a power conference school *coughOklahomacough* doesn't have to be in order to make the title game.

"

-- monsterdog5
SportsNation thinks Boise State has less to worry about Wednesday night against Tulsa than any other top-five team this week. But are the Broncos college football's lovable underdogs or a potential unbeaten thorn in the side of more deserving teams? We think we know how voters in Blacksburg, Va., Columbus, Ohio, and a few other places will respond, but does SportsNation as a whole want to see Boise State get its shot at a national title?
"

BSU beat #16 Oregon and moved up to #12 the next week. BSU should be no higher than #12 since they play NO ONE. LOL BSU season ended after week 1.

"

-- O-Town Magic
"

Broncos are a bit overrated. I'm not just saying that to get anybody riled up. I really believe it to be true. Was looking at the scores that the Pac-10 teams ran up against WAC schools last year compared to how Boise state did against those very same Wac schools. Turns out that the Pac-10 handled the WAC schools almost as well as the Broncos did--and all I'm talking about here is the AVERAGE of the Pac-10 teams.

"

-- Zeusomally
"

I know there is no way in hell the "powers that be" are gonna let us stay close to the top 5 by the end of the season, no matter who we play or how much we win by. If we are close to the top 5 by seasons end and 1 or 2 too many teams lose they would have to put BSU in the Rose Bowl...and there is no way "they" are going to let BSU play in the Rose Bowl.

"

-- DontHateBoiseSt.