SportsNation Blog Archives

Connecticut Huskies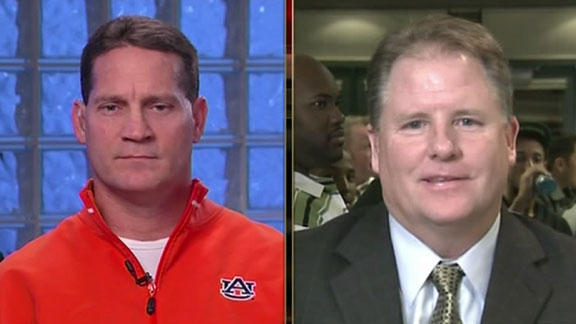 After a season full of upsets, near upsets, blowouts, rivalries and Cameron Newton, the BCS picture has finally been fully painted.
The national championship game looks to be a real barn burner, as Auburn and Oregon both feature high-powered offenses capable of scoring several touchdowns in a single quarter. It'll be a challenge for either team to limit the other to fewer than 30 points, but we won't complain if the combined points total of this game skyrockets past 80. The other matchups seem pretty even, too, save for the surprising Connecticut Huskies taking on the Oklahoma Sooners in the Fiesta Bowl. Connecticut made a BCS bowl despite managing only an 8-4 record and will be hard-pressed to stop Landry Jones and Oklahoma's passing attack. Still, we're looking forward to all these games. Which promises to be the most exciting?
National championship: Auburn vs. Oregon: "I have to say I actually think this game will be close. Auburn will start punding the ball like a 1980s team in the second half and I see Oregon making a couple mistakes to lead to turnovers or souple three and outs and Auburn having a 10 minute 15+ Play drive in the forth to go up by 2 touchdowns." -- EarnYourOwn

Sugar Bowl: Arkansas vs. Ohio State: "Arkansas CAN beat Ohio State. This isn't your grandma's Ark team. This isn't an under-talented HDN team sneaking in through a weak west, relying on David Vs Goliath speeches along the way, only to be crushed in a mis-match. This team has talent, experience, and confidence. So does OSU, which makes this a GREAT match-up. " -- HAWGHEAD14

Orange Bowl: Stanford vs. Virginia Tech: "wooo couldnt have hoped for a better match up than this for my Hokies! Should be a great game. Stanford is a GREAT team, should be a good test for VT. Stanford will be favored, which plays into VTs hands. All season since the embarrassing 0-2 start has been about getting respect back, and if the Hokies can pull off a win over a great Stanford team, they will finally get that respect back! " -- Dmoney51715

Fiesta Bowl: Connecticut vs. Oklahoma: "As a Uconn fan, I have to say that this is great to go to a BCS game and play a team with the history of OU. It was also great to see us destroy a South Carolina team last year and beat Notre Dame at their place as well. However, I am not delusional to think that we could compete week in and out in that conference, but do think they are going to play a lot better than most believe. " -- Ice1396

Rose Bowl: TCU vs. Wisconsin: "Wow, what a statistical dead heat in the offensive category. I hope this game will be as great as it is on paper, statistically speaking. TCU being in the Rose "Granddaddy of them all" Bowl is awesome! This is the true gut punch to the E. Gorden Gee elitists of the world. Rejoice Frog faithful, we are only one of four other teams, OU, UT, Nebraska, and Miami, that have EVER played in this bowl game outside of the Pac-10/Big Ten! Awesome week to be a Frog." -- HornedFrog1992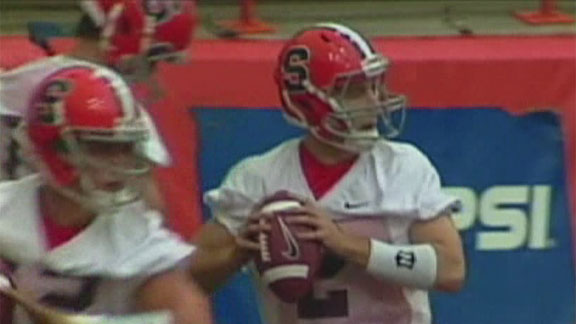 ESPN.com's college football writers and bloggers will be going conference by conference in the coming weeks to preview the season ahead, and we're looking for your rankings along the way. Things roll on with the Big East, where blogger Brian Bennett's rankings suggest good things for fans in New Jersey and hope for the reloading West Virginia Mountaineers.
1. Rutgers
2. Pittsburgh
3. West Virginia
T-4. Cincinnati
T-4. South Florida
Check out Bennett's complete Big East rankings.