SportsNation Blog Archives

South Florida Bulls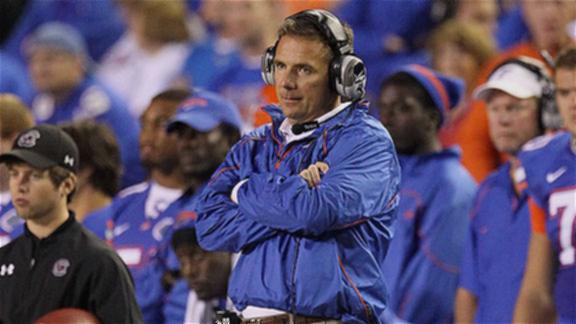 Jimbo Fisher is now the longest-tenured head coach among Florida's four most notable football programs, with about a week's lead on South Florida coach Skip Holtz. Let that last sentence sink in for a few seconds.
Legendary names like Bobby Bowden, Jimmy Johnson, Steve Spurrier and Urban Meyer? Not anymore in the Sunshine State. With the arrivals of Will Muschamp and Al Golden, one of the biggest football hotbeds in the nation is entering uncharted waters when it comes to the men in charge of Florida, Florida State, Miami and South Florida.
All told, the four coaches in question combined to lose 20 games this season, counting the seven losses Texas suffered with Muschamp as defensive coordinator. But which one will fare best moving forward?
Todd (AA)
Who is [Michigan's] coach next year? Wouldn't Harbaugh be better off staying at Stanford or going to Michigan? In the NFL even the best coaches get fired after around 10 years. He could stay in AA for 25 years.
Bruce Feldman
Had heard he's always been intrigued by the NFL, but would returning to the alma mater be his ideal. He has more options than probably any D1 coach out there because he has an NFL ready system, his age, his background. ... Just a hunch, but I'd be surprised if he's back at Stanford for the 2011 season. Full transcript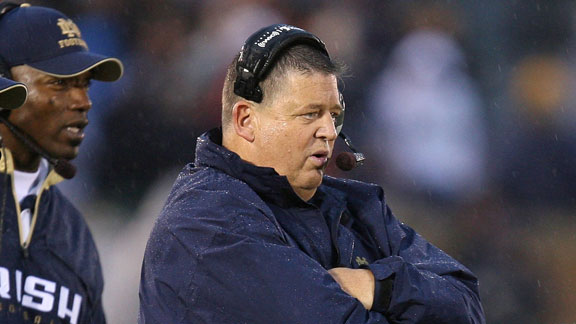 It won't be an easy weekend for BCS Cinderellas, even though they're all playing at home. Cincinnati faces No. 25 West Virginia, TCU gets the pressure of GameDay and No. 16 Utah, and Boise State deals with a surprising 7-3 Idaho (and a visiting AD who doesn't like to fly on planes with Broncos markings).
When we think of the Big East, we still think of images like the one over on the right. And we know we're not alone -- well, we might be the only ones still thinking about Zendon Hamilton. Before the start of football season, SportsNation was somewhat split on whether or not the Big East was even better than the Mountain West. And even when this month began, 57 percent of voters said the Big East would not have more than one ranked team by season's end.
But judging by the buzz in SportsNation, Thursday's showdown in Tampa has the attention of football fans.
nunyabiz81: "It won't be easy, especially with former defensive coordinator Tresey now at USF--and remember how USC-Washington went in a similar situation. But USF's best win has been over an inexplicably sorry Florida State while Cincy has been a bit more battle-tested with wins over Oregon State and Fresno State." -- Read the full post.
Yodaman0420: "As for all those wondering about Cincinnati, I just don't think the Big East has the football talent to keep up with the power conferences. ... If Cincy was to run the table and the voters did give the Bearcats a chance at the national title or even a big-time bowl game, we'd probably see another Hawaii-Georgia game." -- Read the full post.
afjumpman23: "Although it won't have quite the hype of the Red River Shootout, it clearly has greater implications. ... If the Bearcats beat the Bulls they have a very good shot of going undefeated the rest of the way (although West Virginia could be a pitfall), or if South Florida wins (and gets past Miami on 11/28), they would be undefeated and once again, this BCS thing is going to be a huge mess.." -- Read the full post.
"

being realistic, playing against WVU, Pitt, and USF is HARD to win all three in one year. I say UC will lose to one of them. just a dice roll on who gets the upset.

"

-- UCAEROSPACE
"

Upper '80's with high humidity. UC will have most of their team on IV's by halftime. Looks like another easy one for the Bulls.

"

-- kwelch1962
"

Brian Kelly is one of the best coaches in the country, in my opinion. He took D-2 GVSU from nothing to the national championship, and CMU from the basement to being a contender. The bulls are at home, and that's great...but they won't get anywhere against these guys unless they're on their game tonight. USF: 24-23

"

-- raysfan1978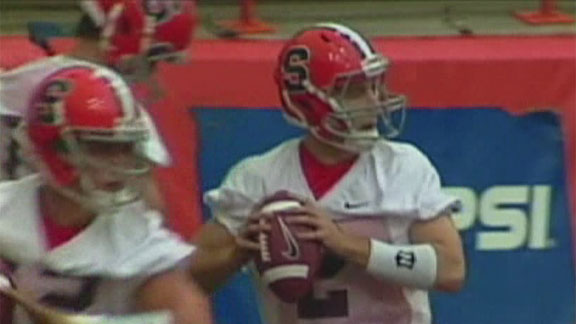 ESPN.com's college football writers and bloggers will be going conference by conference in the coming weeks to preview the season ahead, and we're looking for your rankings along the way. Things roll on with the Big East, where blogger Brian Bennett's rankings suggest good things for fans in New Jersey and hope for the reloading West Virginia Mountaineers.
1. Rutgers
2. Pittsburgh
3. West Virginia
T-4. Cincinnati
T-4. South Florida
Check out Bennett's complete Big East rankings.