SportsNation Blog Archives

Carlos Guillen
A pitching duel between Justin Verlander and Jered Weaver proved also to be an etiquette lesson en route to a win for the Tigers. First came Weaver getting ticked off and tossed out after he felt Magglio Ordonez and Carlos Guillen admired home runs, drama that almost overshadowed Verlander flirting with a no-hitter despite Erick Aybar's attempt to break it up with a late bunt. Can someone break out the unwritten rulebook again?
"In the top of the eighth, Aybar bunted to show up Verlander because of what happened the previous inning, and that was bush league. Some people say he was just tryin to get on, but IMO that was just backing up Weaver -- you DON'T BUNT to end a no-hitter after six innings. Everyone knows that." -- SN commenter spoiler9999
---
Was Magglio Ordonez out of line?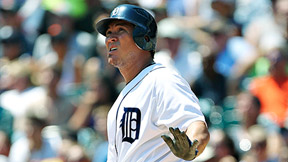 Ordonez claimed innocence in standing at the plate after hitting his third-inning homer, suggesting he was waiting to see whether the ball would stay fair.

---
Was Carlos Guillen out of line?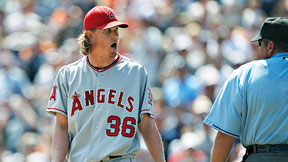 There isn't much debate about Guillen's intentions in staring down Weaver after hitting his seventh-inning homer. But after Weaver barked at his teammate earlier, was Guillen within his rights?

---
Was Erick Aybar out of line?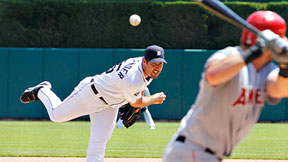 After Weaver was ejected for throwing at the batter who followed Guillen in the seventh, Aybar led off the top of the eighth with a bunt, reaching on Verlander's error and eventually scoring.

---
Which pitcher had grounds for complaint?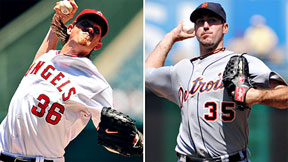 Verlander suggested that bunting to break up a no-hitter is "bush league," while Weaver's words, even pixilated in the video above, make his feeling on home runs clear.

Most of us can only dream of hitting a forehand like Roger Federer or backhanding a hard grounder like Carlos Guillen. So when they start adding degrees of difficulty that would make a Russian judge blush, consider us more than a little interested -- and jealous.
Federer eased past somebody named Brian Dabul in the first round of the U.S. Open on Monday, but it was a between-the-legs winner down the line that had the crowd in New York on its feet for a sustained standing ovation.
But is the shot Federer pulled off cooler than the behind-the-back flip to start a double play, as demonstrated here by Guillen in a recent Tigers game?
Meanwhile, there's just no pleasing some people. Circus shot or no circus shot, one SportsNation commenter had little good to say about Federer's performance.
"As a Fed fan, I wasn't too highly impressed. He played very aggressively and did quite well, don't get me wrong. But somewhere in the second set he seemed to let go of the throttle and allowed Dabul to play a few more games than he should have. His break point conversion should have been better, and I just feel he could have put Dabul away earlier. He hit some sloppy errors at times, not that many but they were still there. And I did not at all like the way he had about 3-4 stumbles throughout the match. His return of serve also could have been a bit better. All in all he played a pretty well to beat a clearly overmatched player." -- SN commenter NorseKatz