SportsNation Blog Archives

Roger Clemens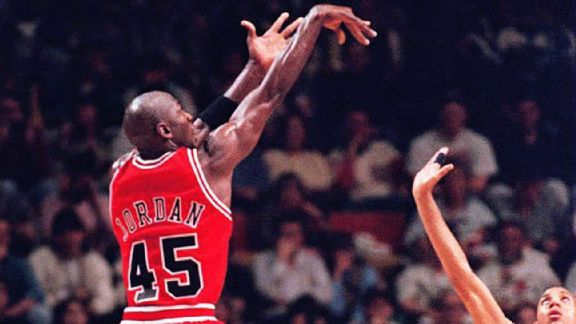 John Ruthroff/AFP/Getty Images
Michael Jordan
Retired: 1993, 1998, 2003
On March 18, 1995 -- 20 years ago! -- Michael Jordan and the Bulls announced that he would rejoin the team and play in the following day's nationally televised game against the Pacers.
Jordan went 7-for-28 from the field, scoring 19 points, dishing out six assists and grabbing six rebounds. He would go on to lead Chicago to three additional championships (1996-98) as well as an NBA-record 72 regular-season wins in the 1995-96 season.
Here are other notable athletes who called it quits only to come back to give their sport another go: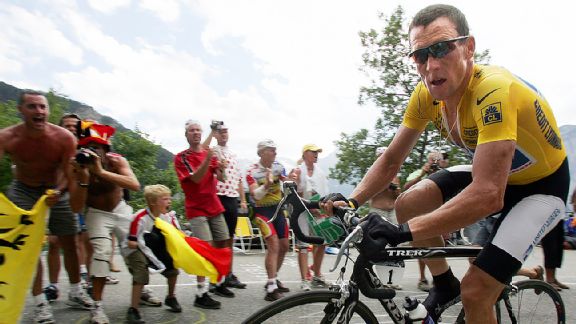 PatrickKovarik/AFP/Getty Images
Lance Armstrong
Retired: 2005, 2011
Armstrong retired in 2005 after a record seventh consecutive Tour de France victory, though it would eventually be stripped because of his steroid scandal. On Sept. 9, 2008 he announced he would return, but would never finish first again (he finished third and 23rd in the 2009 and 2010 Tour de France races). Armstrong left the cycling world again in 2011 while facing a federal investigation into doping allegations.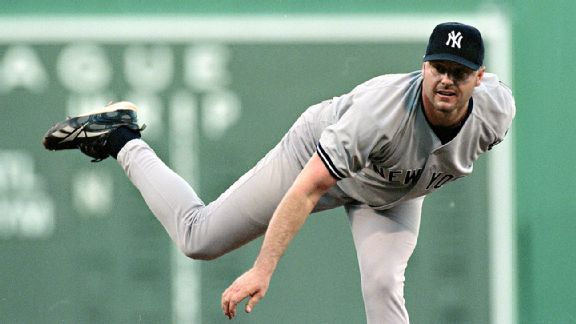 Doug Pensinger/Getty Images
Roger Clemens
Retired: 2003, 2006, 2007
"The Rocket" retired from the big leagues a few times. He first retired in 2003 after six Cy Young Awards and one World Series win with the New York Yankees. Clemens came back in 2004 to play for the Houston Astros and captured his seventh Cy Young. In 2006, he retired again before returning again for another stint with the Yankees. Clemens would finally hang up the cleats for good in 2007, at the age of 45.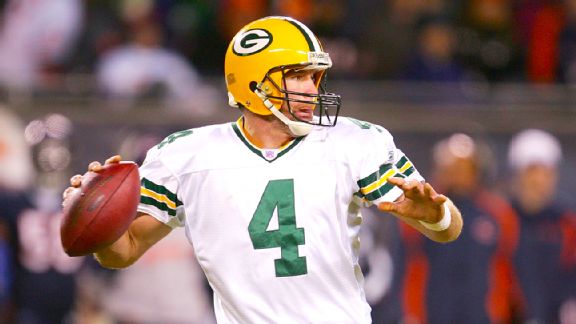 Jonathan Daniel/Getty ImagesBrett Favre more than earned his spot in the Packers' ring of honor.
Brett Favre
Retired: 2008, 2009, 2011
It probably isn't easy for any player to give up playing their respective sport, but it seemed especially hard for Favre. No. 4 formally retired in 2008 only to come back a few months later. But the Green Bay Packers were ready to move on with quarterback Aaron Rodgers, so they traded Favre to the New York Jets that year. He played for one season before retiring again on Feb. 11, 2009. But Favre wasn't done yet. The winningest quarterback in NFL history came out of retirement again a few months later to play for the Minnesota Vikings until finally retiring for good in 2011.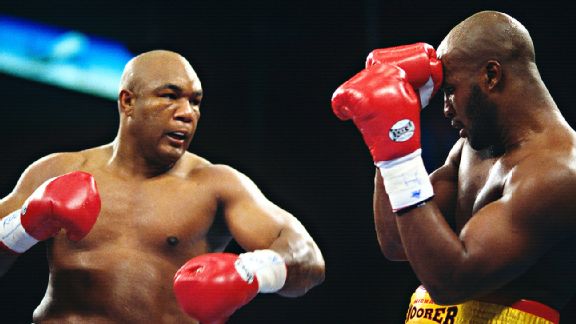 Getty Images
George Foreman
Retired: 1977, 1997
Foreman came back 10 years after his retirement in 1977 at the age of 38. In 1994, nearly two decades after he last held a title, Foreman beat Michael Moorer for the WBA, IBA and lineal heavyweight championships. This made Foreman a rather improbable champion at the age of 45.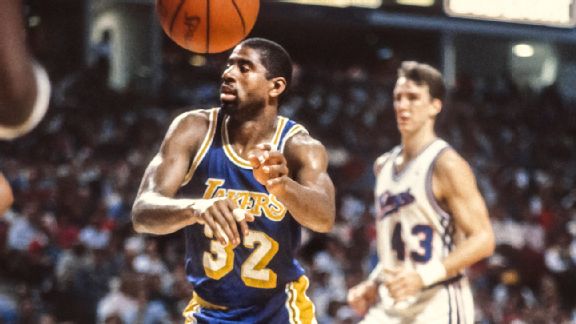 David Madison/Getty Images
Magic Johnson
Retired: 1991, 1996
Johnson's circumstances are unique among the athletes on this list. Before the 1991-1992 NBA season, he found out he tested positive for HIV and announced in a news conference that he would retire immediately. In 2011, Johnson told Los Angeles Times columnist Bill Plaschke, "If I knew what I know now, I wouldn't have retired," referring to the misconception at that time that he could spread the disease through minor contact. In 1995, at the age of 36, Johnson returned to the Lakers and averaged 14.6 points, 6.9 assists and 5.7 rebounds per game before retiring permanently after that season.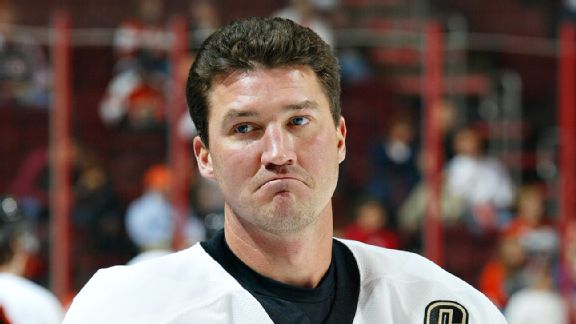 Getty ImagesNeither Father Time nor Hodgkin lymphoma could keep Mario Lemieux off the ice.
Mario Lemieux
Retired: 1997, 2006
Super Mario retired from the Penguins after the 1997 NHL playoffs but returned to the ice in 2000 and won a gold medal with Team Canada at the 2002 Winter Olympics. Then, after several health setbacks and the cancellation of the 2005 season, Lemieux retired for good in 2006.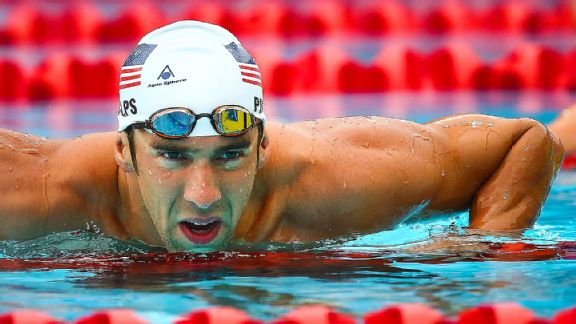 Patrick Hamilton/AFP/Getty Images
Michael Phelps
Retired: 2012
After the 2012 Olympics in London, the most decorated athlete in Olympics history took a break from the pool and retired from swimming. The 22-time Olympic medalist came back in 2014 with plenty of time to prepare for the 2016 Olympics in Rio de Janeiro.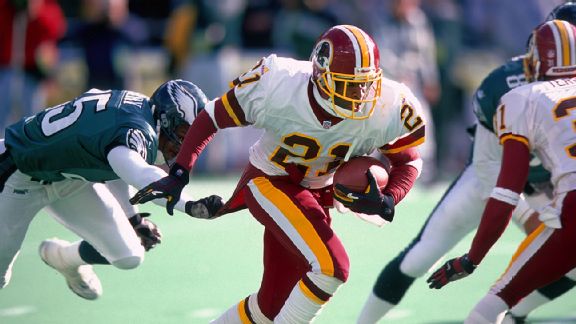 George Gojkovich/Getty Images
Deion Sanders
Retired: 2001, 2005
Sanders, who lived up to his "Prime Time" nickname during his several successful seasons with the Cowboys, retired in 2001 after a one-year stint with the Washington Redskins. In 2004, Sanders returned to the gridiron after signing a one-year deal with the Baltimore Ravens. That season, Sanders recorded five interceptions before retiring again.
Gregory Shamus/Getty Images
Ricky Williams
Retired: 2004, 2012
Facing a four-game suspension in 2004 for violating the NFL's drug policy, Williams shockingly announced his retirement. He returned in 2005, then left to spend a season in the Canadian Football League in 2006. Williams found his way back into the NFL in 2007 to play for his former team, the Miami Dolphins, until 2010. In 2011, Williams played for the Ravens before officially calling it a career again. Despite bouncing around a few times, Williams tallied 10,009 yards and 74 rushing touchdowns in 11 NFL seasons.
Ronald C. Modra/Sports Imagery/Getty Images
Hall vote for Bonds and Clemens?
Pedro Martinez is almost definitely going to be inducted into the Baseball Hall of Fame, and he'd like Barry Bonds and Roger Clemens to join him. Martinez and Clemens were inducted into the Red Sox Hall of Fame on Thursday, along with Nomar Garciaparra and broadcaster Joe Castiglione, where Martinez said that he believes both Clemens and Bonds' numbers before accusations of steroid use against them broke would warrant induction. They're running out of time to pass the 75 percent threshold -- players' eligibility was recently reduced from 15 years to a mere 10.
Won't this year's Hall of Fame ceremony be grand? We can't wait to go and watch absolutely no one give a speech -- because the Baseball Writers' Association of America let no one in this time around. Only Craig Biggio and Jack Morris came close to the 75 percent threshold necessary to get one's face on a plaque in Cooperstown. Clearly, the issue of performance-enhancing drugs is tainting the process in some way; Roger Clemens and Barry Bonds would have been surefire first-time inductees had they not been connected to steroids. The spectacle of an empty induction year might force the Hall of Fame into making some sort of change.

Ballot: Which top vote-getters from this year's class will eventually make it in?

Vote: Will more worthy candidates create a Hall of Fame logjam?

---

A different process?

Some voters submitted blank ballots. Other voters picked single, strange candidates. Others didn't vote at all.

---

A minimum requirement?

We could theoretically see a year in which there were no deserving candidates, but several exceptional players were on this ballot.

---

Destigmatize PEDs?

Mark McGwire was on 17 percent of ballots this year, but he won't be the last player connected to PEDs to be on the Hall of Fame list.

---

New definitions?

Voters have expressed some confusion over how to treat players with possible connections to PEDs, which may explain Roger Clemens and Barry Bonds' low numbers.

September 11, 2012

Sep

11

On Tuesday, "First Take" discussed Roger Clemens' desire to come back to pitch for the Astros, preferably against a team in playoff contention. Hugh Douglas thinks Clemens wants to pitch in order to stop his Hall of Fame clock, in order to prevent steroid accusations from derailing his path to Cooperstown. Stephen A. Smith barely wants to talk about the whole thing, but Skip Bayless applauds Clemens for wanting to play baseball at a high level again. What's your take?

Roger Clemens has signed with the awesomely named Sugar Land Skeeters, believing that, at 50 years old, he could still pitch in professional baseball. Could Clemens still get outs in the big leagues?

DileepP: "The Sad thing is, at 87 his fastball is not much slower then Josh Beckett's."
MauiDano: "Roger is just having some competitive fun. No big deal. It's not like he's trying to get back into the major leagues. Why not? No big deal, just having fun. Would there be this big of a story if it was the local beer softball league Have fun Roger!"
philmnm: "Eh If he misses baseball and his pitches are working, then good for him. As long as its not in the MLB I see nothing wrong with it."
gorillabaseball22: "I could see this as Clemens own personal attempt to prove to himself his success wasn't all from steroids. Unfortunately, this proves nothing and it will eat at him for the rest of his life."
gatoralumn1950: "I'll bet that he throws a no-hitter."

Join the conversation or respond by signing in or creating a profile and blogging.