SportsNation Blog Archives

Greg Ellis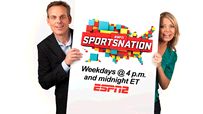 Fan Prizzle23 calls Colin Cowherd his favorite ESPN personality. Many of you commenting about the show express similar sentiment for co-host Michelle Beadle.
Share the love and your thoughts on the biggest stories of the day with "SportsNation" TV.
Scan the show topics below, cast your votes and watch on ESPN2 at 4 p.m. ET!.

Should Nike release the tapes of LeBron getting dunked on?
One fan suggests the footage will magically reappear on the scoreboard when LeBron's shooting free throws at Boston and Orlando this season.

Have the fans at the new Yankee Stadium gone soft?
The new Yankee Stadium only looks small because we used a tiny picture. But Kevin Millar says the volume of fan invective has definitely decreased.

Do you wish someone had taught you to throw a knuckleball growing up?
Tim Wakefield is an All-Star pitcher with 11 wins at age 42. His secret? The knuckleball, a pitch not emphasized in developmental stages of baseball.

Should "SportsNation" show more UFC?
The sport's as violent as the argument between MMA fans and boxing. Does it deserve a more time on the show? We're asking you, not Brock Lesnar.

Another sign of dysfunction by the Cowboys?
It's not as touching as the Brian Piccolo-Gayle Sayers story, but Greg Ellis says DeMarcus Ware helped him get playing time in Dallas by hiding from the coaches.

And our final question ...
The addition of Vince Carter gives the Magic a pair of high-flying dunkers. Does Vinsanity need to add a cape to top teammate Dwight Howard?
What is "SportsNation" TV and how do you make your voice heard on the broadcast? Read about the new ESPN show that features fan opinions with calls, tweets, polls, rankers and more.