SportsNation Blog Archives

Clinton Portis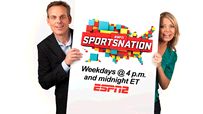 Michelle Beadle and Marcellus Wiley will be holding a jersey bonfire if the "SportsNation" TV set gets too cold.
Argue the hot topics of the day and vote on the biggest stories from the world of sports. The show airs on ESPN2 at 4 p.m. and midnight ET.
Note: Broadcast voting results as of this afternoon (ET).

Which should be the official international greeting?
Handshakes are a traditional greeting. but with the First Lady and President campaigning for Chicago's Olympic bid could fist bumps take the lead?
Which coach would you rather have?
Rex Ryan, with a stout defense, has the Jets at 3-0 in his first season as head coach. Sean Payton's Saints are also undefeated behind an explosive offense.
Should Clinton Portis don costumes to break out of his funk?
The Redskins' running back has only 183 yards rushing and hasn't scored a touchdown in the first three games for 1-2 Washington.

Do you believe Fabian Washington?
The Ravens cornerback says he has a lot of information on Randy Moss since he practiced against him in Oakland. Do you buy it?
Would you openly root for your team at a rival's stadium?
Green Bay visits Minnesota this week. Michigan plays at Michigan State. Is there any hope for the visiting fans who venture through the gates in the wrong colors?
What is "SportsNation" TV, and how do you make your voice heard? Read about the new ESPN show that features fan opinions with calls, tweets, polls, rankers and more.