SportsNation Blog Archives

Rasheed Wallace
According to Rasheed Wallace's official NBA.com bio, the Philadelphia native is a fan of the hometown Flyers and Phillies but prefers the Kansas City Chiefs to the Eagles when it comes to the NFL. Somehow we imagine the uproar wouldn't be quite as loud if this were about a Matt Cassel jersey.
Some people in Boston -- how many is up for debate -- are a little ticked off that Wallace has been prominently sporting his Flyers cap, as seen below in video from ESPN Boston's Chris Forsberg, in the wake of the Bruins' complete collapse against that team in the second round of the NHL playoffs.
Other people are more upset about Wallace's prominent disdain for effort in the regular season, especially now that it's contrasted with his spirited playoff contributions.
So is Wallace staying true to his hometown team or sticking it to fans in Boston? And is it a foul on him in either case?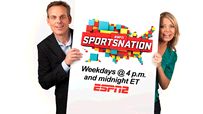 "SportsNation" on TV is finally here. Check out the big stories of the day, cast your votes and watch on ESPN2 at 4 p.m. ET!
After a weekend packed with tragic and triumphant sports news, hosts Michelle Beadle and Colin Cowherd can't wait to debate your answers to the questions below.
Vote: Would it be fun to hang out with Roger Federer?
The tennis great has 15 Grand Slam titles, untold millions and the gold-trimmed clothing, but he presents a very corporate, polished image.

Vote: Is there such a thing as a good loss?
Andy Roddick earned respect but no Wimbledon title in his epic final match against that guy in gold on Sunday.

Vote: Would you boo or cheer Manny Ramirez?
Padres fans have had their chance. The "suspension is over" tour continues this week with stops in New York and Milwaukee.

Vote: Should ESPN show more competitive eating?
For some people, hot dog buns crumbled in water and mouths crammed with food are revolting. For others, like Joey Chestnut, it's a Fourth of July tradition or lunch.

Vote: Which team is the favorite to win the Eastern Conference?
The Cavaliers made the first move, acquiring Shaq. The Magic lost Hedo Turkoglu, and the Celtics added veteran Rasheed Wallace.
Tweet: How will you remember Steve McNair?
After news of the former Titans quarterback's death came out Saturday, NFL players spoke of his competitiveness and toughness.
What is "SportsNation" TV and how do you make your voice heard on the broadcast? Read about the new ESPN show that features fan opionions with calls, tweets, polls, rankers and more.
It was a relatively quiet long weekend, although Hedo Turkoglu did his best to create some dramatic fireworks. SportsNation isn't buying that Toronto's Turkish community or Turkoglu's comfort level with the Eastern Conference had much to do with his apparent reversal after reaching a verbal agreement to sign with the Blazers. They also aren't convinced pairing Turkoglu with Chris Bosh makes the Raptors a playoff team.
"

Great job hedo you went from playing for an elite team in the east to nearly playing for an up & coming portland squad to playing for a lottery team? The raptors will flirt with .500 at best and hedo can watch the playoffs from his cosmopolitan house enjoying the extra $$$ he has accepted for losing!

"

-- bos411
"

well i think the hedo deal was worth it for toranto yeah they have no shot at winning the whole thing but they are trying to put fans in the seats making the playoffs do that and hedo proved he is a playoff performer against the CAVS but when it comes down to it great pick up by the raptors

"

-- blackmatt86
Frivolous spending is out. In tough economic times, there's no room in budgets for impulse buys and casual spending. Which leads to the question of whether players like Ben Gordon and Trevor Ariza are worthwhile investments or NBA free agency's version of the Snuggie?
NBA free agency is upon us, which may be more significant to many in the NBA as the one-year warning for a 2010 class that could include the likes of LeBron James, Dwyane Wade, Dirk Nowitzki and Travis Diener (or Steve Nash; take your pick on that last one).
At least a class headlined by Ariza, Jason Kidd and potentially Carlos Boozer is more compelling than this year's middling draft class.
"

Iverson has plenty left. in the right system and in the right lineup, he's still a very productive player if not a star in the league still. the only concern that i'd even have is his health. he's got a lot of hard miles and injuries on that body of his, but I think he has it in him to go to a team and contribute a lot. I agree, however, that it's not a great time to be a free agent, and based on that, I don't know how much he'll get on his contract this summer. something tells me he's going to sign with a contender at a discount price.

"

-- teniskoala
"

PLEASE BOOZER!!!!!! OPT OUT!!!!! I DON'T WANT TO SEE YOU RIDING OUR BENCH WITH A BRUISE NEXT SEASON.........

"

-- gamenight5