SportsNation Blog Archives

Brandt Snedeker
The U.S. Open begins Thursday, with golfers facing an unusual test: the Merion Golf Club East Course, which has not hosted the tournament since 1981, and whose 6,996 yards make for the first sub-7,000 Open since 2004. Adding another twist is the weather; heavy rains suspended practice earlier in the week, and the course is expected to be especially soft when players tee off. Tiger Woods will look to resume his pursuit of Jack Nicklaus' all-time majors record at this U.S. Open, but whether he rises above the muck or gets bogged down in it remains to be seen.
---
Win for Woods?
He's without a major victory since the 2008 U.S. Open, but Tiger Woods already has four wins in 2013. The streak must end sometime ... right?

---
Red-eye
Phil Mickelson reportedly will attend his daughter's eighth-grade graduation Wednesday in San Diego, then fly back overnight to make his tee time early on Thursday morning.

---
Remember me?
Tiger Woods and caddie Steve Williams -- yeah, they've got history, both good and bad. And they're paired together, so to speak, as Williams' new employer (Masters champ Adam Scott) will play at least two days with Woods.

---
The breakthrough?
Memorial champion Matt Kuchar enters the week ranked fourth in the world -- but he's never won a major. Same for Justin Rose (fifth), Luke Donald (sixth), Brandt Snedeker (seventh) and the long-suffering Sergio Garcia (15th).

---
Sergio struggles?
First came his feud with Tiger Woods at The Players Championship, then an inflammatory comment about Woods shortly after. Will Sergio Garcia be able to put the controversy behind him?

---
Going low?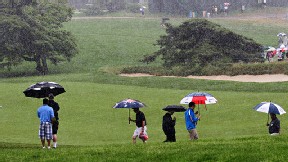 More than five inches of rain has fallen on Merion recently, softening the course and making it ripe for low numbers.

Davis Love III has made his picks for the U.S. team in the Ryder Cup, drafting Jim Furyk, Steve Stricker, Brant Snedeker, and Dustin Johnson to represent their country in golf's biggest international team tournament. Did he do a good job?
Haze 80: " Furyk was a bad pick. 8-15 in Ryder cup history. Mahan should have been the 4th...."
lhsgolf19: "The correct 4 picks... Have you guys seen Mahan play the last couple months, dude has been awful and he would have been a lock if he a played a little better, you just cant pick him right now... Also i'm not sure if it was the ryder or president cup, but didnt Furyk and Phil dominate... Can't wait for 3 weeks, Go USA!"
Kyle718347: "The only pick I would question is Dustin Johnson. He has played well since his come back from injury but I can't help feeling like Hunter Mahan got hosed. 9th in the Ryder Cup Point Standings and not on the team?"
the.muser: "Great picks!!! Can't wait for the best golf tourney on the schedule to start."
htimsr40: "Furyk, 42, has played in seven Ryder Cups and has an 8-15-4 record. Love cited his experience in making the selection. I would RATHER have a rookie than proven Ryder Cup loser. Give the young kids a chance rather than wasting a pick on an old timer."

Join the conversation or respond by signing in or creating a profile and blogging.