SportsNation Blog Archives

Jonathan Vilma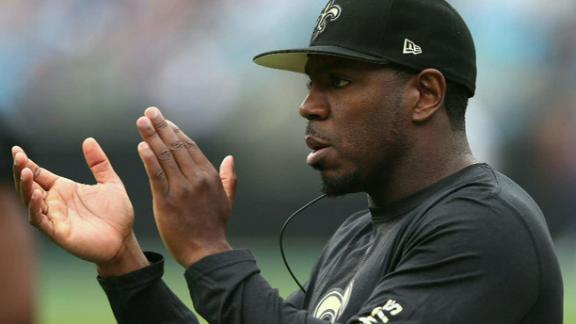 The four players in the Saints bounty scandal have added a bit of a twist to their suspension appeals: According to an ESPN report, they have requested that NFL commissioner Roger Goodell recuse himself from the process. Should Goodell acquiesce to their request?
thunder.goat: "I honestly do think Goodell is making this a personal vendetta."
kpatrix70: "Still can't see how only 4 players are being punished if everyone on defence was involved. Looks like a move by the comm. to stick it to a few without fair due process. "
cuja0599: "The NFL will not lose. The NFLPA agreed that Roger can be judge and jury, so that request can't be granted. The judge can't rule in the players favor because of the terms of the CBA. So if she does, then it's all emotional, and an appeal will follow her ruling. Vilma will miss this year fighting this due to injury, then will miss next year as well when the suspensions is upheld. "
dollarbill8: "Its like Goodell is new to the game of football. There is no rhyme or reason to his suspension lengths. "
chocolate giddyup: "This is what happens when you sign a collective bargaining agreement but don't read the fine print. Of course it's ridiculous that the guy who hears the appeal is the same guy who made the original ruling. But the players agreed to that system when they signed the CBA a year ago."

Join the conversation or respond by signing in or creating a profile and blogging.
NFL commissioner Roger Goodell has upheld the suspensions of two players involved in the Saints' bounty scandal while lowering two others. Was this a fair approach?
stiletto25: "I am confused...so a judge ruled the suspension were either unjust or too long and the NFL was suppose to repenalize the players. So Goodell lowers 2 suspension, but really only 3 total games....doesn't sound like to me he understood what the judge was saying. "
cols195465: "Goodell needs to also look at removing the bears 85 defense, Dick Butkis, The Entire Steel Curtain, lawrence taylor, The entire Dallas Doomsday defense.... among others from the hall of fame. Because they ALL tried to hurt people. They probably wish there were bounties so they could have gotten a little extra on the side."
wingsfaninsmashville: "So let me see if I have this straight. Goodell suspends the players, hears their appeal himself and doesn't change his ruling. Then an appeals board says "you can't do that" and overturns the suspensions. Goodell then suspends the players again."
sawbend21: "You could tell watching those games something was different about that defense. At the time you just thought they were the most aggressive D in the league - now we see why. And watching Vilma now strut around with his lawyers - he just looks guilty."
coachmaurice: "Goddell will not admit that he is wrong!!!! So, back to court we go! If Vilma doesn't play a down this year, at least he can clear his name and rep."

Join the conversation or respond by signing in or creating a profile and blogging.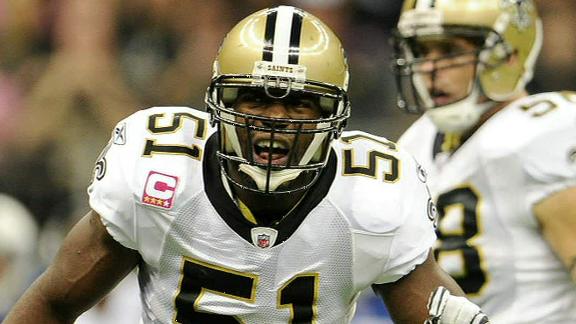 An appeals arbitration panel has overturned the suspensions of four players involved in the Saints' bounty scandal. Jonathan Vilma and Will Smith of the Saints, Scott Fujita of the Browns and free agent Anthony Hargrove all can play immediately. Was this the right decision?
Twitter reaction

Victory is mine!!!! -stewie griffin

— Jonathan Vilma (@JonVilma51) September 7, 2012

Thank you to everyone involved in the process of this solution.. And everyone who supported us through this whole ordeal. #whodat

— Will Smith (@iWillSmith) September 7, 2012

Congratulations to our players and the Saints organization. A 3 judge panel UNANIMOUSLY overturned the bounty suspensions for players.

— Drew Brees (@drewbrees) September 7, 2012

The best news I've heard all year @jonvilma51 and @iwillsmith have been vindicated #Whodat

— Jimmy Graham (@TheJimmyGraham) September 7, 2012

I don't know all the facts with the bounty case, but I think this shows how important it is to have a checks and balance system in place..

— Brandon Marshall (@BMarshall) September 7, 2012

Fan reaction

kwelch1962: "This is the beginning of the end for the NFL. This decision will open the floodgates for former players to sue the league for head injuries. Their attorneys will be able to say "See, the NFL doesn't even protect their players from other players." The NFL will be bankrupt in 5 years."
Miss Cleo Returns: "Note to NFL: It helps to have evidence when making accusations."
Richie5166: "Well,, if those guys got their rulings reversed,,what about Sean Payton? He should be able to coach then, right?"
Jennellise: "This is what happens when you are judge / jury / and executioner. It's David 1 and Goliath 0. Again"
BrentAHall1: "Goodell went all in and lost. And the clock starts ticking on his tenure in office."
msacks: "I'm about as anti-violence as an NFL fan can get, and have been disgusted by the undisputed facts that have come out. But I have to say, I've always blamed the coaches on this and not the players. When the coaches are organizing it, it shouldn't be up to the players to say no or be responsible. Williams and Payton, and probably Vitt, deserve to be suspended. None of the players do."
JWL444: "The NFLPA is a total joke. It must be nice to argue both sides of the fence. While supporting 1000 NFL players (most just looking for a money grab) over player safety, they argue supporting players that were trying to injure other players."
eswany33: "This is ridiculous they should have just served the suspension and accepted the punishment for what they did."
9dmost: "Are these dudes even game ready? And if so they are hardly prepared mentally."
Fans1000: "If you like tough football, you like this decision. If you like soft football teams and soft football players, then you hate this decision. I like tough football and that's why I love this decision."

Join the conversation or respond by signing in or creating a profile and blogging.
Tags:

NFL, New Orleans Saints, Jonathan Vilma, Will Smith, Scott Fujita, Anthony Hargrove