SportsNation Blog Archives

Ben Roethlisberger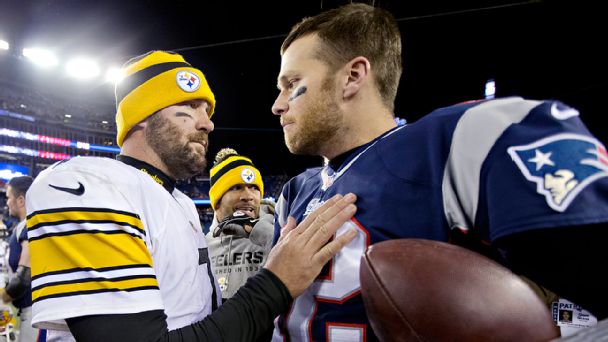 Matthew J. Lee/Getty Images
Big days for Ben and Brady
Sunday was a big day for multiple Super Bowl-winning quarterbacks from the AFC. Tom Brady went 30-for-35 with 354 yards and five touchdowns in the New England Patriots' 51-23 win over the Chicago Bears. Ben Roethlisberger had an even more memorable day, becoming the first QB in NFL history to notch a second 500-yard passing game (he went 40-for-49 with 522 yards and six touchdowns in a 51-34 win over the Indianapolis Colts). Not bad for a pair of players whose teams were considered done just weeks ago.
Nick Laham/Getty Images

NFL Week 7 -- Ravens at Steelers

Not long ago -- last year, maybe? -- Ravens-Steelers was among the NFL's best rivalries. And that was before Baltimore won the most recent Super Bowl. This season, though, both teams are struggling. Baltimore is stuck at .500 and Pittsburgh is coming off its first win of the season. With the Cincinnati Bengals not running away with the division, the Ravens remain in contention no matter what happens Sunday. But the Steelers might already be facing a must-win.

Worse shape -- Giants or Steelers?

Talk about symmetry. Eli Manning and Ben Roethlisberger both were picked in the first round of the 2004 NFL draft. Both have won two Super Bowls. And both own ugly 0-4 records (is there any other kind of 0-4 record?) thus far this year. Yeah, things are dire for the New York Giants and Pittsburgh Steelers. Which esteemed quarterback will bounce back first? Whose team is in more trouble?

What's wrong with the Steelers?

There's a pretty easy answer, actually: offense. But why? Why is a team led by Ben Roethlisberger 30th in points (ahead of only the lowly Jacksonville Jaguars and the longtime cellar-dwelling Cleveland Browns)? Why is a team not long removed from a Super Bowl stuck at an ugly 0-2? A turnaround seems unlikely after the Pittsburgh Steelers' 20-10 "Monday Night Football" loss at the Cincinnati Bengals. Then again, these are the Steelers.