SportsNation Blog Archives

Chicago White Sox
Red Sox fans mock Alex Rodriguez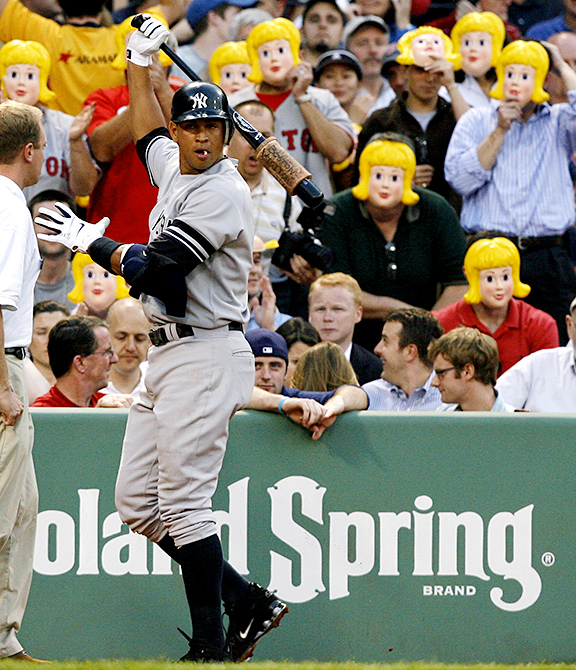 Linda Cataffo/Getty Images
Boston Red Sox fans taunt New York Yankees' Alex Rodriguez by wearing masks of a blonde woman as he stands on deck in the second inning of a game at Fenway Park. Earlier that week, Rodriguez had been spotted at a club with a blonde, not his wife, setting off allegations about his extramarital activities. The Yankees, however, beat their long-time rival 9-5.
Gum cup on the helmet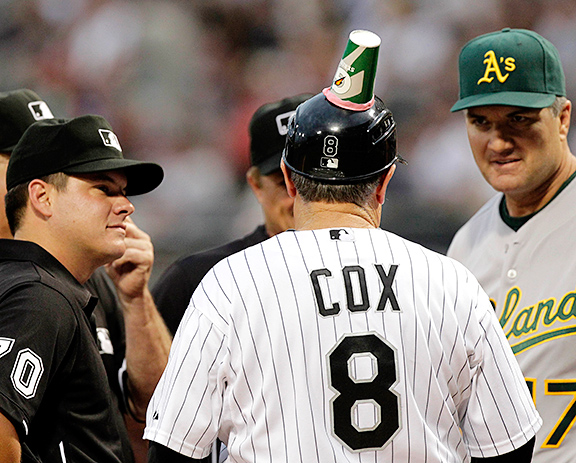 AP Photo/Charles Rex Arbogast
Chicago White Sox third base coach Jeff Cox has no clue this prank has been pulled on him with a cup stuck to his helmet with gum as he delivers the starting line up before a baseball game in Chicago. Watching, and slightly amused, at his left is third base umpire D.J. Reyburn.
Tom Brady and his GQ photo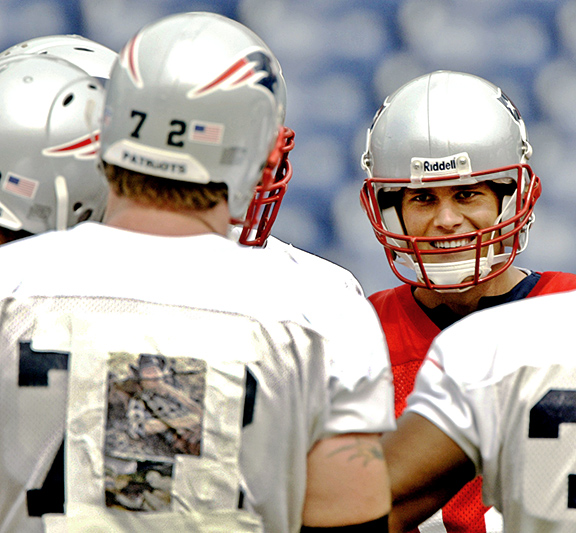 AP Photo/Stephan Savoia
New England Patriots quarterback Tom Brady calls a play in the huddle during normal Tuesday practice at Patriots summer camp in Foxboro. And to poke fun of the QB, offensive lineman Matt Light tapes a page of Brady's GQ photo shoot to the back of his jersey, left. Let's be honest though, Brady is married to a super model and has four rings, so were pretty confident he was able to brush this one off, even if the magazine spread was a little bizarre.
Green Guys and the penalty box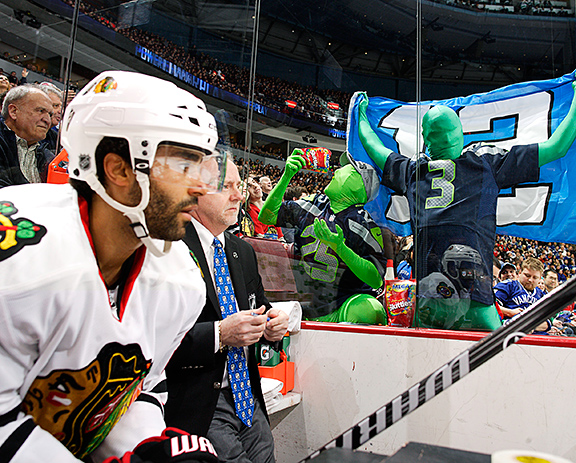 Jeff Vinnick/NHLI/Getty Images
The Green Men, two Vancouver fans, taunt Johnny Oduya #27 of the Chicago Blackhawks who took a penalty against the Vancouver Canucks during their NHL game in Vancouver. Oduya doesn't seem to be phased, probably because Chicago got the win, 5-2.
Eric Thames and some bubble gum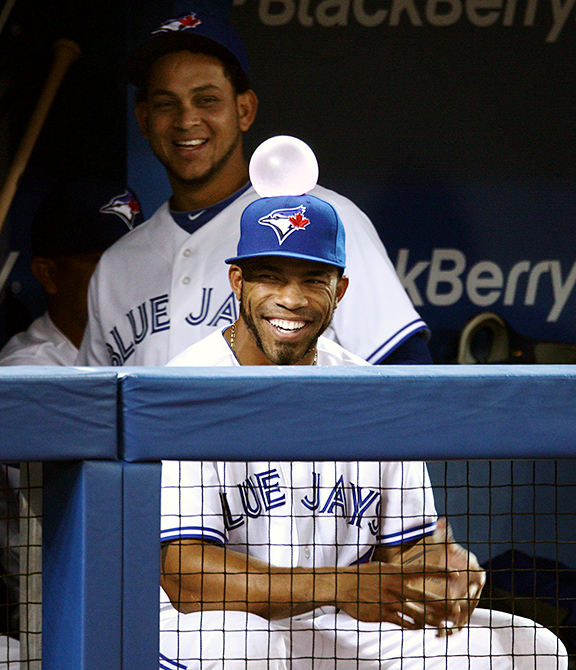 Tom Szczerbowski/USA TODAY Sports
Toronto Blue Jays outfielder Eric Thames reacts to the impressive bubble of chewing gum placed perfectly on his ball cap by teammate Henderson Alvarez during a ball game against the Baltimore Orioles. Thames was able to laugh it off and the Blue Jays were able to get the win, 9-2.
Matt Harvey and the old 'ball tied to a string'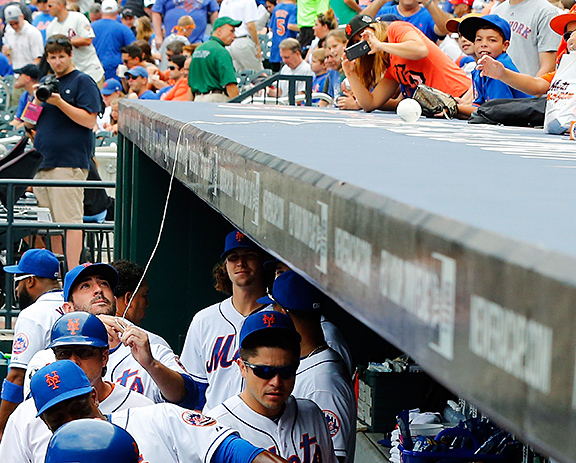 Jim McIsaac/Getty Images
Matt Harvey of the New York Mets teases fans with a ball tied to a string before a game against the San Francisco Giants at Citi Field. Yes, it's a little mean but also brilliant.
Kings Mascot trolls ref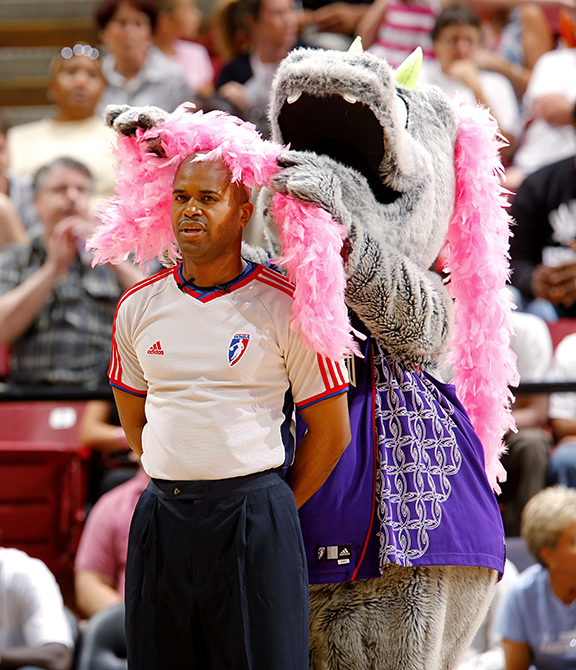 Rocky Widner/NBAE/Getty Images
The Sacramento Kings mascot Monty goofs around during a game between the Seattle Storm and the Sacramento Monarchs. What are sports if you can't have a little fun? It looks like this ref didn't find it as cute.
Phanatic Popcorn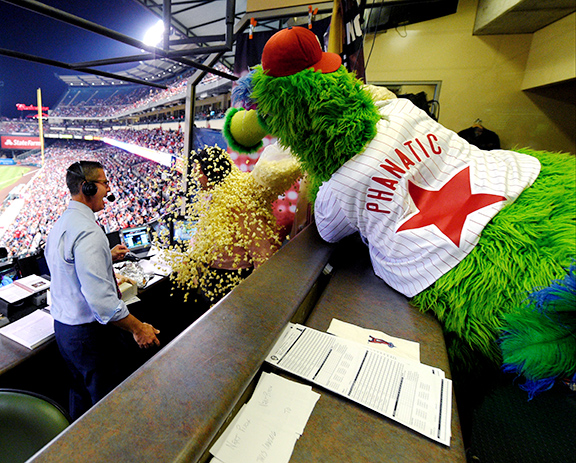 Matt Brown/Getty Images
Phillie Phanatic loves his humor and everyone loves attention on their birthday, right? The Phanatic wished Mark Gubicza a happy birthday with a lot of popcorn as booth-buddy Victor Rojas watched during a broadcast of the Philadelphia Phillies and Los Angeles Angels game.
Lowrie Pie Face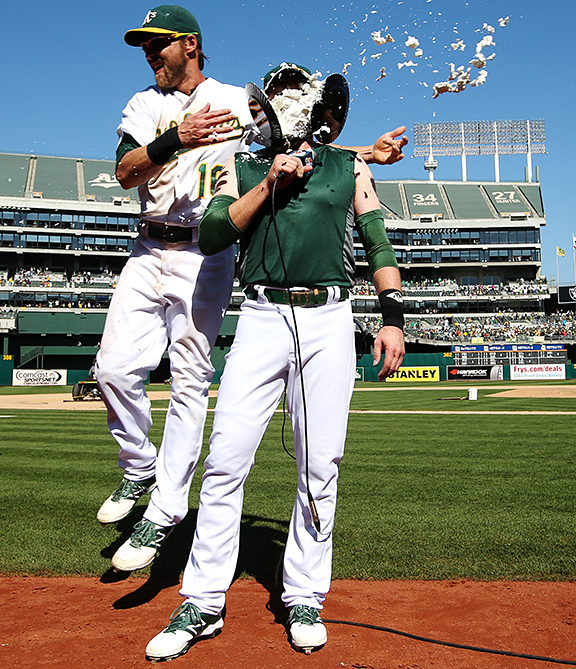 Brad Mangin/Getty Images
Not one pie, but TWO pies to the face for A's Jed Lowrie from teammate Josh Reddick while doing an interview on the field after Lowrie drove in the winning run with a single in the bottom of the 9th inning against the Houston Astros.
Popcorn Car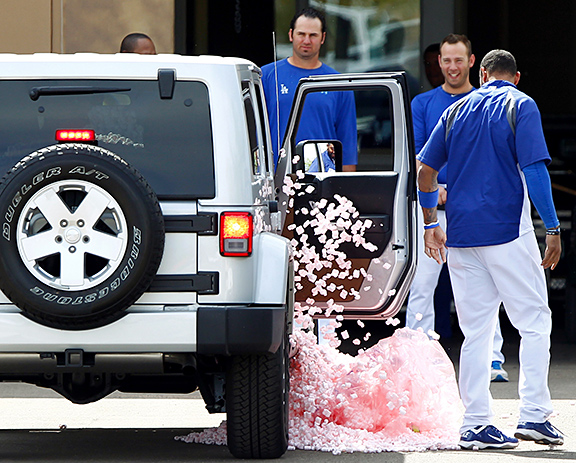 Debby Wong/USA TODAY Sports
We wouldn't want to be the teammate who got a front seat full of popcorn from Matt Kemp before the game against the Chicago Cubs. Wonder if he's still finding those little packing peanuts in his car.
Chicago swept the MLB All-Star Game Final Vote, with the Cubs' Anthony Rizzo and White Sox's Chris Sale each earning enough fan votes to play in the Midsummer Classic on Tuesday in Minneapolis.
How did they do it? Sure, perhaps it's because each player deserved to be All-Stars based on their on-field performance (Sale especially). Or it could be they were pushed through via heavy (and often clever) use of social media, via the hashtags #VoteRizzo and #TargetSale, with each tweet containing said hashtags counting as an official vote for the player.
Check it out:
Anthony Rizzo
If you missed it, here's message for today: #VoteRizzo pic.twitter.com/FDa0rESKOc

— Carrie Muskat (@CarrieMuskat) July 10, 2014
Notice anything different about today's lineup on @WGNTV? #VoteRizzo pic.twitter.com/H1VcY0t8GV

— Chicago Cubs (@Cubs) July 10, 2014
#VoteRizzo #VoteRizzo #VoteRizzo #VoteRizzo #VoteRizzo #VoteRizzo #VoteRizzo #VoteRizzo #VoteRizzo #VoteRizzo pic.twitter.com/cwLKVXSi14

— Clark the Cub (@ClarktheCub) July 10, 2014
Benches cleared as the #Cubs & #Reds got into it some on the field. Both sides warned. Can't confirm comments to Rizzo were anti-#VoteRizzo.

— Chicago Cubs (@Cubs) July 10, 2014
He swings at pitches that hit him and still has 20 homers #voterizzo

— Mike Olt (@mike_olt) July 10, 2014
July 10, 2014
Did you #VoteRizzo yet? pic.twitter.com/5eAuTAL5qq

— Chicago Cubs (@Cubs) July 10, 2014
RIZZO ENDED GARZA'S NO HITTER WITH HIS MIND! #VoteRizzo

— Rick Renteria (@notrickrenteria) July 10, 2014
Vote for my friend and fellow cancer survivor @ARizzo44 by retweeting this and tweeting #voterizzo all day.

— Justin Ruggiano (@justinruggiano) July 10, 2014
My assistant is sleeping on the job is I'll need you guys to help more #VoteRizzo pic.twitter.com/YJYQSS45cu

— Anthony Rizzo (@ARizzo44) July 10, 2014
Chris Sale
(Note: Chef Morimoto and LaRoyce Hawkins indeed retweeted the Sox.)
Change your avatar to this & change your Twitter name to #TargetSale. Let's confuse the heck out of everyone! pic.twitter.com/HxCCHrFG8E

— #TargetSale (@whitesox) July 10, 2014
Sox players sport their #TargetSale shirts before tonight's game. <¯õ pic.twitter.com/4cfYKT86Gr

— #TargetSale (@whitesox) July 9, 2014
RT and make sure this guy gets into the 2014 MLB #ASG! #TargetSale #WingsUp #WeAreFGCU #tbt pic.twitter.com/M60lfE1o6r

— FGCU Baseball (@FGCU_Baseball) July 10, 2014
Hey @chancetherapper - wanna do favor for your fuzzy green friend & RT this? @whitesox #TargetSale #whiff pic.twitter.com/EK00IrOnUo

— White Sox Mascot (@Southpaw) July 10, 2014
Hey @KevinHart4real, a tweet with #TargetSale is a vote for this guy. Get your buddy into the #ASG. #TargetSale pic.twitter.com/DlSpLTYMXQ

— #TargetSale (@whitesox) July 10, 2014
.@Mariobatali and @chef_morimoto want you to #TargetSale. Right guys? pic.twitter.com/v1k4cdP3rm

— #TargetSale (@whitesox) July 10, 2014
RT @whitesox: .@RoycedaVoyce, did you #TargetSale yet today? pic.twitter.com/j4HeQeJQ9V

— Sawyer (@MitchKwik) July 10, 2014
Hey @Ky1eLong @ChicagoBears I'm going to keep driving around your home until you vote #TargetSale! #beardown pic.twitter.com/XBGGQYutXf

— White Sox Mascot (@Southpaw) July 10, 2014
July 10, 2014
Get it? #TargetSale <¯õ pic.twitter.com/L3jKWf9QKn

— White Sox Mascot (@Southpaw) July 10, 2014
#TargetSale & a puppy, what more could you want? @whitesox #whiff pic.twitter.com/rlSqDPnRqn

— White Sox Mascot (@Southpaw) July 10, 2014
We feel you, @Southpaw RT @Southpaw: All of us right now @whitesox #TargetSale #Whiff pic.twitter.com/LCOh89uLQT

— #TargetSale (@whitesox) July 10, 2014
There's something of an arms race among ballpark food vendors. No longer content with simple servings of hot dogs and beer, they're deploying ever-more-complex arrangements of calories in an attempt to win the stomachs of fans. The Rangers offered up a two-foot hot dog. The Diamondbacks countered with an 18-inch corn dog. Now, the White Sox are mashing together 12 scoops of ice cream in a monster sundae weighing in at a whopping three pounds. We're all for heaping quantities of tasty, unhealthy food to complement our baseball experience -- this is America, after all -- but we're worried about where all this is leading. If the Fenway Frank becomes self-aware and starts rampaging through Boston, don't say we didn't warn you.
Deals at the MLB trade deadline?

The MLB trade deadline is fast approaching, and teams are looking to find good deals in a thin market. Jake Peavy has gone to Boston, but he might not be the only one on the move; Cliff Lee, too is on the market. The rest of the field lacks big names, but given how tight some playoff races are this year, it may not take acquiring a Hall of Fame talent to make a difference.