SportsNation Blog Archives

Donovan McNabb
On Tuesday, "First Take" discussed Donovan McNabb's potential future in the NFL. The former Pro Bowler has been working out heavily in the offseason and has lost a significant amount of weight, leading Andy Reid to endorse him for teams looking for a veteran quarterback. Our "First Take" panel is unconvinced; Merrill Hoge would take him if his team's Plan A fell apart, while Israel Gutierrez would stay away from him. What's your take?
On Thursday, "First Take" debated Donovan McNabb's Hall of Fame credentials. McNabb said in an interview that he would vote for himself for the Hall of Fame -- not a surprising comment from any player, but McNabb has an actual Hall of Fame case. Is he off-base, or would you put him in the Pro Football Hall of Fame? What's your take?
It's been a tough couple of years for Donovan McNabb, as the veteran quarterback has struggled to prove that he can still be an effective starter in the NFL. His latest release came at the hands of the Minnesota Vikings, who weren't about to commit to him long-term with Christian Ponder behind center. There are several teams that need a quarterback, but will McNabb's declining skills keep him out of uniform?
"saw this coming the second they benched this man. at this point it's pretty much over " -- SN commenter stvnmontgomery24
"McNabb might have a little left in the tank to help out the Bears but I can't see him being a starting QB next year. " -- SN commenter UnoWhoMe
---
Would you want to sign McNabb?
Donovan McNabb hasn't had a good season in a while, but he hasn't had a great deal of offensive talent to work with, either.

---
What do you make of McNabb's career?
McNabb was an excellent quarterback for a very long time, but a lack of championships really stands out on his résumé.

---
Which team could benefit?
The Bears, Cowboys and Texans all need quarterbacks, although the Cowboys have said they'd decline his services.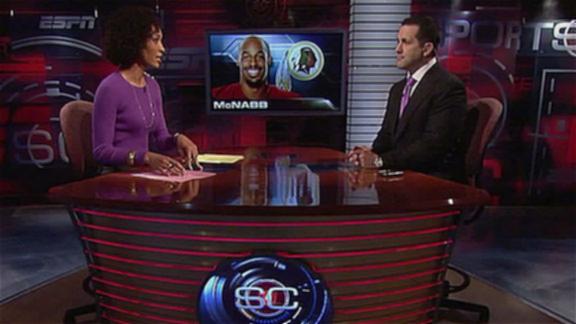 Maybe Donovan McNabb didn't pass his two-minute conditioning test? As Matt Mosley blogs this morning, at least the silver lining of a messy situation for the Redskins is that we have a controversy in D.C. that doesn't involve Albert Haynesworth (or, we might add, Gilbert Arenas).
You know the details by now. With Sunday's game against the Lions still up for grabs in the final minutes, Mike Shanahan pulled McNabb and replaced him with Rex Grossman. The coach's explanation was that he felt Grossman was essentially a better fit for the two-minute drill (he learned it last year under offensive coordinator Kyle Shanahan in Houston).
But as the Raiders continue putting up the most points this side of Auburn or Oregon, did the Redskins pick the wrong quarterback in the offseason?
"

I watched a recent game where McNabb was throwing behind and at the feet of many of his receivers. People forget he did this on a regular basis in Philly. It's no surprise that his QB rating is so low. Could it be that is why Shanahan pulled him (and why Reid dumped him)?

"

-- botobob
"

reality check - mcnabb shouldn't have been pulled at that point in the game. BUT, he has gone from not one of the most accurate to a very inaccurate passer. save me the garbage about sacks, every qb gets hit and dumped these days. he's hit a bunch of fifty yard plus passes , all of which should have been tds but for the ball being late and underthrown.

"

-- mbdm59