SportsNation Blog Archives

SportsNation
The Patriots and Broncos engaged in a war of words leading up to Sunday's AFC Championship Game in Denver.
Early in the game, the Denver Police Department got in the act.
= MISSING PERSONS unit heading to @SportsAuthField to try & locate Patriots Offense. GO @Broncos

— Denver Police Dept. (@DenverPolice) January 24, 2016
With the way the first half went, who could blame them for talking a little trash?
The normally potent New England attack was mostly bottled up by Denver's stout D in the first half, as Tom Brady was picked twice and failed to throw a touchdown, with the Patriots going into the locker room trailing 17-9.
We'll see if Brady & Co. make the Denver PD eat its words.
Mike Tyson knows exactly how Ronda Rousey is feeling in the wake of her shocking defeat to Holly Holm.
At the height of his career, Tyson, billed as the most-feared man in the world on account of his 37-0 record and penchant for knocking out foes, was upset by Buster Douglas.
So who better to help Rousey overcome the shock of her first defeat than Iron Mike.
"We're in the hurt business. ... Show your face. You're human. She's just unfortunate that she's a goliath."
Evoking the David-Goliath clash and the Bible -- classic Iron Mike. He also had some praise for Holm after her big win, but his larger point was on the mark: At 12-1 and with a movie on the way, Rousey has nothing to be ashamed of.
We're not sure when Rousey will be in action again, but we do know she'll get her shot at a rematch with Holm at some point this year. Then we'll see if Tyson's words will help her return to her winning ways.
The squat is a mainstay of many fitness programs due to its efficacy at strengthening one's leg muscles. It's a bit scary when you try it at first, but done correctly, it'll make you quite strong.
Of course, you have to make sure that you're not trying to lift too much weight, and that the weights are properly secured. Otherwise, this might happen:
Count the plates, and you come out to about 855 pounds that guy is trying to squat. Props for getting it off the rack in the first place, but we can't imagine that was any consolation once 45-pound plates started flying everywhere. Lucky for him, he doesn't appear to be hurt.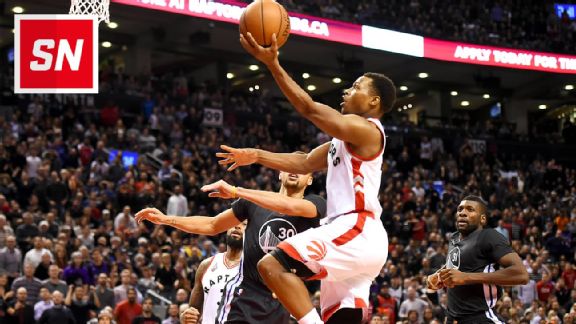 Dan Hamilton/USA TODAY Sports
NBA All-Star voting ends Monday night, and, as of the last round of results, Toronto Raptors guard Kyle Lowry trailed Cleveland Cavaliers guard Kyrie Irving by 32,285 for the second starting spot among Eastern Conference guards.
In the five days since that update was sent, every team in the league has made a push for its players, but there was no indication of a big move in either direction for Lowry or Irving.
Enter Lewis Hilsenteger.
The creator of the online show "Unbox Therapy" sent out this tweet on Sunday to help Lowry's All-Star bid:
Giving this iPhone to someone who helps vote @Klow7 onto NBA All Star Team - Just RT this tweet! #NBAVote RT RT RT! pic.twitter.com/jZDddCiCFS

— Lewis (@UnboxTherapy) January 18, 2016
As of 5 p.m. ET on Monday, that tweet had more than 33,000 retweets, each of which could count as a vote, since the tweet contained Lowry's @Klow7 Twitter handle and the #NBAvote hashtag.
But there was one problem: The tweet was the second Hilsenteger sent in support of Lowry that day, meaning it's possible those retweets were for naught. He realized his mistake Monday, and raised the stakes.
Apparently my tweet yesterday for @Klow7 may not be valid since it was 2nd tweet of the day on my acct. That's 33K votes that may not count!

— Lewis (@UnboxTherapy) January 18, 2016
Stakes = Raised. Giving away 3 iPhones! Vote @Klow7 for All Star. RT to cast your vote & enter! #NBAVote @Raptors pic.twitter.com/w0lP0lHKSS

— Lewis (@UnboxTherapy) January 18, 2016
In the first seven minutes the new tweet was up, it got more than 8,000 retweets, possibly enough to make Lowry a starter for the second straight season.
Last year, Lowry was voted in by the fans, thanks in large part to a tweet from Justin Bieber that got more than 50,000 retweets. This year, however, Bieber put his Belieber Army to work for Chris Paul, much to the ire of his native Canadian fan base.
Everyone RT this to get my man Chris Paul @cp3 into the All-Star game. #NBAVote @CP3

— Justin Bieber (@justinbieber) January 8, 2016
I got u bro. Best guy right here. Chris Paul. @CP3 #NBAVote

— Justin Bieber (@justinbieber) January 8, 2016
With the All-Star Game in Toronto, there's been even more of a push from Canada to get Lowry the start in his home city. Toronto city councilor Norm Kelly tweeted multiple times Monday, racking up more than 6,000 retweets, and Toronto mayor John Tory tweeted Sunday, garnering another 2,800-plus.
Meanwhile, Irving's only notable tweet on the final weekend of voting came, unsurprisingly, from teammate LeBron James, who secured Irving another 6,000-plus votes.
January 17, 2016
Whether that will be enough for Irving to make his second career All-Star Game start remains to be seen. NBA All-Star starters will be announced Thursday night before the Los Angeles Clippers visit Cleveland to face the Cavaliers. The 2016 NBA All-Star Game will be played Feb. 14 at Toronto's Air Canada Centre.
Question: Will the Seahawks and Patriots meet in the title game? False.
Rainn Wilson aka Dwight K. Schrute from "The Office" took to Twitter on Saturday hoping for a New England-Seattle matchup in the Super Bowl.
When the Carolina Panthers -- who are pretty good at this trolling stuff -- defeated the Seahawks on Sunday afternoon, they didn't let him forget it:
Can we just fast-forward to the inevitable Seahawks / Pats Super Bowl already!

— RainnWilson (@rainnwilson) January 17, 2016
This is why Dwight was Assistant TO the Regional Manager. https://t.co/0td9ru84vj

— Carolina Panthers (@Panthers) January 17, 2016
Seattle might not be going to the NFC Championship Game, but if Carolina needs some help with its run game next week, we hear Dwight is pretty quick.
"I am fast. To give you a reference point I am somewhere between a snake and a mongoose ... and a panther," as he said on the show.