SportsNation Blog Archives

Brian Westbrook
It's not a good month to be a formerly-dominant NFL running back. First, LaDainian Tomlinson got the boot from the Chargers; now, Brian Westbrook is getting the same treatment from the Eagles.
Westbrook has been plagued by concussions in recent years, including one this season that put his career in jeopardy. Still, when healthy, he's a dual-threat, dangerous out of the backfield as a rusher or receiver. That's one big IF, however.
Westbrook and Tomlinson aren't the only veteran free agents on the market, as big names like Julius Peppers and Terrell Owens could make an impact on a contender. Only one thing is certain; the Eagles are left with a huge hole to fill.
J.B. (Dunmore, PA)
M-Dub: With Westbrook now out in Philly, can you see Andy Reid actually giving McCoy a chance to run the football?
Matt Williamson

No. His role will grow. Weaver should remain in the mix and they will prob add another RB in the draft. But, as always, they are going to throw and throw a ton. McCoy needs to improve on his protection, but you need to remember, that this is still a very young player-came out as a Soph. Full transcript
Steve (Atlanta, GA)
Do you think Westbrook will find a home or is he destined to retire this year?
Matt Williamson

Can he pass a physical? Will a doc clear him with his concussions? Could see him as a 3rd down RB still, but not an everydown guy. Full transcript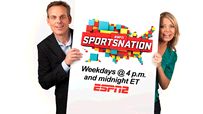 Michelle Beadle and Colin Cowherd would play in the horn section of your school's marching band on "SportsNation" TV if it would get college football season to start tomorrow.
Argue the hot topics of the day and vote on the biggest stories from the world of sports. The show airs on ESPNEWS at 4 p.m. and ESPN2 at midnight ET.
Note: Broadcast voting results as of this afternoon (ET).

Who gives better fantasy football advice?
When you're trying to decide whether to pick up a third-string RB, do you turn to Colin Cowherd or Ashton Kutcher, who has a fantasy show on Ustream?
Should Brett Favre ever line up at wide receiver?
After his crack-back block on Texans safety Eugene Wilson, maybe the Vikings quarterback should consider giving defensive backs the chance to answer back.
Which running back would you most want on your fantasy team?
Brian Westbrook (1,338 yards and 14 touchdowns combined in '08), Clinton Portis (1,487 yards and nine touchdowns rushing) or Brandon Jacobs (1,089 yards and 15 touchdowns rushing)?
Should the NFL change its blackout policy?
Times are tough and fans are hurting, but teams that fail to sell out home dates still have those games blacked out in local markets.
Which team is better set up for success in the coming decade?
The Pats have the upper hand in hardware. Both the Patriots and the Colts have veteran superstar quarterbacks looking to come back at full speed. Both have coaching turnover.
What is "SportsNation" TV, and how do you make your voice heard? Read about the new ESPN show that features fan opinions with calls, tweets, polls, rankers and more.
There's little doubt who the best running back in football is these days; he's the guy that has more states than Minnesota native Walter Mondale carried in 1984 voting for the Vikings to win the NFC North despite Brett Favre's decision to stay retired.
As long as you have Adrian Peterson, you have a chance. Then again, that's not altogether different from how people felt about Larry Johnson as the 2007 NFL season approached.
You remember Johnson, the guy who rushed for 1,789 yards on a record 416 carries in 2006, a year after topping 1,700 yards with 20 touchdowns in a breakout campaign. Back in June, 2007, voters said he was the second-best back in the game (granted, Secretariat's margin of victory in the Belmont was a photo finish in comparison to LaDainian Tomlinson's lead) and clearly the Chiefs' most indispensable player.
Now it's 2009 and despite better than 800 yards last season, Johnson can't get a sniff when it comes to the backs "SportsNation" (4 p.m. ET, ESPN2) is asking voters to rank for Thursday's show. Just more proof that success can be fleeting at one of the NFL's most physically demanding positions. Be forewarned, Vikings fans.
"

wonder where RBs that had a goodly amount of carries combined with a goodly amount of receptions fit in in all this? For example: Matt Forte had 316 carries last year, far below the 370 curse mark, but also caught 63 passes...combined touches 379, so he's over the limit. May not mean anything at all, but I expect to see a drop off in his production this year simply because teams will scheme to shut him down more, IMO.

"

-- The Mini Ditkas
"

L.T. will duplicate his numbers from last season, and I can tell you now.. I spent too much time watching him log around 50 yards with zero scores to rest easy. Time to find a new horse for my squad.

"

-- noodlerii