SportsNation Blog Archives

Alex Rios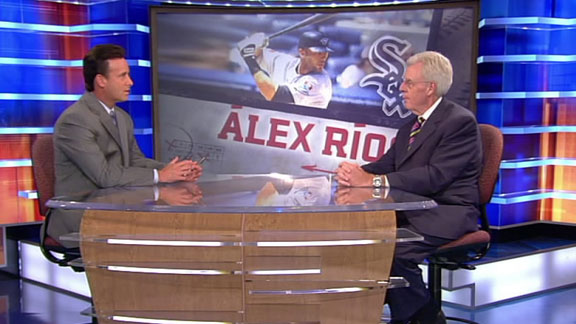 They say you can't get something for nothing, but the White Sox did just that in adding outfielder Alex Rios for the stretch drive. All they had to do was agree to pay a minimum of $61.6 million. Only in baseball, which seems to have roughly the same effect on the laws of economics as black holes have on the laws of physics, could that make some sort of sense.
Taking advantage of the loophole that the trade deadline isn't, in fact, an actual deadline on trades, the White Sox landed the two-time All-Star after claiming him on waivers from the Blue Jays, who were probably looking to trade Rios but willingly handed him over without compensation given the opportunity to escape his contract. Got all that?
The upshot is the White Sox now have another bat, and possibly Jake Peavy's impending return, to chase down the Tigers in the Central or claim the AL wild card.
Of course, with a crowded outfield, Ozzie Guillen just has to find a place to play him. Just what Guillen needs, another mouth to feed and another batter to protect.
"

This is a genius move by Riccardi. Now during the off-season he can afford to sign an all-star outfielder with around a .300 average who has some power and speed. Sweet. Hey, wait a minute...

"

-- daphins23
"

I agree with whoever said Rios might thrive in a change of scenario. Playing meaningful games for the first time in years might result in a drastic improvement in play and attitude.

"

-- NumberThirtyFive