SportsNation Blog Archives

Plaxico Burress
Despite that he spent the last few years languishing in a prison cell after accidentally shooting himself in the leg, Plaxico Burress looked pretty darn good in Sunday night's game against the Bengals. Burress had three catches for 66 yards, including a diving 26-yard reception for a touchdown. It may just be the preseason (and it may have just been the Bengals), but the Jets seem to be pretty well ahead of the game in the "veteran excels in a new home" sweepstakes.
"Wow, after one preseason game against the Bengals it was a mistake by the Giants not resigning Burress? Geeez. Does anyone know how bad the Bengals' secondary is? Let's wait to see what he does againts good teams to see how good Burress is after 2 years off." -- SN commenter G.O.A.T.-1
"You can't teach height or leaping ability. The Giants thought so too, which is why they drafted a Burress clone in Ramses Barden, but he's not working out so well. " -- SN commenter thegreatestofalltimes
---
How impressed were you?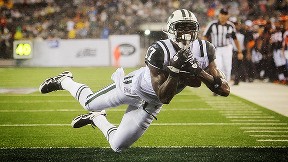 It wasn't a completely dominant performance, but Burress' 22-yard per catch average in Sunday night's game was a pretty good start to re-establishing his reputation as a deep threat.

---
A Giant regret?
The Giants could have had Plaxico for $3 million, and might have had a better chance to sign him had quarterback Eli Manning campaigned for the team to bring him back.

---
Rooting interest?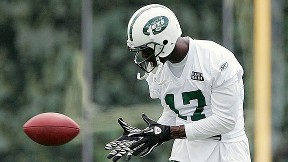 Burress' incarceration may have been entirely his fault, but fans have rooted for players to come back who have done much worse -- Michael Vick comes to mind.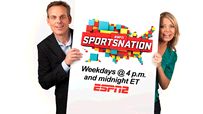 Michelle Beadle and Colin Cowherd plead guilty to wanting to hear what fans have to say on "SportsNation" TV.
Argue the hot topics, vote on the biggest stories and chat during the show on ESPN2 at 4 p.m. and midnight ET.
Note: Broadcast voting results as of this afternoon (ET).
Will the Cowboys' new stadium be quiet?
Colin thinks that corporate crowds don't make as much noise. The new, expensive, amenity-laden, luxury-box-packed stadium could be less rowdy.
Do you expect to live longer than 78 years?
Bobby Bowden has already surpassed the U.S. life expectancy (he's 79) and plans to keep coaching. Do you think you'll ever catch him?
Could you catch a bullet pass from Brett Favre?
He warmed up for Vikings camp by working out with high school kids, and you probably have better hands than they do. Could you catch his hard throws?
Would you stock Michael Vick jerseys?
Dick's Sporting Goods won't carry Vick jerseys. Would you take a stand or cater to the market and sell No. 7 Eagles jerseys?

If you were an AD, would you hire John Calipari?
The Memphis Tigers reportedly will vacate 38 victories from their Final Four season of 2007-08 under former coach Calipari because of NCAA violations.
What is "SportsNation" TV, and how do you make your voice heard? Read about the new ESPN show that features fan opinions with calls, tweets, polls, rankers and more.
Tags:

Memphis Tigers, Memphis Tigers, Philadelphia Eagles, New York Giants, Dallas Cowboys, Plaxico Burress, Brett Favre, Michael Vick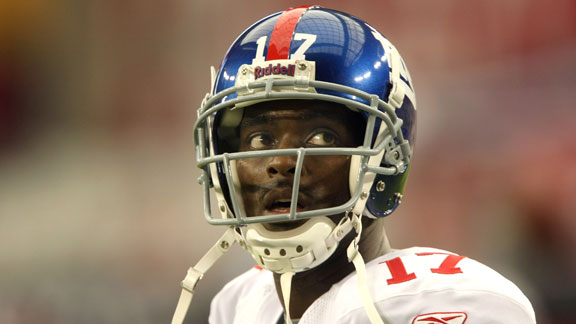 From a cold night at Lambeau Field that Giants fans will never forget to a night he'd assuredly like to erase from the collective memory, Plaxico Burress did the whole rise-and-fall shtick on a pretty epic scale.
Without him, the Giants don't win the Super Bowl and deny the Patriots their perfection. Now he'll be without his freedom for at least 20 months, as part of a plea agreement in the case stemming from the nightclub incident last year in which he accidentally shot himself.
After a summer in which it seemed like our only respite from NFL legal updates was the annoyingly prolonged Brett Favre saga, it's frankly a little tough to get worked up about Burress. But is he maybe the guy we should feel a little sorry for, considering he didn't hurt anyone but himself? Or have we just gone soft and he got what was coming to him?
"

Wow..he gets 2 YEARS for something regular POOR people get 5 years probation for. NOW YOU PEOPLE CAN'T SAY THAT ATHLETES GET SPECIAL TREATMENTS ANYMORE.

"

-- csdogg1984
"

I don't see why anyone would think he doesn't deserve some kind of punishment. He broke the law so why should he not pay the consequence. Celebrities don't deserve to be treated differently than what the LAW says they should be treated. Last time I looked, "All men are created equal!"

"

-- lthomasaj
"

Attention to everyone who thinks laws are uniformed across the 50 states. THEY ARE NOT!!!! Florida is not New York. Also Plax is not being sentenced for shooting himself. He carried an unlicensed gun into a public place in the state of New York. And apparently Plax was living in a box with no television or newspaper or internet because this law and mandatory sentence has been a hot topic issue and quite a big deal in the state of new york.

"

-- smiles42183