SportsNation Blog Archives

Plaxico Burress
Despite that he spent the last few years languishing in a prison cell after accidentally shooting himself in the leg, Plaxico Burress looked pretty darn good in Sunday night's game against the Bengals. Burress had three catches for 66 yards, including a diving 26-yard reception for a touchdown. It may just be the preseason (and it may have just been the Bengals), but the Jets seem to be pretty well ahead of the game in the "veteran excels in a new home" sweepstakes.
"Wow, after one preseason game against the Bengals it was a mistake by the Giants not resigning Burress? Geeez. Does anyone know how bad the Bengals' secondary is? Let's wait to see what he does againts good teams to see how good Burress is after 2 years off." -- SN commenter G.O.A.T.-1
"You can't teach height or leaping ability. The Giants thought so too, which is why they drafted a Burress clone in Ramses Barden, but he's not working out so well. " -- SN commenter thegreatestofalltimes
---
How impressed were you?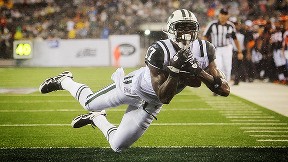 It wasn't a completely dominant performance, but Burress' 22-yard per catch average in Sunday night's game was a pretty good start to re-establishing his reputation as a deep threat.

---
A Giant regret?
The Giants could have had Plaxico for $3 million, and might have had a better chance to sign him had quarterback Eli Manning campaigned for the team to bring him back.

---
Rooting interest?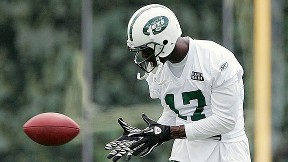 Burress' incarceration may have been entirely his fault, but fans have rooted for players to come back who have done much worse -- Michael Vick comes to mind.