SportsNation Blog Archives

Ronnie Brown
Why didn't AIG have this kind of foresight? As recounted in the Wall Street Journal, Fantasy Sports Insurance launched this year to offer fantasy football owners some peace of mind on their high-dollar investments. Drafted Adrian Peterson but worried about an injury ruining your season? Buy insurance on him and recoup your league fees if he gets hurt (although in Peterson's case, based on his chat with SportsNation, Frank Gore insurance would have been a better investment).
One of the only 50 stars the company offered to insure? Cedric Benson. The same guy who averaged 3.5 yards per carry last season while rushing for a career "best" 747 yards. Forget insurance; we're going to these guys for our draft cheat sheet next year.
Thanks in no small part to Benson, who has 487 rushing yards in five games, the Bengals are 4-1. But does that make him a better MVP pick than Carson Palmer, let alone Peterson, Drew Brees, Peyton Manning or other standouts?
Where do Benson and Palmer rank on your MVP ballot?
Scott (Bakersfield, CA)
Which offseason add has helped their team more Dawkins or Sharper?
Gary Horton

That's almost a push. They are both great veteran players with tremendous leadership skills. Your first inclination might be to say Sharper because of his big plays and his instincts. He can turn around a game with those interceptions. My sources in Denver tell me Dawkins is like another coach on the field and is a huge part of the speed in which Denver has made the transition from a 43 to a 34. That may not show up in the box score, but it is a big factor in their success. Full transcript.
Random (Dude)
DO u have yourself on your fantasy team?
Adrian Peterson

Nope. Frank Gore. And Matt Forte. Full transcript.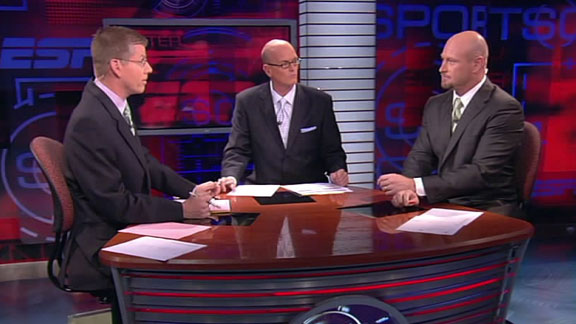 It's not that the Dolphins didn't have a passing game in Monday's win against the Jets. Chad Henne completed 20 passes and put balls where even Ted Ginn Jr. couldn't drop them. Heck, Ronnie Brown had half as many completions as the Browns' Derek Anderson did Sunday. But it's not images of Chad Henne that are casting doubts on SportsNation's contention last week that the Jets were the eighth-best team in the league. (Even if 77 percent of SportsNation is convinced Henne is the guy the Dolphins can build around).
No, Monday's lasting image was Rex Ryan's vaunted defense getting pushed around, specifically by Ronnie Brown, Ricky Williams and the Wildcat offense.
So what's a more miserable way to spend three hours watching football -- knowing there's nothing your defense can do to stop a guy like Peyton Manning from picking you apart through the air or watching Brown and Williams (or Adrian Peterson -- did we mention he's chatting today at 12:15 ET?) churn up yards and clock?
There's little doubt who the best running back in football is these days; he's the guy that has more states than Minnesota native Walter Mondale carried in 1984 voting for the Vikings to win the NFC North despite Brett Favre's decision to stay retired.
As long as you have Adrian Peterson, you have a chance. Then again, that's not altogether different from how people felt about Larry Johnson as the 2007 NFL season approached.
You remember Johnson, the guy who rushed for 1,789 yards on a record 416 carries in 2006, a year after topping 1,700 yards with 20 touchdowns in a breakout campaign. Back in June, 2007, voters said he was the second-best back in the game (granted, Secretariat's margin of victory in the Belmont was a photo finish in comparison to LaDainian Tomlinson's lead) and clearly the Chiefs' most indispensable player.
Now it's 2009 and despite better than 800 yards last season, Johnson can't get a sniff when it comes to the backs "SportsNation" (4 p.m. ET, ESPN2) is asking voters to rank for Thursday's show. Just more proof that success can be fleeting at one of the NFL's most physically demanding positions. Be forewarned, Vikings fans.
"

wonder where RBs that had a goodly amount of carries combined with a goodly amount of receptions fit in in all this? For example: Matt Forte had 316 carries last year, far below the 370 curse mark, but also caught 63 passes...combined touches 379, so he's over the limit. May not mean anything at all, but I expect to see a drop off in his production this year simply because teams will scheme to shut him down more, IMO.

"

-- The Mini Ditkas
"

L.T. will duplicate his numbers from last season, and I can tell you now.. I spent too much time watching him log around 50 yards with zero scores to rest easy. Time to find a new horse for my squad.

"

-- noodlerii