SportsNation Blog Archives

Shawne Merriman
1. Bigger bummer for Shawne Merriman: no wins or no sun?
The forecasted high in Buffalo tomorrow is 40 degrees. The forecasted high in San Diego is 79 degrees -- just like it seems to be about 350 days a year there. Did anyone have a worse Wednesday than Shawne Merriman? Not only was the former All-Pro claimed by a winless team; it's a team that plays in Buffalo's winters.
"He grew up in D.C and played for Maryland in College.....cold weather is nothing new." -- SN commenter thelizrdking1971
The speed at which a player in the National Football League can go from All-Star to waived is frankly astounding. A few years ago, LaDainian Tomlinson was setting records for rushing touchdowns -- this season, he had to search for a job before rejuvenating his career with the Jets. A few years back, Randy Moss was setting records for receiving touchdowns with the Patriots -- this season, he's found himself traded and waived within the space of a month.
It's Shawne Merriman's turn to tumble from his perch. A few years back, Merriman was one of the most feared pass-rushers in all of football. Now, he's been placed on waivers by the Chargers. The move comes as no real surprise -- San Diego had announced that they would release Merriman after he came off the injured reserve list -- but the idea of such a defensive force as Merriman having to look for a job is a bit disconcerting. We're sure some team will give him a chance -- and that team is the Buffalo Bills.
Brad (Beverly, MA)
Do you think Merriman's lack of productivity is due to steroids? Ever since his suspension he hasn't been the same, but you never hear anyone mention it. If he were playing baseball that is all you would hear.
Chris Mortensen
I've heard it discussed with Merriman. But the injuries have also deterred him. Of course, there are experts on PEDs who say that injuries are a byproduct of usage. However, Merriman has been tested frequently and randomly year-round since his steroid positive and he has tested clean. Full transcript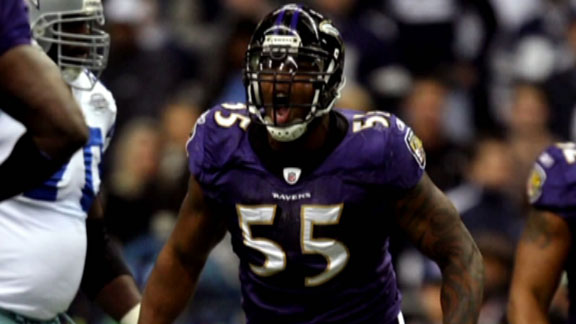 If you're going to sign a guy to a six-year, $63 million contract, do it the day after a team gave the same contract to a quarterback who never started a game in college.
A moral of limited use in your everyday life? Perhaps, but that's apparently the lesson SportsNation is offering in the wake of the Ravens' keeping pass-rusher extraordinaire Terrell Suggs in the fold for the next six seasons (hypothetically, at least, given the nature of NFL contracts; let's just say voters aren't sure he'll be around in 2015).
But if the 'Nation thinks Suggs is a safer investment than Matt Cassel, does it mean he's one of the best pass-rushers in the NFL? Because if that's the only qualification, Citibank might be one of the NFL's best pass-rushers.
"

D. Ware is smiling from ear to ear right now. He should send Suggs a thank you card.

"

-- Ashy-Larry
"

That's a lot of pressure to perform. You know the more you earn the more the company and people expect from you, except if you're a CEO of a company that deals with mortgages, stocks, or any other financial institution.

"

-- sfirx